he Archerfield Golf Club was founded on 6th April 1869 following a meeting in the Castle Inn, Dirleton chaired by William Palmer, the Parish Schoolmaster. Permission to use the ground was granted by the Right Hon. R. C. Nisbet Hamilton, the proprietor and George Hope from Fenton Barns, the tenant of the links. Originally to be called Dirleton Golf Club but this was amended following a suggestion by Miss Nisbet Hamilton when she presented the club with a medal for competition in October 1869. Her mother Lady Mary regularly presented a full set of Tom Morris's best clubs as a prize at the Autumn Meeting.

The club adopted the rules of Luffness Golf Club and James Todd, farmer at Castlemains was elected the first President. In 1869, Luffness Golf Club suggesting dates to play for the new Challenge Cup presented by the Earl of Wemyss for competition among the Golf Clubs in the county. The secretary was instructed to reply that the dates suggested were unsuitable. The Wemyss County Cup is now the oldest foursome competition in the world.

The nine-hole private course was played only by Archerfield Golf Club, the tenants of the mansion house, and their guests. The club had forty members including James Bisset, the hotel proprietor, Dr. Frank Crombie, Rev. John Kerr, John Watt Muirfield Farm, Parish School teachers Archibald Pringle (1889), Willie Hastie (1894) and James Grant (1896), and Willie McDonald who won the Hamilton Medal four times and was allowed to keep it, although his family returned it to the club in 1889.

Course Record 61: Bernd Wiesberger, July 2019.

The Archerfield Links were also used by golfers of fame and repute such as Robert Maxwell, Freddie Tait, Harold Hilton and Johnny Laidlay among the amateurs and Ben Sayers Sen., Jack White and Willie Park Jnr. among the professionals. Prior to the Ladies Championship played at Gullane in 1897, a two-day competition was help over Archerfield Links with prizes donated by the members. Over a hundred ladies took part and the winner was Annie Maxwell, sister of Robert Maxwell.

One of the largest gatherings of golfers on the links at Archerfield was in 1885 in connection with a fund raising bazaar held in Dirleton Castle. Among the players were John E. Laidlay, George Shepherd, Donald M Jackson, Alexander M Ross and Andrew Wallace who won the amateur competition. In the pro event Ben Sayers was first with (51), Williie Campbell was second (54) Willie Park (58) and Bob Ferguson (58).

Lady Mary Nisbet-Hamilton proprietor of Beil and Archerfield estates and Bloxholme in Lincolnshire died 22 December 1883. She was the eldest daughter of the seventh Earl of Elgin, her husband was the Right Hon. R.A Christopher Nisbet Hamilton who died in 1877 and is buried in Stenton Kirkyard.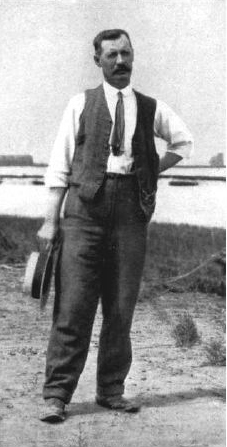 As a special consideration the staff of Archerfield and their families were also allowed to golf on the course. The Watt brothers, William, David, John, Robert and James learned to play the game on Dirleton village green and on the course at Archerfield where their father was the estate forester. Willie and David were Scottish Professional Champions in 1912 and 1914. Willie was appointed pro at Turnhouse and David Watt, the first left-handed player to win a championship was professional at Mortonhall.
Left: Peter Lees
James Law a proprietor of the Scotsman newspaper was tenant of Archerfield House for 35 summers, while John Penn MP for Lewisham resided at Archerfield in the autumn and winter months. For many years the course at Archerfield consisted of 13 holes until James Law extended the course to 18 holes in July 1887 with the advice of Ben Sayers. In 1909, Law persuaded Willie Watt to return to Archerfield and look after the course. It was here Willie was golf tutor to Herbert Asquith and as a reward, Willie and his family were invited to Downing Street to have tea with the Prime Minister. In 1908 Winston Churchill was appointed First Lord Of The Admirality by Asquith at Archerfield House.
Archerfield greenkeeper Peter Lees, was in great demand constructing courses in America with Albert Tillinghast and Charles B. Macdonald.
James Watt served his apprenticeship with Willie Park & Son before establishing his own successful clubmaking business in North Berwick. On 1st August 1894, 20 year old Jock White set a new professional course record of 69 strokes. White was educated at Dirleton School and apprenticed as a club maker under Tom Dunn at North Berwick. In 1899 Freddie Tait scored 63 to set a new amateur record which was never beaten. Tait was Amateur Champion in 1896 and 1898. Jack White went on to win the 1904 Open Championship and presented the driver he had used to his Dirleton Parish Church Sunday School teacher.
Thomas Durie and Peter Lees apprenticed as greenkeepers at Archerfield before Lees moved to Barnton and Durie was appointed head greenkeeper at Monktonhall in 1892. Peter Lees was persuaded to move to Mid-Surrey Golf Club in 1911, where he introduced several grass bunkers to break up the flat appearance of the course. This was so successful that the grass bunkers were enlarged to create the 'humps and hollows' which looked so natural. This was the making of Peter Lees's reputation and he emigrated to America where he worked on numerous projects with golf course architects such as Charles B. Macdonald, Albert Tillinghast and Seth Rayner.
John Shiells born in 1881 was the elder brother of Archie Shiells, greenkeeper on Archerfield links. They lived with their parents John and Jane Shiells in Ivy Bank, Dirleton. John served an apprenticeship as a club-maker before moving to Maryport Golf Club on the Solway Firth in 1906. The following year he was appointed the first professional at Kendal Golf Club where he remained for 45 years until his retired in 1951. Golf clubs stamped with John Shiells are popular with collectors.
In 1911, Prime Minister Herbert Asquith spent the summer at Archerfield House as the guest of one of his Tennant brother-in-laws. Asquith invited Winston Churchill and his wife to join him in September. Asquith and Churchill played golf over the private nine-hole course when Churchill accepted the appointment as First Lord of the Admiralty.
Fidra Golf Course
In 1923 a group lead by Messers Hunter and Laidlaw were in negotiations with Colonel Nisbet Hamilton Grant owner of Archerfield Estate to purchase land in the area of Yellowcraig and establish the Fidra Golf Club. They proposed to erect a clubhouse in the grounds of Link House Wood west of Invereil House and that year they made enquires to North Berwick Town Council regarding the cost to supply gas and water to the premises. Former Provost John MacIntyre was also involved in this project. He had previously been in lengthy negotiations to purchased the ground on behalf of North Berwick Town Council for a relief golf course.
In 1922, Grant benevolently gave a piece of ground to the villagers of Dirleton where a nine-hole course was laid out and tended by a band of 30 local enthusiasts. It was known as the Fidra Golf course and survived until 1940 when the land was commandeered by the Ministry of War. Archerfield Estate is named after the field where the archers of Edward I pitched their tents when they invaded Scotland in 1298. Archerfield Wood is called the Garden Seawood in Robert Louis Stevenson classic 'The Pavilion On The Kinks'.