My first PGA event was in 1928, I led the qualifiers at Washington but did not qualify in the tournament proper. I played the winter circuit that year through the southeast and while I didn't connect for any money I gained a lot of experience. I'm only sorry that I did not engage earlier and more actively in tournament golf."

In 1929, Twenty-year-old Thomson returned to Scotland to play in the Open Championship at Muirfield. His uncle Jack White had a clubmakers business in the village of Gullane and suggested that Jimmy should throw away the clubs he brought from America and Jack offered to replaced them with a brand new set he had made himself. White also arranged for Jimmy to play a couple of practice rounds with the legendary Sandy Herd. Jimmy Thomson finished just outside the top ten at Muirfield and would returned to play in the Open Championship in 1948.

Jimmy was the John Daly of the 1930s, everywhere he played, fans flocked to see his booming tee shots. In 1929 he entered the US Open from Knoxville where his father was the pro at Holston Hills Country Club in Tennessee.

In 1937, Jimmy won the North American long-driving contest at Fonthill on the Canadian side of the Niagara Falls. To quote his own reported words " Everybody hit 20 drives, they averaged the ten best, my average was 316 yards and my best 386 " An American journalist said of him, he was to golf what Babe Ruth was to baseball. "I concentrated on driving to the exclusion of everything else when I was a kid, Thomson once said.

I learned to hit the ball with all my might from the minute I first began to swing a club. Naturally that worked to the detriment of my short game. I got too much kick out of out driving everybody to worry about the finer shots around the green."

In 1934, the Australian PGA persuaded a number of outstanding golfers to play in the £3,000 Centenary Open at Melbourne. They included Joe Kirkwood, Leo Diegel, Mac Smith, Gene Sarazen and Denny Shute. Jimmy Thomson won the event with a total of 283, and Sarazen commented "I have seen Jimmy paste the ball greater distances than he did Down Under, but on no occasion back home have I seen him produce an over-all game of equal brilliance."

Thomson appreciated the first prize money of a £1,000 as he had to pay his own expenses to Australia as he was not attached to the American PGA team. He also did not know if he was eligible to play in the tournament as his entry was accepted only at the last minute by Victoria Golf Association. To finish off a crazy week, his putter was banned as it did not conform to the regulations. Thomson went on to win the Santa Monica Open after a play-off with Ralph Guldahl in 1934. He also won the Sunset Field Open at Los Angeles. He won the $3,000 Richmond Open in 1936, and was runner-up to Lawson Little in the 1936 Canadian Open Championship at Toronto. Jimmy was runner-up in the $2000 Miami-Biltmore Open where he broke the course record with a 65 over the Corral Gables course in Florida. He broke the course record during the Belmont $12,000 International Matchplay Open with a 68 and set a tournament record 273 in the Los Angeles Open in 1938. In 1947, Thomson won the Long Driving Contest at the Bing Crosby Open at Peeble Beach, driving the ball 268 yards which was all carry into a strong breeze.

He regularly played in the Masters Tournament at Augusta and each year there was a warm-up team competition which Jimmy and his partner Californian Olin Dutra won in 1935. He finished sixth in the Masters in 1937 and eighth the following year. Starting 1947 Jimmy Thomson began introducing the players to the gallery on the 9th hole while his good friend and Augusta National's first assistant pro Ralph Hutchison (1932-1935) started announcing on the 18th. Jimmy Thomson, Ralph Hutchison and Bobby Jones were Staff Pro's for A G Spalding Brothers.

Jimmy Thomson appeared in the movie 'The Caddy' with Jerry Lewis and Dean Martin. He also featured in 'Shoot Yourself Some Golf' with Ronald Reagan.

In 1936, when the PGA Championship was match play, Jimmy reached the finals at Pinehurst before losing to Denny Shute, 3 and 2. " Shute was in the trap nine times that day and got up and down every time," Thomson recalled years later. In 1935 at Oakmont, Thomson finished second to Sam Parks Jr. in the US. Open. Thomson had a two-shot lead after 14 holes in the final round but bogeyed the last four holes."I hit four good tee shots, too," he moaned later. "But I wound up in two traps and three-putted two greens."

Off the tour, Jimmy worked as a teaching pro at Broadmoor Country Club in Colorado Springs (1930); Los Angeles C.C (1934), Lakewood Country Club (1935) in Los Angeles where he met and married Viola Dana, a popular silent movie star of the'30s; Shawnee-On-The Delaware C.C (1936) and Chicopee Falls (1941).

Thomson broke the course record at Ingleside Golf Club with a 64, during the San Francisco Open in 1937. He led the qualifying and received a medal and $25 prize money. The top sixteen qualified for the 72-hole matchplay, but Thomson was defeated in the quarterfinals. In 1937, Pine Valley Golf Club, New Jersey, invited a dozen of the leading professionals to team up with a club member in a 72-hole Invitational Tournament. That year, Sam Snead and Jimmy Thomson, the two longest hitters of the day, were joint first on 302, a score that was 22 under-par.

Jimmy won his first major USPGA tournament in January 1938 when he won the Los Angeles Open. 'The siege-gun from Shawnee-On-The-Delaware' as the media described him, set a new tournament record with a 72 hole score 273 which included a final round three-under-par 68. Thomson lead from start to finish and lifted the $2,100 first prize.

For many years Jimmy was a member of the Spalding golf advisory staff at their headquarters in Chicople and was well known throughout Western Massachusetts giving public clinics. He also took part in exhibition matches sponsored by Spalding & Co. across the United States with Harry Cooper and Lawson Little. During WW2 Thomson served in the US Coast Guard and in 1940 was among an elite field of invited pro's, playing in a round-robin tournament at Freshmeadow C.C in New York. Including Ben Hogan, Byron Nelson, Gene Sarazen, Jimmy Demaret, Horton Smith and Sam Snead.

Jimmy Thomson never played in the Ryder Cup because the PGA altered the rules in 1931 which stipulated that each player had to be born in Britain and also resident in Britain. The residency issue was to stop the USA selecting British players based in America.

The Ryder Cup was not played for over ten years due to WW2. In 1947 the event was held at Portland Golf Club, Oregon. The course was laid out by George Turnbull from North Berwick in 1914. The super-fast and demanding greens were ideal to test the short game skills of the Ryder Cup teams.

Jimmy returned with Lawson Little to Scotland in 1948 to compete in the Open at Muirfield and on Monday 12th July following the Open, played an exhibition match over the North Berwick West Links. This time he was joined by Brazilian Mario Gonzalez and the newly crowned Open champion Henry Cotton.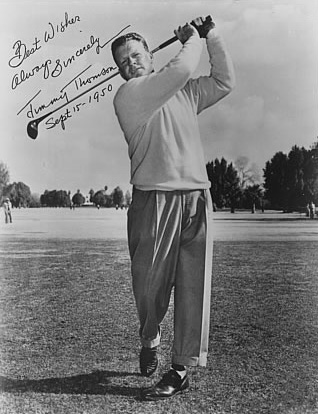 The spectators had come to see the South American, an amateur at that time playing in his first Open, described as having a stick-like physique but was noted for the beauty and power of his strike.
That day Jimmy stole the show, driving the 328 yard first green to the crowd's delight, but more was to follow. At the 14th named ' Perfection', a 376 yard par 4, Jimmy holed his second shot to the blind green and Henry Cotton turned to the crowd and said " Local boy comes good " In 1953, Jimmy Thomson appeared in the movie 'The Caddy' with Dean Martin and Jerry Lewis. Jimmy also featured in the movie 'Shoot Yourself Some Golf' with actor Ronald Reagan (1942) and with a number of pro's in 'Swing With Bing', featuring Bing Crosby (1940).
Jimmy also wrote a book called Hit 'em for Miles, How to Drive a Golf Ball which was among the most popular golf instruction books including How to Play Golf - Sam Snead, Power Golf - Ben Hogan, and Wining Golf - Byron Nelson.
In 1957 Jimmy Thomson was hired to entertain the US troops on a five week exhibition tour of Air Bases in France, Germany, England and North Africa. In 1960 Thomson was made a life member of the Carolina PGA Section. Although his tournament days were over, Jimmy was still very much involved in the game, being appointed promotional director for Dunlop in the United States.
In an article in Golf Digest in 2011, senior writer Jaime Diaz complied a list of the five best power hitters in golf history and he selected Jimmy Thomson as his number one choice.
Jimmy Thomson's father James Wilfred Stevenson Thomson was born in North Berwick in 1888. In November 1904 he started an apprenticeship as a greenkeeper on the West Links, North Berwick under Alex Wright. Wilfred was appointed golf pro at Dunstable Downs (1910-11) then Penn G.C, Wolverhampton (1911-12) before he moved to Hexham in Northumbria in 1912 where he remained until 1919. He entered the 1911 Open Championship at Sandwich and the 1914 Open at Prestwick. Some fine examples of his club making survive from this period, stamped with "W. Thomson Special Hexham". Not to be over-shadowed by his brother-in-law Ben Sayers who taught the nobility, Wilfred tutored the Duke of Alba a member of King Alfonso's court in Spain.