NORTH BERWICK

Golf Courses

Bass Rock

Town History

Origins of Golf

19th Hole

PHOTO GALLERY

East Links

West Links

North Berwick

Gullane

Tantallon Castle

Old Photographs




Accommodation

Restaurants

Best Pubs

Skeletons at Auld Kirk

Berwick Law


FAMOUS GOLFERS

Jack Hobens

Willie Anderson

Jack White

Dorothy Campbell

Jimmy Thomson

Fred McLeod

Watt Brothers

Thomas Dunn

NORTH BERWICK
GOLFING PIONEERS
Club Makers
Golf Professionals
and Course Architect

NORTH BERWICK
LINKS IN THE 1890s
by DOROTHY CAMPBELL

NORTH BERWICK
Antique Golf Club
COLLECTION


WOMEN'S BRITISH OPEN - 2009
Photo Gallery




Catriona Matthew MBE,OBE
Golf Professional
Born: 25th August 1969, Edinburgh


Ricoh Women's British Open
&copy Digitalsport UK


18th East Course, North Berwick
&copy Digitalsport UK

West Links
East Course
Gullane
Muirfield
Dunbar
Musselburgh


Muirfield Clubhouse &copy Digitalsport UK

Amateur Record

Scottish Girls' Championship:1986
Curtis Cup Team :1990,1992,1994
Scottish Ladies'Amateur :1991,1993,1994
Rochampton Gold Cup :1989
Helen Holm Trophy :1990
Welsh Women's Open :1992
St. Rule Trophy :1993, 1994
Ness Trophy :1993
British Ladies Amateur :1993
Spanish Ladies' Championship :1993
Vagliano Team Trophy :1989, 1991, 1993
Espirito Santo World Team Championship :1992 European Ladies Team :1989, 1991

'Super Mum'
Wins British Open
By Douglas Seaton
North Berwick Factfile

CATRIONA MATTHEW (nee Lambert) attended North Berwick High School, before qualifying as an accountant at Stirling University. She later wrote, 'As a girl growing up in North Berwick it was natural I should also want to play golf. I was lucky there was a nine-hole children's course where I could learn to play; I think the longest hole was 150 yards. That was a wonderful place to start. They ran five tournaments each summer for under-10s and under-14s. There would be 100 or so boys and girls playing together and it was an enjoyable way to introduce youngsters to the game.' Catriona took lessons from Jimmy Hume the former pro at Gullane and lists him as a great influence in her early years.

Catriona joined North Berwick Ladies Golf Club in 1981 when she was 12 years old. Her talent was first recognised when she won both the ScottishSchoolgirls Championship and the STV Scottish Girls Match Play at the age of sixteen. While a student, Catriona worked on the Children's Course at North Berwick collecting the ticket money and in the evening she would stand by the March Dyke, a stone wall crossing the 3rd and 16th fairways on the West Links, checking if the passing golfers had paid their green fees - just like the 'Highway Patrol'.

Matthew became the first Scot to win on home soil in over a decade at the WPGA Championship of Europe.

Catriona was a former Scottish Girls champion, Scottish under-21 champion, three times Scottish Amateur Champion, and winner of the British Women's Amateur title in 1993. Matthew also played in three Curtis Cup teams before turning professional in 1994. Golf is not the only sport she excels. Catriona played badminton for Scotland in 1985 in the European Championship for the under-16s.

Catriona is known to her fellow professionals as 'Beany', a name she was given at school. She married Graeme Matthew from Melrose, a former Scottish Boys Strokeplay Champion and on qualifying for the US LPGA tour in 1995, Graeme caddied for her during the first two years. Since her days at Stirling University Catriona has been coached by the Glenbervie professional John Chillas.

Australian Women's Open - 1996

Her first international victory came in the Australian Women's Open at the Yara Yara course in Melbourne on 10th November 1996. During the final round she carded a flawless 69, to win by three strokes from the home favourite Karrie Web (70). Matthew finished with a nine-under-par total of 283 and was sprayed with champagne on the home green by fellow Scot Kathryn Marshall (77) who finished in joint fifth place. Sweden's Liselotte Neumann (72) was third on 287.

WPGA Championship of Europe - 1998

In August 1998, she won the McDonald's WPGA Championship of Europe on the King's Course at Gleneagles. For the first time her husband relinquished the caddying duties, and Andy Dearden from Manchester took over. During the Championship of Europe, 28 year old Matthew, led from the first round, closing with a 69 for a 12 under-par total of 276, five shots clear of playing partner Laura Davies (72) and defending champion from Sweden, Helen Alfredsson (71). As Catriona lifted the 45,000 GBP winners cheque, she said "I did get nervous towards the end, but the crowd were fantastic. They cheered me onto every green."

<! post.html>
Catriona Matthew defeated her fellow Curtis Cup and Vagliano team member Kirsty Speak in the final of the British Ladies Amateur Championship at Royal Lytham and St. Annes in 1993.
On 18th September 1998, Matthew made her debut in the European Solheim Cup team at Muirfield Village in Ohio, which the USA won 16-12. In 1999, her husband Graeme returned to caddie for her and at the first major of the year, the Nabisco Dinah Shore, she finished seventh. At the U.S. Women's Open in June she finished top Briton in eighth place at Old Waverly, West Point, Mississippi. In the final major of the 1999 LPGA season, Catriona finished fifth in the Du Maurier Classic, played at Priddis Green in Calgary, Canada.

In 2000, she competed in 28 events and posted seven top-10 finishes, including fifth at the season-opening The Office Depot and Australian Ladies Masters. Catriona, twice runner-up in tour events crossed the $1 million mark in career earnings on July 16 2001 after a tie for 10th place at the Japan Airlines Big Apple Classic.

Hawaiian Ladies' Open - 2001

Matthew won her first US LPGA tour event, the Cup Noodles Hawaiian Ladies' Open on 18th February 2001 at Kapolei, by adding a level par 72 to opening rounds of 67 and 71 for a six-under-par total 210 and a three-shot victory. Playing in tough windy conditions Matthew led by two at the start of the final round, but was tied with her playing partner US Solheim Cup player Nancy Scranton with nine to play. But while Matthew held her nerve over the closing stretch with an eagle at the 11th, Scranton finished double-bogey, bogey. In the end it was Sweden's world No.2 Annika Sorenstam who snatched second place after a 70 for a three-under 213, while Scranton's 74 left her having to settle for share of third with fellow American's Danielle Ammaccapane (69) and Wendy Ward (73) on 214. Matthew was presented with a cheque for 77,600 GBP and a Rolex watch that is part of the trappings for a first-time tour winner.

In 2002, Matthew was controversially left out of the Solheim Cup team by Dale Reid when Europe was defeated by the United States in Minnesota. In 2003 Matthew gained one of captain Catrin Nilsmark's wild card picks when the Solheim Cup was played at the Barseback Golf and Country Club, Malmo in Sweden. Catriona played in all five matches, and had the honour of securing the wining point for Europe. The highlight was when she hit an eight iron to eight feet at the 17th hole and Rosie Jones conceded her five-foot birdie putt which clinched the European victory. This was only the third triumph for Europe in this event and its biggest ever victory, seventeen-and-a-half points, to ten-and-a-half.
LPGA Wendy's Championship, Dublin, Ohio - 2004

Catronia had to wait another three years before her next LPGA victory at the first extra hole of a sudden death play-off in the Wendy's Championship for Children, played at the Tartan Fields Golf Club in Dublin, Ohio on 22nd August 2004.

In the final round Matthew had a three shot deficit with six holes to play but birdied two of her final four holes for a closing round 68, four under par, which matched defending champion Hee Won-Han's total of 278 to force a play off. This was the first play-off Matthew had been in and her par at the first extra hole was good enough to eclipse her opponent's bogey on a day when Catriona didn't drop a single shot. 72-67-71-68=278 (-10). Mexico's Lorena Ochoa was third, one shot back on 279, while the fourteen year old Korean-American Michelle Wie finished tied for 6th place on 282.

In 2005, she made her third appearance in the European Solheim Cup team at Crooked Stick, Carmel, Indiana, where the USA triumphed fifteen-and-a half-points to twelve-and-a half points for Europe.


Wendy's Championship
Dublin, Ohio, August 2004 &copy Getty Images
In 2006, Catriona was confirmed as the best female golfer in the UK when she was ranked 19th in the first official women's world golf rankings. Catriona admitted she still has superstitions and always starts a tournament with a ball marked with a four, and only practices with her uneven irons on the range. She said that's because I only had a nine, a seven, and a five iron when I started playing golf.

In August 2007, Matthew claimed her fifth worldwide victory when she won the Scandinavian TPC, at Barseback Golf and Country Club in Malmo, Sweden. Catriona carded a final round 68 to finish on nine-under-par 279, and a three stroke victory over American Laura Diaz and Sweden's Sophie Gustafson. Defending champion Annika Sorenstam who hosted the event, shot a four-under-par 68 to finish in ninth place on level par. Matthew who took six months off to have baby Katie on 18th December said she was a little bit shaky on 10 and pushed my second shot but the birdies on 12 and 13 settled me down and I had good chances coming in.
Scandinavian TPC - Sweden 2007
LPGA Lorena Ochoa Invitational - Mexico 2011.
Scottish Ladies Open - Archerfield 2011
Women's British Open Championship
In January 2009 Matthew won the HSBC Brazil Cup while she was five months pregnant. On her returned from maternity leave in July at the Evian Masters in France, Catriona and her husband Graeme had to run through flames to escape a fire in the Pavillons du Golf Hotel where they were staying. A week later Catriona became the first Scot and only the fourth British player to win a major championship in the women's game when she lifted the Ricoh Women's British Open at Royal Lytham and St Annes. The press described her as 'Super Mum' after winning the title eleven weeks after giving birth to her second daughter Sophia.
The 39 year-old, moved into contention with an eagle three, a hole-in-one and then four birdies in a terrific back nine of 30 on Friday and was tied for the led at the halfway stage, and three clear of the field after a 71 on Saturday. At the start of the final round, it seemed at first the title was slipping away from her - dropping three shots to see her overnight lead vanish. But she roared back to sink a trio of birdies, including a monster 45ft putt on the 14th to take her to victory by three shots over Australian Karrie Web who closed with a four-under-par 68 to finish on level par. America's Paula Creamer and Christina Kim and Japan's Ai Miyazato dropped shots late on to finish joint third.
The Scotsman Comment - To become Open champion so soon after giving birth is a truly remarkable feat at which her male counterparts, knowing the energy and stamina that championship level golf requires, can only marvel.
'Super Mum' climbed to No.14 on the LPGA rankings and was selected for the fifth time to play for Europe in the Solheim Cup at Rich Harvest Farms, Illinois in August 2009. At that time Catriona was coached by former European player David Whelan who was based in Florida where he also coached American Paula Creamer. In December 2009, Catriona was crowned Ladies' European Tour Player of the Year and came second to Lee Westwood in the Golf Writers' Trophy. Catronia is an honorary life member of both North Berwick and Gullane Ladies Golf Club.
Scottish Ladies Open - 2011
In August 2011 Catriona won her eighth title at the Scottish Ladies Open at Archerfield Links. Four ahead going into the final round, Catriona stormed to the turn in five-under 31 and after eight straight pars coming home, she signed off in style by rolling in a 15-foot birdie putt on the last for her seventh birdie of the day on the Fidra course and a 15 under-par total of 208.
First round leader Hannah Jun of the United States carded a solid final round of 72 to finish back in second place, a stroke clear of third placed Caroline Afonso of France. In September 2011 Catriona played in her sixth Solheim Cup at Killeen Castle outside Dublin. In the single matches on the final day Matthew thumped Paula Creamer 6 & 5 and helped Europe regain the Solheim Cup with a thrilling 15-13 victory over the USA. Suzann Pettersen and Caroline Hedwall started the fight back and the result eventually hinged on the final three matches and it was Azahara Munoz who had the honour of clinching the vital point in the final match with a one hole win over Angela Stanford.
Catriona is coached by Kevin Craggs, the SLGA's national coach and her fitnest trainer is Steve Paulding. She is on the list of IMG's golf clients with Vikki Cuming, and in 2010, she received an MBE in the Queen's New Years Honors List for services to golf.
Lorena Ochoa Invitational - Mexico
In November 2011 Catriona won her fourth career LPGA title at the Lorena Ochoa Invitational in Mexico. She closed with a one-under 71 for a four-stroke victory in the 36-player event at Guadalajara Country Club. Three shots ahead at the start of the final round, Catriona stretched her lead to eight shots after racing to the turn in four-under 32. After dropping shots at the 12th and 15th her lead was reduced to three as Swede Anna Nordqvist made a charge after picking up three birdies.
Catriona held her nerve eventually signing for rounds of 69, 68, 68, 71 and a winning total of 276. Nordqvist finished joint second with defending champion In Kyung Kim from South Korea on 280. Catriona's regular caddie, husband Graeme remained in Scotland with the children and she used an old friend Chuck from the PGA Tour as her caddie.
Ladies Irish Open - Killeen Castle 2012
Scandinavian TPC - 2007
Scottish Ladies Open - Archerfield 2013
Ladies Irish Open - 2012
In August 2012, Catriona led from start to finish to clinch her tenth career title with a closing round of 71 in the Ladies Irish Open at Killeen Castle near Dublin. Matthew led by one after an opening 67 and by two after successive rounds of 71 to finish with a total of 209, seven-under-par. Her European Solheim Cup team-mate Suzann Pettersen of Norway ended a stroke back after her second round of 69. Petterson pushed Matthew all the way as she began the final round three shots behind but was tied for the lead after 15 where she found the left bunker with her second shot but made a birdie putt from 20 feet. Matthew birdied the same hole and Petterson made an eight-foot birdie putt on the par-three 16th to stay level with Matthew but she then dropped a shot at 17. There was a two-shot swing when Matthew holed a tricky five-footer to reach eight-under-par with a hole to play. Pettersen missed a downhill birdie putt on 18 and although Matthew dropped a shot finding the bunker behind the green, two putts was enough to seal her win and the 52,500 euro first prize.
In June 2013 Catriona came close to her second career major as she lost out to World No.1, Inbee Park in a grueling sudden death play-off at the Wegman's LPGA Championship in New York. Matthew carded four birdies in a blemish free final round at Locust Hill Country Club, Pittsford, but was beaten when South Korea's Inbee Park birdied the third extra play-off hole. In 2013 Catriona was ranked eighth on the LPGA world rankings and was again selected for the European Solheim Cup team against the United States. The match was played at Colorado Golf Club, Denver and Catriona holed a five-foot putt on the 18th green to clinch outright victory for Europe. This was the first time the European team had won the Solheim Cup in America. The result was Europe 18 USA 10.
Ladies Scottish Open - 2013
In September 2013, Matthew lifted the Aberdeen Asset Management Ladies Scottish Open for the second time in three years over the Fidra course at Archerfield. Three ahead going into the final round with winds gusting close to 30mph Matthew signed off with a two-under 70 for an eight-under-par total of 208, winning by two shots from England's Hannah Burke after she closed with a best-of-the-day 68. The defending champion Carly Booth finished joint-fourth along side compatriot Pamela Pretswell. In 2016 Catriona entered her 22nd season on the LPGA Tour and in March she received a Scottish Golf Lifetime Achievement Award.
In 2017, Catriona Matthew failed to secure one of European captain Annika Sorenstam's four wild cards for the Solheim Cup match at Des Moines Golf and Country Club, Iowa and she had to be content as one of Sorenstam's vice-captains. At the 11th-hour Catriona was drafted into the team as the Norwegian Suzann Pettersen hurt her back and was unable to play. Catriona and her partner Karine Icher of France won their two foursomes matches.
In the singles Matthew recovered from being three down after four to beat Stacy Lewis on the last, bringing Catriona's career points tally in the biennial event to 22 making her the third most successful European in the history of the Solheim Cup, behind Laura Davis (25) and Annika Sorenstam (24). Despite a spirited rally by the Europeans the USA retained the Solheim Cup 161/2 to 111/2.
Solheim Cup - September 2019
A highlight of Catriona's career was being appointed captain of the European team to face the United States in the Solheim Cup at Gleneagles. With three games out on the course as a nail-biting final day drew to a conclusion in glorious sunshine in Perthshire, the Americans needed just half a point to retain the trophy and a full one to make it three wins in a row under Juli Inkster's captaincy in the biennial event.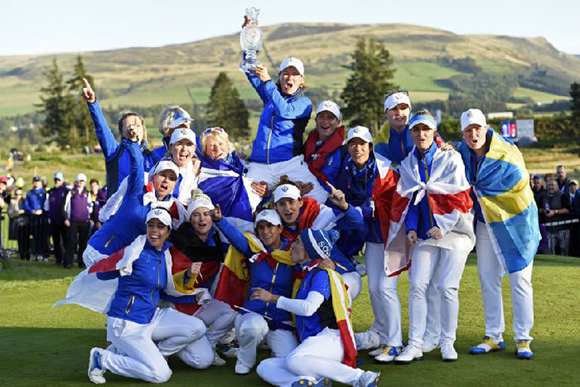 Playing in the anchor match, Swede Anna Nordqvist did exactly what Matthew had asked, and delivered a crucial point against Morgan Pressel. That left it down to Pettersen and Bronte Law in their matches against Ally McDonald and Marina Alex respectively.
Law got up and down to salvage a half then rolled in a 20-foot birdie putt at the next to get in front. A great two-putt from long range at the par-3, 17th sealed a 2&1 success.
Copyright &copy Ian Rutherford 2019
Suzann Pettersen secured the historic win when the Norwegian holed from 6-feet for a birdie on the 18th green to regain the trophy on the PGA Centenary course at Gleneagles. Catriona Matthew admitted it was a 'dream come true' to lead Europe to a Solheim Cup victory on home soil. In November 2019, Catriona Matthew was conferred Honorary Life Member of the North Berwick Golf Club. In the New Year Honours list in 2020 Catriona received the OBE for services to golf, ten years after becoming an MBE.
In October 2020 Catriona accepted an invitation to become an honorary member of The Royal and Ancient Golf Club of St Andrews. She was joined by Ernie Els, Padraig Harrington and Nick Price who also accepted the honour.
Solheim Cup - September 2021
Catriona played in nine Solheim Cups before leading Europe to victory on home soil at Gleneagles in 2019. Two years later Catriona created Solheim Cup history as the first European captain to win the biennial contest back-to-back at Inverness Golf Club, Toledo, Ohio. With Europe 9-7 to the good at the start of 12 singles and needing five points to retain the cup, Ireland's Leona Maguire led the way for Europe as she scored four and a half points from five matches - a record for a rookie on either team. Further points were quickly added by fellow first timer Matilda Castren the first Finn to play in the event won her match on the last to retain the trophy 15-13.
In 2021, Catriona was honoured with a Lifetime Achievement Award in recognition of her 25 year career in golf by the World Golf Awards.
WOMEN'S BRITISH OPEN - 2009, Photo Gallery
Copyright &copy Douglas C. Seaton 2021, All Rights Reserved.