NORTH BERWICK

Golf Courses

Bass Rock

Town History

Origins of Golf

19th Hole

Guest Book



PHOTO GALLERY

East Links

West Links

North Berwick

Gullane

Tantallon Castle

Old Photographs




Accommodation

Skeletons at North Berwick Auld Kirk

Berwick Law



---

Tourist Information
Old Craighall
Musselburgh
Tel. 0131 653 6172
Fax. 0131 653 2805

---




Musselburgh - East Lothian
Advanced Booking Course History Views Score Card

Musselburgh Old Course
Golf Club
Mill Hill, Musselburgh
Secretary: Robin McGregor
Tel.0131 665 6981


Mrs. Foreman's Inn and 3rd Green
&copy Digitalsport UK


Muirfield Clubhouse, Gullane
&copy Digitalsport UK

Famous East Lothian Golfers
Willie Anderson
Fred McLeod
Catriona Matthew
Dorothy Campbell
Jimmy Thomson
Thomas Dunn
Ben Sayers


14th West Links, North Berwick
&copy Digitalsport UK

Musselburgh Links
By Douglas Seaton
Musselburgh Factfile

Musselburgh Links is the site of the oldest remaining golf course in the world. This nine-hole course is a relic from the 'cradle of golf' and remains as a testimony to what was the centre of Scottish golf during its greatest era. Authenticating the record is documentary evidence found in the account book of Sir John Foulis of Ravelston who records losing at 'golfe' at Musselburgh on 2nd March 1672. He also mentions that 'Mary Queen of Scots reputedly played here in 1567'.

Musselburgh Golf Club, one of Scotland's oldest, dates back to 1774 and possibly earlier. The club shared the links with Musselburgh Racecourse established in 1811, and from 1836 by a number of other golf clubs including Edinburgh Burgess and Bruntsfield Links Societies and the Honourable Company of Edinburgh Golfers.

The Musselburgh Silver Cup is the oldest sporting trophy in existence and is on display in the British Golf Museum. First played for in 1774 it is the only 18th century trophy in the shape of a cup, while the other four from that period take the form of a silver club.

The town of Musselburgh has produced many champions like the Parks, Ferguson, Brown and the Dunns. John Gourlay the famous feathery ballmaker and Douglas McEwan the clubmaker, moved from Brunisfield Links to Musselburgh in the 1840s.

John Gourlay worked between 1835 and 1855 in producing golf balls. He was one of three males in the Gourlay family who specialised in making golf equipment. A feathery ball made by John Gourlay in 1850 fetched £2,640 at a Sotherby's auction in July 2000.

The links was originally seven holes, with another added in 1838 and the full nine-holes came into play in 1870. The first three holes stretch eastwards from the grandstand at the racecourse - site of the former clubhouse of the Honourable Company.

To the south is the main traffic route on to which the Musselburgh golfers often sliced their shots and played back to the links using the new brass-soled clubs. The metal plate on the 'brassie' wooden club was invented here in 1885, to deal with such shots. 'The Graves', the 344 yard 2nd hole was reputedly named after the ground where the soldiers were buried following the Battle of Pinkie in 1547. Some say to stop the golfers using the land.

At the third green, beside 'Lord Shand's' bunker stands Mrs. Foreman's Inn where there was a hatch in the wall used to pass refreshments to the early golfers. The course then turns northwest towards the sea with a bunker named 'Pandemonium' to be negotiated.

The next follows the coastline with the second last hole near the gasworks requiring a drive and a long iron shot to reach the green. The Home Hole, which is now the present first, near the abandoned former clubhouse of the Burgess golfers. The course measures 5380 yards.

By the 1880s there was a number of clubs playing Musselburgh and organising the Links became a problem with over crowding. The four senior clubs, the Honourable Company of Edinburgh Golfers, Burgess, Bruntsfield and Royal Musselburgh formed a committee to regulate the green, ending the town's control over the links which had lasted for hundreds of years.
The seemingly random size for the four and a quarter inch diameter hole was just that, it happened to be the width of the implement invented by Robert Gray in 1829 and first used to cut the holes at Musselburgh. In 1893 the R&A made the size mandatory.
The Honourable Company were first to move further down the coast in 1891, followed by the Burgess club settling at Barnton in 1894 and Bruntisfield laid out their own course in 1898. Royal Musselburgh, granted it's Royal title in 1876, moved to a new parkland course in 1924 at nearby Prestongrange, designed by James Braid.

Records show that during the eighteenth century a women's golf competition was held annually on New Years Day among the fishwives of Musselburgh and Fisherrow. The earliest known reference to an open womens' golf competition at Musselburgh dates from 9th January 1811. Played on a putting course, the winners prize was a 'creel' and a 'skull' (a skull was a small fishing basket), with the consolation prizes of 'two fine silk handkerchiefs from Barcelona'. It was not until the 1870's that Ladies began to play with a set of clubs on short courses.

Willie Park and family

Willie Park Sen. was born in Wallyford, son of a farm worker. He came to prominence around 1853 and was such a strong player that an abundance of money was forthcoming to back him. He played Tom Morris on at least six occasions for £100 and the honours were evenly divided. In the last of these at Musselburgh in 1882, the crowd anxious for their local man to win, repeatedly moved Morris's ball into a worse lie and the referee stopped play. When Morris and the referee retired to Foreman's public house, Park sent a message saying if Morris did not come out and finish the match he would play the remaining holes alone and claim the stake - which he did.

Willie Park Sen. had an easy swing with a pause at the end, and his accuracy with the putter from six or seven feet was deadly. He was the first winner of the Open at Prestwick in 1860, runner up the following year and champion again in 1863, 1866 and 1875. His brothers David and Mungo were both fine golfers with the later lifting the now familiar Claret Jug for the first time at Musselburgh in 1874.

Willie Park Jnr. was born in 1864 and apprenticed as a club maker with his uncle Mungo at Alnmouth. At the age of sixteen he was appointed green-keeper and professional at Ryton Golf Club where he stayed for four years before returning to his native town. Park lived for many years at 8 Mill Hill, Inveresk where he started in business as a club and ball maker.
It was custom for the Supreme Court of Scotland to rise on Saturday in time to catch the 1:10 pm train to Musselburgh.
Willie Jnr. first came to the public's attention when he was seventeen, winning against a strong field at Alnmouth. He later went on to win the Open in 1887 and 1889. In a challenge match at Musselburgh against Archie Simpson, he holed the nine holes in thirty three strokes establishing a new course record. Described as a graceful player, Park was the longest driver of the ball among his contemporaries. He continued to use his cleek for putting rather than the modern style and his only trouble was in getting loft on his iron shots so he set about designing a club with a concave blade - between a mashie and a lofting iron, which sent the ball very high in the air, landing softly with no run. Willie Park was the first to patent a golf club. It had a concave face and the Patent No. 5042-1889. The idea was not new but Park monopolized the design for a considerable period. Park's patent 'Lofter' was taken up by a number of good golfers and established him as a leading innovator in club making.

Park made the most of his playing talents and business acumen. During the 1890s, with the increase in popularity of the game his patent clubs were in great demand. He persuaded many large stores to stock his branded clubs and through skillful advertising which was new at the time, he reached markets beyond the professional's shop. In 1899, Park bought a house in North Berwick which he converted into a workshop and residence. He brought Robert Sullivan, a club maker in Musselburgh to manage the business. His apprentice, James Watt continued as a club maker in North Berwick for many years.

Willie Park's younger brother Jack Park at the age of eighteen won an open tournament at Carnoustie in 1897, the field included Braid, Taylor, Vardon and Fernie. In 1898 he emigrated to the USA to manage his brother's golf store at 25 West, 43rd Street, New York. Jack Park (John Archibald Park) played in several US Opens, his best finish was sixth at Baltimore in 1899. He was pro at Essex C.C in New Jersey (1899-01), then to Texas for a short period at Houston C.C before going to Whitemarsh C.C in Philadelphia (1911-15); and then to Maidstone C.C on Long Island (1915-21). In 1924 Jack and his brother Willie Park designed the '18-Hole-Course' at Maidstone which continues to be listed among the top seventy courses in the USA. Jack Park remained in the East Hampton district of New York State at Amagansett C.C (1928).

In 1901, Willie Park Jnr. laid out the Sunningdale course which at that time offered a glimpse of the potential that inland golf could aspire. His next venture at the Huntercombe Club was not so successful which included three golf courses, a hotel and housing development. Park put up the finance himself and when the project failed he lost heavily. When he sold the property in North Berwick Willie returned to Musselburgh and was living at 6, Victoria Street. He also wrote the first golf instruction book by a professional called 'The Game of Golf' in 1896 and 'The Art of Putting' in 1920. Willie Park Jnr. died in 1925 at the age of 61 years and is to be inducted into the World Golf Hall of Fame in 2013.

Mungo Park born 1877, High Street, Fisherrow, son of Wilie Park Snr. and his wife Susanna Law. Mungo followed his father as a golf pro at Musselburgh before moving to the West Links at North Berwick where he was granted a pro license on 16th June 1894 and was living at 17, Victoria Road. His brother Willie Park Jnr opened a store in New York City in 1895 and 19 year old Mungo was sent over to manage the shop. In 1897 Mungo laid out the nine-hole course at the Dutchess Golf Club (NY). The following year he was appointed pro at Dyker Meadow Golf Club, Brooklyn, while working during the winter months as a clubmaker for Slazenger & Son in New York City.

In the winter of 1899 he laid out the first nine holes for Galveston Golf Club, but the course was washed away by a hurricane a year later. In 1905 Mungo was the first winner of the Argentina Open played at Buenos Aires Golf Club, which he won again in 1907 and 1912. Mungo laid out the 18 hole course at San Andres Golf Club, Buenos Aires in 1907. That year he was joined in Argentina by his brother Jack who came second to Mungo in the 1907 Argentina Open (El Abierto). Jack worked at the Belgrano Golf Club and the Golf Club Argentino in Buenos Aires. Jack was also credited with laying out a junior course at Mar del Plata.

Mungo Park Jnr. moved to Gullane in 1914 and was living at 9 Stanley Road, repairing clubs and giving lessons. In July 1915 he enlisted in the Royal Army Medical Corps and was sent to France. Following the conflict Mungo returned to Argentina and then back to America to assist his father to layout the course at St Johnsbury Country Club, Vermont in 1923. During the winter months of 1923 and 1924 Mungo returned to Argentina.

In 1925 he laid out the course at Port-Au-Peck on the Shrewsbury River, New Jersey and in 1926 he was pro at the nine-hole course at Lake Mohonk. The following year he moved to Hollow Brook, near Peekskill (NY) and in 1928 he was based at Castle Hot Springs Golf Club in Arizona. In 1930, Mungo laid out the 9-hole course at the Red Hook Golf Club in Red Hook (NY).

Mungo's wife Grace Morrison was a school teacher and she travelled with him to Argentina in 1904. Grace was a fine golfer and the first winner of the Ladies Open Championship of the River Plate in 1904, and again in 1909 and 1910. They returned to Scotland with their three children in 1914 and were living at Dunedin, Levenhall, Musselburgh. Mungo remained in America until 1936 when he returned to Scotland permanently. His final piece of design work was in 1939 at Royal Musselburgh Golf Club where he carried out substantial alterations to James Braid's original work.

In 1923, Willie Park Jnr made his last trip to America and by the following year he was unable to cope with the pressure of work. Mungo took his older brother home, travelling to Southampton where they were met by Margaret, Willie's wife. They travelled north together by train and Willie was found a place in Craighouse Hospital, Edinburgh where Willie died on 22nd May 1925.

Mungo's niece Doris Park represented Great Britain in International matches throughout the 1930s. (Mrs. Aylmer Porter). Mungo's daughter Kaye (Catherine) was also a Scottish Internationalist, she lived in Haddington where Mungo died in 1960 at the age of 83. Jack Park died in 1935 at East Hampton, New York State.

John M Inglis

John Milne Inglis born in 1878 in Edinburgh, son of Adam Inglis, spirit merchant and his wife Margaret Milne. John worked as a clubmaker with William Frier at the Braid Hills Golf Club, Edinburgh and later with John and Andrew Dickson who had premises in Braid Road and Rose Street behind Thornton & Co where John Forman worked as a ball and clubmaker.

Jock Inglis emigrated to America in 1897 and worked with Mungo Park for Slazenger & Son in New York City. In 1898 Inglis was appointed greenkeeper and professional at the Dutchess Golf and Country Club in New York. The nine-hole course was laid out the previous year by Mungo Park and the first pro was John Forman from Edinburgh. In 1902 he moved to Meriden Golf Club (Connecticut), then to Fall River Country Club (Massachusetts) 1904-07. During this period he wintered at Montgomery Country Club (Alabama) before moving permanently to Alabama (1904-19). During his sixteen years at Montgomery, Jock Inglis developed wonderful Bermuda grass putting greens, which gave him a national reputation. He also established a successful golf club manufacturing business and was known as 'Inglis of the Perforated Grip Fame', mailing the calf leather grips he developed all over the country.

On 8th September 1915 the Alabama Golf Association was established and Jock Inglis was elected secretary and treasurer, a position he held for a number of years. In 1920 he was appointed pro at Savannah Golf Club, Georgia and in 1923 he followed Wilfred Thomson from North Berwick at the Country Club of Virginia, Richmond, VA.

On 17th January 1924 he suddenly died of pneumonia at the age of 46 years, leaving his wife Anne Rutherford Inglis and five daughters, who later moved to Atlanta, Georgia. The obituary of John M. Inglis was carried in Golf Illustrated and the USGA periodical, and the members at the Country Club of Montgomery erected a plaque to his memory. The information above was diligently researched by Tom Buggy, a member of the Dutchess Golf and Country Club.

Bob Ferguson

Bob Ferguson was born in Musselburgh in 1848 and won the first of his three Open Championship's over his home course in 1880. Ferguson lived at 150 High Street (Archibald Place) Musselburgh and when he was only 18 years old, he won the first prize of ten pounds in a tournament at Leith Links (1866) against a strong field of top professionals. His patron was so enthusiastic over his victory that he offered to present Ferguson with a set of clubs.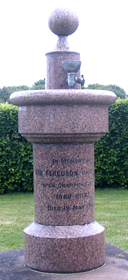 When the set was duly bought in the shop of Douglas McEwan, the eight clubs were chosen with such care that they lasted him all through his championship career. His wealthy sponsors including Sir Charles Tennant who backed him in 1868 and 1869 when he defeated Tom Morris on six occasions.
In 1868 he halved one match with Morris at Musselburgh and won another but was badly beaten over Luffness. Once the two played a match with cleeks alone over Prestwick and Ferguson, who was a very powerful player with all iron clubs, won by four holes. His chief triumphs against the Morris family seem however to have been gained in foursomes. With Davie Park as his partner he beat Old and Young Tom by 4 and 3 and a still better win was at North Berwick when he and old Willie Park beat Tommy Morris and Davie Strath by three holes.
He suffered from typhoid which cut short his playing career. During this period he was unable to pay his medical bills and gave the doctor one of his Open Championship gold medals. Ferguson lived at 150 High Street, 5 Archibald Place, Musselburgh and was appointed custodian of the old links. There is a fine example of Ferguson's club-making with a Wooden Putter circa 1880 in the British Golf Museum. When Bob Ferguson died in 1915, Royal Musselburgh G.C. instigated a subscription for a memorial fountain to be erected adjoining Musselburgh Links. The remaining funds were handed over to Ferguson's wife who was an invalid and totally blind, but well cared for by her family. The fountain was originally erected beside Balcarres Road and when Musselburgh Golf Club moved to Monktonhall in 1938, the fountain was transferred to a new site in front of Musselburgh clubhouse at Monktonhall where it remains. Bob Ferguson is buried in Inveresk Cemetery in an umarked grave, (lair 673) owned by his son Peter Ferguson.
Willie Dunn and family
Willie Dunn was born in Musselburgh in 1821 and along with his twin brother Jamie, played in many challenge matches between 1840-1860. Willie Dunn Snr. apprenticed under the Gourlay family, and was keeper of the green at Blackheath until he was dismissed in 1864 for inappropriate behaviour and he returned to the Thistle Golf Club at Leith Links. Willie worked as a club and ball maker from his house at Primrose Cottage, Lochend, Leith. In 1867 the Thistle Club leased No.8 Vanburgh Place as their clubhouse where Willie Dunn resided with his workshop situated behind in Vanburgh Place Lane.
Dunn had two sons Thomas who apprenticed as a club maker under his father at Musselburgh and Willie Dunn Jnr. who trained under his older brother from the age of thirteen. Tom Dunn started his professional career at North Berwick in 1869. The following year he moved to the London Scottish Club at Wimbledon and in 1871 he joined his father at Leith Links where they lived at No.7 Vanburgh Place. Willie Dunn Snr remained at Leith Links for ten years before settling at North Berwick. He died at Millhill, Inveresk in 1878 at the age of 59 years.
Willie Dunn Jnr. was 15 years old when he played his first match against Ben Sayers at North Berwick and won. In 1882 he partnered Sayers in a money match against the two Fernies at St Andrews. The first day was halved but the second day Dunn and Sayers won the match by five holes. Willie entered the Open Championship for the first time from North Berwick in 1883 and again in 1884, and 1886.
The Golf Course at Musselburgh Links has been officially recognised as the oldest in the world by Guinness World Records.
In 1886, Willie Dunn Jnr. was asked by Horace Hutchinson to take charge of the links of the Royal North Devon Golf Club at Westward Ho!. Dunn remained there for a year and laid out the present course. In 1888, he moved to Royal Epping Forrest in Chingford and laid out their 18 hole course. The following year he was considered for the vacant post at Worcestershire but instead transferred to Biarritz in France where his brother Tom designed the course during a winter visit while still engaged at North Berwick. Willie Dunn Jnr. remained at Biarritz for six years.

In the winter of 1890 while on vacation in the south of France, William K. Vanderbilt and two friends from Southampton (LI). Duncan Cryden and Edward S. Mead of Dodd, Mead & Co. persuaded Willie Dunn Jnr. to come to America. He arrived in March 1891 and accepted the post of professional instructor at Shinnecock Hills during the summer months. Willie extended the existing twelve hole course at Shinnecock Hills as well as laying out the nine-hole ladies course. Four years later a combination of the two courses were used to host the 1896 US Open. Willie Dunn Jnr. was the first unofficial champion of America in 1894 by defeating another Musselburgh boy Willie Campbell. In 1895, Dunn was runner-up in the first official US Open Championship.

By 1896, after flying visits to Biarritz in the winter, Willie Dunn Jnr. with his wife and son Norman William Dunn settled at the links of Ardsley Country Club in New York where he designed the course. It was here he set up a club manufacturing business and was joined by his nephew John D. Dunn in 1897. Willie opened a retail shop in New York and began experimenting with steel shafted clubs and was the first to use a tee peg. In 1895, he established the first Indoor Golf Centre and he continued this facility when his business moved to 9 East, 42 Street New York in 1898, a few blocks away from John D. Dunn's premises. In 1900, Willie Dunn Jnr laid out a private nine-hole course for John D Rockefeller on his Tarrytown Estate, NY.

The family can remember the son of Willie Dunn Jnr. telling the story of how one minute he was a grocer's delivery boy in Blackheath and the next he was playing rough and tumble with the Vanderbilt and Rockefeller children on 42nd Street, when his father made his millions and then in no time he would be back delivering groceries again when his father's fortune was lost. He said this happened a couple of times. In the 1920s Willie Dunn Jnr. moved to San Jose in California still designing clubs until his death in 1952.

Charles Gibson

Charles Gibson Jnr. was born March 20th 1860 in Millhill, Inveresk. He apprenticed as a cabinetmaker and joiner in the business run by his father and uncle, Charles and John Gibson at 8 Millhill, Inveresk. When they retired in 1880 Charles Gibson began club-making with Tom Dunn and moved to North Berwick in 1882 when Dunn was appointed keeper of the green. Tom Dunn used a timber building adjacent to the first tee on the West Links, as his club-making workshop. Charlie Gibson and Tom Dunn trained many fine clubmakers at North Berwick including Open Champion Jack White.

Charlie Gibson married North Berwick girl Helen Ramage and they lived at 27 Westgate. In 1889 Gibson joined Tom Dunn's brother Willie Dunn Jnr. at North Devon Golf Club, Westward Ho! where he was appointed club-maker. In 1891, Gibson laid out the original nine-hole course at Royal Porthcawl in Mid-Glamorgan and the course at Lahinch, Co. Clare in 1892. Gibson remained with the North Devon Club for 43 years and trained many fine club makers including John H. Taylor who left school at the age of 11 to become a greenkeeper and went on to win the Open Championship fives times; George Cann who later started a club making business with Taylor at Richmond and Bert Way who designed the courses at Euclid Country Club and Mayfield Country Club in Cleveland. Way was also a friend of Coburn Haskell and collaborated in the testing and design of the rubber-wound golf ball.

In 1924, Charlie Gibson was asked to make a miniature set of golf clubs for Queen Mary's Doll's House. Ben Sayers at North Berwick made the irons and Gibson made the wooden clubs. The leather golf bag was two and a half inches high and the clubs were three and a quarter inches long. The Doll's House was displayed at the British Empire Exhibition at Wembley and is now on view at Windsor Castle. The aim of the project was to raise money for children's charities and Queen Mary wrote personally, thanking the clubmakers. Gibson used as his clubmakers mark a horse, reflecting his early days living opposite Musselburgh race course. His four sons also took up a career in golf at Westward Ho!, Royal Calcutta Golf Club and in America.

Willie Campbell

Willie Campbell, a former caddie to Bob Ferguson, was born 9th August 1862, Archibalds Place, Musselburgh, son of John Campbell, a caddie and clubmaker, and his wife Christina Nice. In 1887 Willie was assistant pro to Charlie Hunter at Prestwick GC and in 1889 he was the first greenkeeper and professional to be appointed to Ranfurly Castle GC (1889-94). That year Willie's younger brother Ben Campbell was appointed pro at the adjacent Bridge of Weir GC (1889-92) which is now defunct. Willie was a tall strapping fellow, not a sensational driver yet long and straight off the tee. It was with the mashie that he was famed, using it for every kind of shot, sometimes putting with it. Matchplay rather than strokeplay was Campbell's forte winning many money matches. In 1886, he defeated Willie Park twice over Musselburgh and North Berwick, beat the champion David Brown and had victories over Bob Martin and Willie Fernie.

John Campbell and his family moved to North Berwick in July 1876 when Willie's sister Christina was enrolled at the North Berwick Public School. Willie and Ben were granted a license as golf pros at North Berwick and they entered the Open Championship from the town in 1885. Ben Campbell played in the Open Championship for over a decade from 1883 and his highest finish was third at Musselburgh in 1886.

Willie married Georgina Stewart in 1886, a cotton factory worker with J & W. Stuart. Her family lived next to the Campbell's at 49, Millhill Musselburgh. Their daughter Mary was born in Gateside Cottage, Bridge of Weir. In 1890 they were joined at Ranfurly by Willie's younger brother John who was also a clubmaker.

In 1889, Willie Campbell took part in a four round challenge match against Archie Simpson over Carnoustie, St Andrews, Musselburgh and Prestwick. Campbell won all four matches but it was the huge crowd at Musselburgh which stole the headlines with the players driving down an avenue of spectators ten to twelve deep including top-hatted Edinburgh gentlemen shoulder to shoulder with grimy miners who had climbed from the bowels of the earth to watch the match. Campbell laid out courses at Machrie Hotel (1891), Isle of Islay, and Seascale (1893), Cumbria.
John Reid who is credited as being the Father of American Golf was born in Dunfermline in 1840, and learned to play the game over Musselburgh Links.
Willie Campbell suffered from a rheumatic condition and emigrated to America in 1894 and was appointed the first greenkeeper and professional at the Country Club of Brookline. In 1895 Campbell moved to Myopia CC and George Douglas from North Berwick was appointed to the Country Club of Brookline in March 1896. Willie Campbell is the best known of the clubmakers who made a new life across the Atlantic. His wife Georgina became the first lady golf professional in America at the nine-hole Franklin Park course in Boston. Working from a shop in Dorchester, Campbell was allowed to retain the green fees at Franklin Park as his pay and sell clubs and balls. Campbell never enjoyed good health and died at his home in Dorchester, Boston on 25th November 1900 at the age of 38 years and is buried at Forest Hills.

Ben Campbell continued to work at Musselburgh and North Berwick was among a group of pro's who were invited to play at the opening of the new Luffness course in October 1894, and the extended course at North Berwick in June 1895. Ben Campbell died at 9, Kerrs Wynd, Inveresk, Musselburgh in 1908, aged 43 years. At that time his father Jack Campbell was working as a caddie at North Berwick and in 1912 he died in Inveresk Poorhouse.

Alex 'Nipper' Campbell (b.1876) followed George Douglas as pro at the Country Club of Brookline in 1899 and it has been suggested that he was a brother of Willie Campbell. Willie and Alex Campbell were not related, Alex came from Portland Road, Troon, Ayrshire.
Doleman Brothers
The four Doleman brothers living at 7, High Street, North Esk were associated with golf for over 70 years. William (1838-1918) was the best player and was the first amateur to enter the Open Championship. A. H. Doleman (1836-1914) was one of the pioneers of golf in England and founder of golf at Lytham and St Annes. John (1826-1918) the eldest, introduced the game to Nottinghamshire and Frank (1848-1929) was a clubmaker at Bruntsfield Links. William Doleman is credited as the first to play golf in Canada in 1854. When as a 16 year old sailor he went ashore from a military vessel and played a game on the Plains of Abraham at Quebec with clubs he had brought on the voyage. There is a fine example of Frank Doleman's clubmaking in the Museum of Edinburgh with a clubhead made in 1884 from oak salvaged from a building demolished in the High Street, Edinburgh.
David Brown
Davie Brown known as the 'Deacon' was a roofing slater to trade. When he won the Open at Musselburgh in 1886, he did not initially enter the championship but at the last minute was called from his work to make up the numbers. After a wash and borrowed clothes he amazed everyone by leading a strong field with a record 157 for 36 holes. After his triumph he give up his trade and joined the professional ranks and was appointed assistant to his Musselburgh friend Peter Paxton at Worcestershire Golf Club, where Brown was appointed head pro in 1891. That year the Club members subscribed towards paying his fare to compete in the Open at St Andrews where he finished in 7th place. Brown set a new course record at Malvern in 1894 and 1898 before moving to Harborne Golf Club near Birmingham. In 1899 he emigrated to America and was employed by A.G.Spalding Bros. in New York before moving in 1901 to the Crescent Athletic Club, Brooklyn. A Long Spoon (circa 1880) made by Davie Brown is on display in the British Golf Museum.
At the US Open in 1903, Davie Brown tied with Willie Anderson from North Berwick but was defeated by two strokes in the play-off which was marred by pouring rain. Brown was a familiar figure at North Berwick working the West Links during the summer months when Anderson was a school boy hanging around the club makers workshop. In 1891, Brown spent a week in the town partnering Ben Sayers in money matches. He often mentioned the tricks Sayers would employ to beat his opponents, such as walking forward a hundred yards to study the green before making his aproach shot or another trick was smoothing down the green with the back of his hand as if conveying the idea that he expected to hole the putt. If Davie Brown was playing against Sayers, he would carry a newspaper and when Ben began his tricks, Davie would pretend to read the newspaper as if he did not notice Sayers antics. Davie Brown enjoyed playing the stock market but lost most of his wealth during the Wall Street slump in 1929 and returned to Musselburgh, where he died a year later and was buried in Inveresk Cemetery.
Clark Brothers
Peter Clark apprenticed for seven years as a club maker with Willie Park at Musselburgh before emigating to America in 1897. He laid out the course for the Century Country Club in New York in 1898 and was appointed their first pro. In 1913 he moved to Westchester Hills Country Club at White Plains in New York and laid out their course where he remained until he retired in the 1930s. Peter was also associated with Nassau Country Club and in 1923 he construced the private course at Gedney Farm Golf Club, New York.
Peter's brother Dave Clark also sailed to America and was appointed to the Country Club of Scranton in Pensylvania (1916-26). He moved to Castle Shannon at Pittsburg in 1927 as manager and pro (now Mt Lebanon Golf Club). Their younger brother James Clark was assistant pro to John H. Taylor at Mid Surrey Golf Club.
John Forman
John Forman born 28th July 1860 in Old Bridge Street, Leith, son of Henry Forman, a merchant seaman and his wife Barbara Gillespie. John Forman was a contemporary of Ben Sayers and Andrew Kirkaldy, and caddied for Old Tom Morris, Davie Strath, and Johnny Laidlay at North Berwick and Musselburgh. Forman bought his first golf club from Willie Dunn Snr who was in charge of Leith Links. John Forman worked for Thornton & Co at 78, Princes Street, Edinburgh as a club and ball maker for over 21 years. In 1895 he lived in the High Street, North Berwick and was granted his professional ticket on the West Links on 23rd August 1895.
Forman emigrated to America in 1897 and was appointed pro at the Dutchess Country Club, Poughkeepsie, NY where Mungo Park laid out the nine-hole course the previous year. Two of the original holes are named 'Trap' and 'Perfection' after the holes at North Berwick. In 1898 Forman was appointed assistant pro to Willie Dunn Jnr. at Ardsley Casino Country Club, Dobbs Ferry, NY where John Duncan Dunn was also a club maker. Forman was familiar with the Dunn family from his days at Leith, Musselburgh and North Berwick. John Forman remained at Ardsley for three years and in 1901 he moved to Westfield G.C. NJ (now Echo Lake Country Club), then to Kahkwa G.C. at Erie PA (1903-1904), before settling at Warren Golf Club in western Pennsylvania, (which does not exist) 1905-1916. He was appointed to Danville G.C. VA in (1917-19) before moving to Harrisburg, PA (1920-28) where he died at the age of 64 years.
Alexander Carrick
Alexander Carrick born 1762 in Athelstaneford, East Lothian, was a Blacksmith and Edge Tool Maker. He was joined in the business by his brothers Archibald (b.1789) and Francis (b.1791) when they expanded to 61 High Street, Musselburgh in 1839. F & A Carrick, where also Golf Cleek Makers in their workshop on Back Street, Inveresk. The business continued with James Carrick (b.1827) at 1 New Street, Fisherrow until 1908. James lived at 132 North High Street, Musselburgh. Popular with collectors today is the smooth faced Carrick lofting iron with a hickory shaft supplied by R. Forgan & Sons, St Andrews.
Archibald Tait
Archibald Tait, born 1881 in Musselburgh, son of Archibald Tait, a self employed carter and his wife Maria. Archie apprenticed as a golf club maker while living with his parents at 213 North High Street, Musselburgh. He married Helen Ferguson and was appointed golf professional at Portmarnock, County Wigton where his son Archibald was born in 1911. Archie Snr. returned to Musselburgh where he started in business as a wine and spirit merchant at 83 High Street. Archibald Tait Jnr. married Bernice Sharp niece of Ben Sayers the famous North Berwick golf professional.
Harry Peebles
Harry Kummere Peebles born 1898 in Musselburgh emigrated to Western Australia and in 1920 he was employed giving golf lessons in the famous Boan Department Store on Wellington Street, Perth. Owned by Harry and Benjamin Boan, the store offered free golf lessons from Harry Peebles and Eddie Alberts on Tuesday and Thursday in their second floor Sports Section. In 1930 Peebles was convicted of stealing 35 books from Boan's. He was fined £12/- in default, five weeks' imprisonment with hard labour and sacked.
Musselburgh Racecourse and Grandstand &copy Digitalsport UK
For many years Musselburgh Links have been neglected by the Local Authority but the club members have worked tirelessly to bring the course back to the fine condition it is in today. For those wishing to experience playing golf during the 19th century, hickory clubs and guttie balls are available to hire from the starter. The town of Musselburgh is situated on the A1 motorway, en-route from Edinburgh to North Berwick.
Booking
Tel: 0131 665 6981 Starter Tel: 0131 665 5438
Copyright &copy Douglas Seaton 2013, All Rights Reserved.