The present members clubhouse was completed in 1928 to provide facilities for both Gullane Golf Club (1882) and Gullane Ladies Golf Club. The Ladies Club was formed in 1904 and remains to this day an independent club, one of only four such in Scotland. Reid Jack a member of Gullane G.C won the Amateur Championship in 1957.

The oldest club in continuous existence at Gullane is Dirleton Castle Golf Club, founded in 1854. A traditional artisan golf club which does not own a clubhouse but has succeeded in offering golf and fellowship at a realistic cost to its membership. Dirleton Castle took part in the first National Foursomes Tournament which was instigated by Prestwick Golf Club in 1857. The clubs invited to take part were Musselburgh, North Berwick, Perth, Carnoustie, Blackheath, St Andrews and Leven. The tournament took place on 29th July at St Andrews when Montrose, Bruntsfield, Dirleton Castle and Innerleven were also invited as were Panmure and the Hon. Company but they scratched.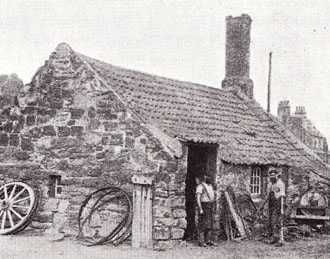 The Dirleton Castle team comprised of William Carse from Prestonpans and Robert Bertram a baker from North Berwick. The following year the inter-club competition took the form of an individual matchplay tournament.
This subsequently led to the formation of the Amateur Championship in 1885 when 26 clubs, 5 of them from East Lothian, subscribed to the trophy. The Scottish Amateur Championship was originally played for among the blue-blooded fraternity and a closed shop to artisans. The competition played over a week precluded the local tradesmen from taking part. This was to change and in 1925, Thomas Dobson a member of Dirleton Castle won the Scottish Amateur Championship.In 1927, Dirleton Castle Ladies Club played their competitions over Gullane No.3 course.
The Professional Golfers Association held their annual meeting in Gullane Village Hall on the evening of Saturday 28th June 1935, following the final round of the Open Championship at Muirfield. Presiding was Henry Cotton and among the topics raised was a question from George Duncan regarding when assistant professionals would be eligible to play in major tournaments.
Gullane was one of the final qualifying courses when the Open Championship was played at Muirfield. In 2002, Andrew Coltart qualified at the neighbouring Luffness New course where the casualties included Ian Poulter, American pair Jay Haas and Mark Brooks and Australian Brett Rumford. At that time the unknown Charl Schwartzel also missed out at Gullane.
---


ROBERT FISHER Clubmaker, Gullane, East Lothian.
---
Robert Fisher born 6th September 1878, son of Alexander Fisher, a Stonemason and his wife Catherine Darge. Robert apprenticed as a blacksmith before starting a clubmaking business in Briar Cottage, Templar Place, Gullane from 1905-1915. Robert and his brother Tom D. Fisher were members of Dirleton Castle Golf Club and their names are inscribed on many of the Club medals. Robert continued to give lesson at Gullane until his death in 1947.


EDWARD, HERBERT, FRED AND VAL FITZJOHN Mohawk Golf Club, NY
---
Herbert (b.1870), Frederick (b.1871), Edward (b.1874) and Valentine Fitzjohn (b.1878) were born in Edinburgh sons of George Fitzjohn, a Sergeant in the Edinburgh City Police and his wife Grace Willonghby. In 1880 the family moved to Musselburgh where their father George Fitzjohn was appointed clubmaster and steward to the Honorable Company of Edinburgh Golfers. In 1891 the family moved with the Honorable Company to their new location at Muirfield in East Lothian. Ed and Herbert worked as clubmakers probably with James H. Hutchison clubmaker to the Honorable Company in his workshop situated beside the first tee on the West Links at North Berwick. During this period 12 year old Valentine Fitzjohn was a licensed caddie at North Berwick.

Ed and his older brother Fred Fitzjohn played in the 1892 Open Championship at Muirfield. Ed worked as a clerk and entered as an amateur, while Fred carded a disastrous 105 in the first round. The following year Ed joined the professional ranks and was invited to take part in the tournament to celebrate the opening of Luffness New Golf Club in 1894.

Their father died in 1895 and their mother Grace Fitzjohn continued as stewardess at Muirfield. In 1896 Herbert was appointed to Stratford-On-Avon Golf Club. Fred emigrated to America in 1896 working in Pennsylvania. Valentine remained at home and was a member of Dirleton Castle Golf Club when he won the Wotherspoon Medal in 1897. Later that year Val and Ed sailed for America and were appointed to Ardsley Golf Club, NY. In September 1897 Val Fitzjohn defeated John Shippen, the first black American golfer in a 36 hole match at Ardsley. In December 1897 a tournament was organised at Lakewood Golf Club with prizes worth $150, and featured the largest gathering of North Berwick caddies on American soil, including Harry Gullane, Robert M. Thomson, Willie Anderson, Jamie Campbell, Willie Collins, James Litster, John Forman and Tom Harley from Aberlady. The tournament was played on New Years Day 1898 when the 'negro' John Shippen also took part and Val Fitzjohn defeated his brother Ed at the first extra hole to lift the first prize of $75.

In the winter of 1898 the Fitzjohn brothers traveled south and were the first pros to be appointed to Bon Air Golf Club, Augusta, GA (later Augusta Country Club). In 1899 the brothers moved to Springfield, New York and worked as Club and Ball Makers at Otsego Country Club, part of the prestigious Otsego Hotel in Coopertown NY. In 1899, Val Fitzjohn (Otsego) finished third in the US Open at Baltimore, won by Willie Smith.

In 1901 they signed up to the famous Mohawk Golf Club in Schenectady NY. Fred branched out on his own in Montgomery County NY, before moving to Detroit, where he worked freelance as an instructor and clubmaker from his home at 146, Harrison Street. Ed was pro at Albany Country Club, Voorheesville, NY where he also designed golf clubs and had several patents to his credit which remain popular among collectors today.


ROBERT FORTUNE Conneaut Country Club, Ohio.
---
Robert Barrie Fortune born 1893 in Haddington Place, Aberlady son of Thomas Fortune, a groom and his wife Isabella Barrie. He learned to play golf over the Kilspindie course where the members of Aberlady Working Men's Club were allowed to play. He emigrated to America in 1922, sharing the journey with James Wilson from North Berwick who was the pro at Tucson Golf Club, Arizona. Bob Fortune was appointed golf pro at Conneaut Country Club, Ohio where he was joined by Bruce and John Heatly from Dunbar. Bob Fortune moved to Greenville Country Club, PA in 1925 and regularly wintered at Ocala Country Club in Florida. In 1927 he was appointed head pro at Titusville Country Club, PA. In 1940 he was a self-employed golf professional at 706 West Main Street, Ashtabula, Conneaut, Ohio.


JIMMY HUME Gullane Golf Club.
---
Jimmy Hume severed his apprenticeship as a clubmaker with Hugh Watt at Gullane. He then moved to various courses including Beaconsfield, Harewood Downs and Royal Jersey before returning to Gullane as head professional in 1975. Jimmy played in nine Open Championship's with his best finish in 1967 at Royal Liverpool when he was just one shot off the lead through the first two rounds. In those days the final was played on a Saturday and Jimmy had to travel back to his club to organise the members Saturday medal before returning to Hoylake. He scored 80 in the final round and finished tied for 29th place. Jimmy remained at Gullane for over thirty years and gained a reputation as an outstanding teacher of the game. He was a major influence on the career of Catriona Matthew in her formative years. When Jimmy retired he was reinstated as an amateur and became a full member of Gullane Golf Club. He died in February 2013 while walking his dogs over his beloved links.


WILLIAM JOLLY Independence Country Club, Kansas.
---
In 1923, William Jolly was a greenkeeper living at the Old Manse, Dirleton. At the age of 22 years he emigrated to Saint John, Brunswick, and in 1926 he moved to Independence Country Club, Independence. Kansas.


JAMES LANGLANDS Short Hills Country Club, Illinois
---
James Langlands Jnr. born in Musselburgh in 1894 son of James Langlands Snr. a fishmonger living at 11 Fisher's Wynd, Musselburgh. The family moved to St Ann's, Gullane where James Langlands Jnr apprenticed as a greenkeeper. In 1912 he joined his brother George Langlands in America and was appointed greenkeeper and professional at Weequahic Park Golf Club, Newark the oldest public course in New Jersey. In 1925 he was golf pro at Short Hills Country Club, East Moline, Illinois and in 1928 James Langlands moved to Madison County Club. Madison, Connecticut. During WW2 he worked for the Baker Co. manufacturing platinum in their factory on Murray and Austin Streets in Newark.


JIMMY LINDSAY Oak Park Country Club, Chicago, USA
---
James Lindsay born 27th November 1885 in West Barns, son of Joseph Lindsay a railway signalman and his wife Paulina Richardson. He moved with his parents to Gullane where his father was the Station Porter. Jimmy apprenticed as a plumber and lived with his family at 6, Hopetoun Terrace, Gullane. In 1913, he emigrated to America where his contact was James and Maggie Craig at 2857 N 28th Street, Philadelphia. Jimmy was appointed pro at Keokuk Country Club, Iowa and in 1914 he moved to Audubon Country Club in Louisville, Kentucky.

Jimmy returned to Scotland in 1914 to visit his parents living at The Cairn, Aberlady. The following year they moved to Broxmouth Estate, West Barns, and Jimmy sailed back to the USA on the Lusitania. Lindsay was appointed first pro at the nine-hole course at Oneonta Country Club, Rye (NY). Jimmy was also an outstanding groundsman and assisted the former British and American Amateur champion Walter J. Travis to layout the course for Westchester Country Club (West Course), Rye, NY.

Lindsay served with the Canadian Forces in the later part of WW1 and in 1919 he returned to America listing his friend from North Berwick, Robert M Thomson, pro at Montclair as his contact. Jimmy returned to his post as pro at the Jamaica Country Club on Long Island. In March 1920, Lindsay moved with his wife Jean and son Joseph to Illinois where he was appointed golf instructor at Oak Park Country Club in Chicago. In 1921 he was joined by Tom Dickson from North Berwick as his assistant and the following year Tom's brother Alex Dickson joined them. In 1923 Dave Cairns arrived from Dunbar and was later appointed head pro at the neighbouring Brookwood Golf CLub in Oak Park.

Lindsay remained at Oak Park Country Club until 1930 when he returned to Scotland, and was working as a pro at St Andrews, and living with his family in Market Street. James Lindsay died 20th February 1950 aged 64 years.


JAMES LITSTER Forest Hills Golf Club, Wisconsin.
---
James Litster born 17th September 1871 in the village of Gullane, son of Alexander Litster, head greenkeeper and his wife Alison Cunningham. The family lived in Mayday cottage (present Secretary's residence) in West Links Road. Jack was a greenkeeper on the West Links at North Berwick and assisted Tom Anderson to layout the extended course in 1895. The Green Committee gave Anderson £5 and Litster £1 in recognition of the way the work was carried out. A month later Litster's wages were increased to 25/- per week.

Jack and his brothers Charlie and Alex were members of Dirleton Castle Golf Club and Jack and Charlie represented the club in the four-man Wemyss County Cup team in 1894. Alex Lister was the beaten finalist in the first two Haldane Cup competitions and was appointed head greenkeeper at Gullane in 1896.

Jack Litster sailed to America on 21st April 1897 and eight days later arrived in New York. He was appointed head pro at Philadelphia Cricket Club, Chestnut Hill, PA (1897-99), then greenkeeper at Piedmont Golf Club, Peachtree, GA (1900) and Overbrook Golf Club at Wynnewood, PA (1901-05).

Within months of his arrival in America Jack Litster joined the largest gathering of North Berwick former caddies at an Open Tournament at Lakewood, New Jersey in December 1897. The event was played over the nine-hole course at Ocean County Hunt and Country Club which became Lakewood Country Club in 1900. Val Fitzjohn, also a Gullane lad won the professional tournament while Jack Litster finished fourth equal and shared the $150 prize money. The field included Robert M. Thomson, Harry Gullane, Willie Anderson, Jamie Campbell, Tom Harley, Ed Fitzjohn and Harry Reddie. This was the first time they had been together for two years and the Hogmanay party at the Lakewood Hotel in 1898 would have been a very Scottish affair.

When Jack was at Philadelphia Cricket Club he regularly played Bernard Nicholls, pro at Philadelphia Country Club in home and home exhibition matches. In 1901, Litster played in the Hollywood Open Tournament in New Jersey and partnered Jamie Campbell from North Berwick in the fourball competition. During the last nine-holes of the round they equaled the course record 38 strokes and shared the $50 third prize money. Jack qualified for the final round of the main event which was won by Willie Smith. Also playing from North Berwick were George Thomson, Jack Hobens and Willie Dunn Snr. Litster laid out the course at Ridley Park Golf Club in Philadelphia.

In 1909, Litster travelled north to play in the Western Open at Skokie Golf Club, Illinois. The day before the tournament started a team led by Willie Anderson defeated Fred McLeod's team for prize money put up by the host club. Willie Anderson won the Western Open title that year for the fourth time. At the age of 65 years Jack Litster was still teaching golf at La Crosse, and living with his wife Mary.


ROBERT T. PLAIN Gullane Golf Club.
---
Robert Thomson Plain, born 60 New Row Tarnent in 1901, son of Andrew Plain a Coal Miner and his wife Margaret Thomson. Robert was a member of Dirleton Castle Golf Club and a winner of the Haldane Cup (1919), Wotherspoon Medal (1920, 1923, 1932, 1934) and the Watson Cup (1921, 1923). He married Alice McCormack and they lived at Lodge Cottage, Gullane in 1924. He joined the professional ranks in 1914 and gave golf lessons on Gullane Links until he retired in the 1960s. He suffered from Mental Health issues and died in Haddington in September 1964. His brother David Plane was a licensed caddie at North Berwick in 1903.
---


FORBES M.THORNTON Bellevue Golf Club, Boston.
---
Forbes Thornton was born in Gullane in 1902, son of Charles Thornton, a House Painter and his wife Isabella McGillivray. The family lived at 5 Lammerview Terrace, Gullane. Forbes joined Dirleton Castle Golf Club winning the Patron's Medal in 1921. At the age of 22 years he emigrated to America and was appointed golf professional at Bellevue Golf Club, Melrose, Boston. In 1925 he moved to the nine hole course at Rockdale Country Club, Miami FL.


HUGH WATT Gullane Golf Club, East Lothian
---
Hugh Watt apprenticed as a clubmaker with Jack White in Gullane before being appointed professional at Barnton. In 1951 Hugh Watt joined Gullane Golf Club and converted the former Post Office into the present pro's shop. Stuart Davis was his assistant before moving to South Africa in 1958. David Huish followed as Watt's assistant in 1959 and he won the Scottish Assistants' Championship in 1965. Huish was professional at Hamilton G.C before being appointed to North Berwick New Club in March 1967.

Hugh Watt had two brothers, Jimmy who became professional at West Kilbride Golf Club from 1951 until his death in 1978 and Tommy Watt who was appointed head greenkeeper at Gullane in 1980. Jimmy Hume severed his apprenticeship as a clubmaker with Hugh Watt at Gullane. He then moved to various courses including Beaconsfield, Harewood Downs and Royal Jersey before returning to Gullane as head professional in 1975.


MUNGO PARK JNR. Musselburgh, East Lothian
---
Mungo Park Jnr. the brother of Jack and Willie Park Jnr, moved to Gullane in 1914 and was living at 9 Stanley Road, repairing clubs and giving lessons. In July 1915 he enlisted in WW1 and then returned to Argentina where he had previously laid out the courses at Buenos Aires and San Andres.
---
Directions and Booking
The golf courses at Luffness and Kilspindie are situated between the villages of Gullane and Aberlady on the main A198 route from Edinburgh to North Berwick. For booking arrangements phone Luffness G.C- 01620 843336; Kilspindie G.C- 01875358


---
Driving from the North and Edinburgh Airport
From Edinburgh take the A720 City By Pass (South) - follow sign post Berwick-Upon-Tweed (A1). Continue on A1 (South) take the A198 - sign post North Berwick. Pass through the villages of Longniddry, Aberlady to Gullane. Drive time from Forth Road Bridge and Edinburgh Airport 40 minutes.
Driving from the South
From the A1 motorway take the A198 - sign post North Berwick. Continue through North Berwick on the A198 - sign post Edinburgh for 5 miles to Gullane.
Copyright &copy Douglas Seaton 2014, All Rights Reserved.