NORTH BERWICK

Golf Courses

Bass Rock

Town History

Origins of Golf

19th Hole

Guest Book

PHOTO GALLERY



East Links



West Links



North Berwick



Gullane



Tantallon Castle



Old Photographs



Accommodation



Skeletons at North Berwick Auld Kirk



Berwick Law
North Berwick
Club Makers
Golf Professionals
and Course Architects
Dunbar Green Fees
Weekdays: £65 (Day); £85 (Round)
Weekends: £85 (Day); £105 (Round)
---
The conservationist
John Muir founder of the American National Parks system was born in Dunbar in 1838.
---

Dunbar - East Lothian
Advanced Booking Course History Views Score Card
Dunbar Golf Club
East Links, Dunbar
Secretary: John Archibald
Tel: 01368 862317


Old Tom Morris (1821-1908)
&copy Worldsport UK

Dunbar East Links
By Douglas Seaton
Dunbar Factfile

THE DUNBAR GOLF COURSE is laid out on the land where Oliver Cromwell's army camped prior to the Battle of Dunbar in 1650. It is known that golf was played in the Dunbar area at least as early as the beginning of the 17th century.

Records reveal that a hundred years before Bonnie Prince Charlie was defeated at Culloden, the Assistant Minister at Dunbar was disgraced for playing at gouff. It is also documented a quarter of a century earlier that two men from the neighbouring parish of Tyninghame were censured by the Kirk Session for playing gouff on the Lord's Day in 1616.

In 1794, a group of gentlemen with strong masonic ties formed Dunbar Golfing Society which played at Westbarns but support declined over the years. The only remaining documents from that Society are the Rules and Regulations dated 14th May of that year. In 1856, following a meeting in the Town Hall, Dunbar Golf Club was established and play began on a course laid out on the Duke of Roxburghe's estate.

The original course was 15 holes before it was redesigned by Tom Morris in 1894. During this period Morris was in great demand, not only playing in Challenge Matches, but as a house guest of the East Lothian gentry.

He was considered to be the first golf architect, charging one pound sterling per day plus travelling expenses. Many of our great courses were laid out by Tom Morris, including the scene of his Open triumphs at Prestwick and Muirfield. An extract from the Dunbar Golf Club minutes of 1859 gives an insight into the duties of the greenkeeper at that time. 'The green must be swept and cleaned every Wednesday and Saturday. All molehills kept flat where possible.
Booking:
Tel 01368 862317
Fax 01368 865202

4th Green on Musselburgh Links
&copy Digitalsport UK

Jacky Montgomerie
Golf Professional
East Links, Dunbar
Tel: 01368 862086


East Course, North Berwick
&copy Digitalsport UK

He must be on duty during all Medal days and when the tent has to be erected he must be out.' One interesting Bye-Law from the turn of the century reads. 'The official at the burn is authorised by the Committee to charge all players one penny for each ball recovered from the water.'

The Dunbar Ladies Golf Club was instituted in the Mason's Hall in 1894. Originally the ladies competitions were played over 12 holes, using the first six and last six of the 18 hole course. The original clubhouse was the cottage now known as Beachcote and the existing clubhouse was constructed in 1900 with oil lighting.

Prior to the formation, ladies had for many years played golf over the East Links. In 1871, there was an article in the local newspaper from a bachelor offering himself as a prize for the winner of the Ladies Competition ' provided she be young and pretty.'

This was followed by a letter from a young Edinburgh lady, coming to Dunbar for a holiday, intimating she would be a competitor and hoped that she might be considered. Over the years the Dunbar Ladies Golf Club has hosted the Scottish Ladies Championship, British Girls and Scottish Girls Tournament.

Dunbar East Links, situated on the estuary of the Firth of Forth, is a combination of links and inland turf, laid out on a narrow stretch of land which follows the natural contours of the coastline. The main features include the Old Deer Park wall running the length of the course, Barns Ness lighthouse at the 9th, the ruined building known as 'The Vaults' at the 14th, and a number of square shaped greens. The 9th through 12th are the most testing holes but the closing stretch with the rocky beach ready to accept the mildest of slices can also ruin a good score.
<! post.html>
Course Record
Pro 64: Russell Weir
Am 66: J. Grant, 1989
James Gellatley (1893-98) was greenkeeper and professional before Tommy Currie (1897-1900) was appointed. He was followed by Willie Robertson and then Robert Auld. He was appointed professional and clubmaster in May 1902 which coincided with the expansion of the course into another 32 acres of the Deer Park, a task completed in early 1905. Auld born in 1871 in Musselburgh, moved to North Berwick where he apprenticed as a clubmaker with James Hutchison. Auld was a scratch medalist of Bass Rock Golf Club before joining the professional ranks at Dunbar where he worked from 142 High Street. In 1923 his assistant Dave Cairns was appointed assistant professional to James Lindsay at Oak Park Counntry Club, Chicago, USA. Auld remained at Dunbar until his retirement in 1938 and there are some fine examples of his clubmaking still in existence, stamped with Rt Auld.

Thomas D. Currie

Thomas Denholm Currie born in Kilconquhar, Fife, apprenticed as a club maker with A. H. Scott at Elie. In 1897 he was appointed foreman club maker with J & D Clark at Dunbar Golf Club and married local girl Wilhelmina Paxton. In 1899 J & A Dickson took over the workshop in Golf House (now Beachcote) in Dunbar and Tommy Currie continued as foreman club maker. In 1900 he followed Donald Ross as club maker at Royal Dornoch Golf Club where he employed his brother George Currie, Donald MacKay and Bob McDonald as club makers. His clubs stamped 'T D Currie, Maker, Dornoch' are very rare. Tommy lived with his family in Links Cottage situated 200 yards from the clubhouse. In November 1921 they emigrated to America and the following year he was appointed professional at the Donald Ross designed course at Inverness Country Club, Toledo, Ohio. That year he played J.H. Taylor in an exhibition match at Inverness. In 1931 Currie moved to Knollwood Golf Club, Lake Forest, Illinois.

David L. Cairns

David Lumsden Cairns born 13th July 1901 in Dunbar, son of George Cairns, 3 Old Harbour, Dunbar. Dave Cairns emigrated to America in March 1923 and was appointed assistant to James Lindsay (originally from Gullane), pro at Oak Park Country Club, Chicago, Illinois. In 1928, Cairns was appointed head pro and club maker at Brookwood Country Club, Oak Park, Chicago and the following year he became an American Citizen. In 1935, Dave Cairns and his family returned to Scotland for a holiday. They were joined on the trip by Alan Brodie and his wife. Alan was a native of North Berwick and head pro at Lakewood Country Club, Richmond, Virginia. Brookwood was sold in 1990 during a period when the Country Club was frequented by members of the notorious 'Chicago Outfit' who where involved in organised crime.

Bruce and John Heatly

Walter Bruce Heatly, born 5th August 1900 at 33 High Street Dunbar, son of Peter Heatly, a Tailor and his wife Jane Paterson. In 1923 he emigrated to America and joined Robert Fortune the golf pro at Conneaut Country Club, Ohio. Robert 'Bob' Fortune's family lived in Haddington Place, Aberlady and he had emigrated the previous year. Bruce Heatly was appointed golf pro at Echo Lake Country Club, Westfield NJ 1925-26, where he was joined by his brother John Heatly in 1925. Bruce moved to Whitehall, New York in 1928.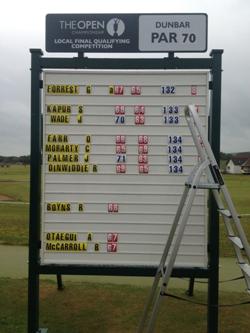 The Dunbar course measures 6426 yards S.S.S. 71 and has hosted many tournaments including the Scottish Amateur Championship, Scottish Professional and the Scottish Boys' Championship. Among the previous winners of the Scottish Boys' was Ewan Murray (1971) and Andrew Coltart (1987).
For many years Dunbar was one of the final qualifying courses when the Open Championship was played at Muirfield. In 2002 Steve Elkington qualified at Dunbar and reached the four-man play-off in the final. Luke Donald also qualified at Dunbar that year, plus Esteban Toledo who became the first Mexican to win on the Champions Tour in 2013. Those who failed to qualify at Dunbar in 2002 were Graeme McDowell and Louis Oosthuizen.
Last Local Qualifying for the Open Championship
The R&A decided there will be a reduced number of local qualifying venues for the Open Championship and 2013 was the last local qualifying to take place in East Lothian. 36 holes were played at Dunbar, Gullane, North Berwick, and Musselburgh with three qualifying spots available at each venue.
The leading qualifier at Dunbar was Craigielaw's Grant Forrest with rounds of 67 and 65 for a superb eight-under-par total of 132. The 20 year-old amateur who lives in North Berwick and is studying at San Diego University closed with a birdie to secure a one-shot victory over Australian John Wade and India's Shiv Kapur, who secured the other two spots up for grabs at East Links. Unfortunately Grant Forrest failed to reach the third round. The winner of the 2013 Open Championship was Phil Mickelson who closed with a brilliant 66 for a total of 281. (It was his brother Tim Mickelson who recruited Grant Forrest for San Diego University.) Phil Mickelson and his family stayed in the Marine Hotel, North Berwick, and when he came back with the Claret Jug, the staff rolled out the red carpet and lined up to give him a round of applause.
Copyright &copy Douglas Seaton 2013, All Rights Reserved.