During that tournament at the Philadelphia Cricket Club, he holed his tee shot at the 147 yard, 10th to register the first US. Open hole-in-one. On 22nd June 1906, Hobens entered the Western Open at Homewood C.C in Illinois, when he finished second to Alex Smith from Carnoustie. Hobens took the early 36-hole lead by shooting 154, but Smith shot 75-74 on the final day to capture the title by three strokes. Willie Anderson and Fred McLeod from North Berwick tied for third place.

In September 1908, Jack Hobens won the Metropolitan Open Championship on the Baltusrol Club links near Short Hills in New Jersey. That year for the first time all golf professionals in America were invited to enter the tournament, but in reality most of the competitors came from Boston, New York and Philadelphia. At that tournament Jack Hobens and Jock Hutchison shot 71 to set a new course record. The New York Times reported that at the sixth Hobens played his second over the trees and laid the ball dead on the green, he also holed his mashie shot for a two at the ninth. In the final round Hobens scored 305, one stroke better than Alex Campbell professional at the Country Club of Brookline. Hobens collected a gold medal, also the first purse of $150 and another $75 in special prizes. This was the highlight of a stunning playing career and from that date Hobens was always associated with the 1908 Metropolitan Open Championship.

In 1909, Jack hosted the US. Open, played at Englewood Golf Club where he was the professional. It was the practice during the week of the US. Open, to hold garden parties, vaudeville shows, firework displays, evening dances and competitions for the professionals organised by the host Club. On Tuesday a unique pro-am featuring mixed partners took place and a best ball foursome game on Wednesday. Miss Julia R. Mix teamed up with Jack Hobens to win the competition on 162. In the best ball match, Mix and Hobens carded a 69 and Willie Anderson and his partner finished second. Prior to the main event Fred McLeod played a practice round with Gilbert Nichols in a foursome match against Willie Anderson and his brother Tom Anderson Jnr. which the Andersons won 3&1.

In October 1911, Jack Hobens played in a four-ball match partnering George Duncan who had just arrived from Scotland. George had a long association with North Berwick and was visiting his brother Alec Duncan, professional at Philadelphia Cricket Club. Jack Hobens and his guest George Duncan defeated Dave Hunter, the Essex Country Club professional and his partner Aleck Smith of the Wykagyl Golf Club. George Duncan was invited to play Deal Beach Golf Club, New Jersey. His brother Alec Duncan succeeded Willie Anderson from North Berwick at Philadelphia Cricket Club in 1911.

Tom Anderson Jnr entered the Championship from the Montclair Golf Club, and finished in 8th place. The winner was George Sargent, while Willie Anderson finished 4th; Jack Hobens 6th, and the defending champion Fred McLeod finished in 13th place. In 1910 Jack Hobens was elected president of the Eastern Professional Golfers Association which was a forerunner to the PGA of America. In the qualifying rounds for the 1913 US Open at Brookline, Jack partnered Ted Ray and the New York Times reported that when they both launched towering tee shots over the elbow of the dogleg the crowd erupted in appreciation. The two men walked off down the first fairway trailed by the largest-gallery of the day - over a thousand people including the writer Bernard Darwin. In January 1914 the Hackensack Club engaged Jack Hobens to extend their course from 5,800 yards to more than 6,000 and carry-out alterations.

The Western Professional Golfers Association of America (WPGA) was established in 1899. In 1905 the WPGA championship was held at Chicago Golf Club when Fred McLeod of Rockford Golf Club beat Cleveland's Bertie Way in the 36 hole final match. In 1916 Jack Hobens attended the first PGA meetings held in New York.

On 17th January 1916, Rodman Wanamaker, a keen amateur golfer and heir to the Wanamaker department store fortune (now Macy's), held a meeting at the Taplow Club, in the Hotel Martinique on the corner of Broadway and West 32nd Steet in New York City for the purpose of forming the Professional Golfers Association of America. The luncheon was attended by several leading amateurs and 35 professionals, known as the 'Charter Members', including Jack Hobens and James R. Thomson from North Berwick. Their aim was to advance the standing of the club professional, caddies and greenkeepers in the United States.

New York Times - February 24, 1916. At a meeting yesterday in Hotel Martinique, Manhattan, the committee which is drawing up the constitution for the proposed association of professional golfers. The members of committee were set forth. Jack Hobens, Englewood Country Club, Herbert Strong, Inwood Country Club and Jack Mackie, Dunwoodie Country Club. It was decided to call the organisation The Professional Golfers' Association of America. A copy of the constitution was sent to every professional in the United States and Canada who was eligible for membership, which means all those over 17 years of age. Copies where also sent to the various golf clubs all over the country in order to get their support for the movement. Wanamakers sponsored the first PGA Championship in 1916 when Jack Hobens reached the last sixteen. Cornishman Jim Barnes defeated the former St Andrews caddie, Jock Hutchison by one hole, to lift the Wanamaker Trophy. In July 1917, the PGA organised the biggest War Relief Tournament ever. Played over a week on four courses, Englewood, Baltusrol, Siwanoy and Garden City. It included matches between a Homebred team versus a Scottish team and an English team. In the Scottish team (photographed below) were Fred McLeod and Jack Hobens.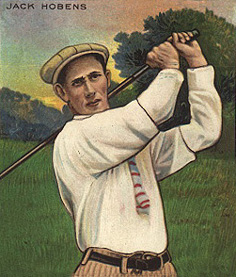 | | | |
| --- | --- | --- |
| Jack Hobens Cigarette Card from 1910 | | Standing (left to right): Alex Cunningham, George Fotheringham, Jock Hutchison, Willie McFarlane, Issac Mackie. Sitting: George Simpson, Alex Campbell, George Low, Fred McLeod and Jack Hobens. |
In 1921 the PGA committee decided to reorganise the PGA sections and Jack Hobens was given this task. His committee recommended that rather than having a PGA section in each State which was not viable due to the low number of professionals, they decided to create twenty-four smaller sections rather than the original seven.
It was usual practice at this time, for the club professional to attend a member's summer house and teach the entire family for a month or more. Hobens travelled to Maine with Dwight Morrow on several occasions. Morrow's daughter Anne, married aviator Charles Lindbergh and Jack would often travel to his residence to teach. He also coached leading amateurs Gene Homans and Oswald Kirkby three times Metropolitan Amateur Champion and three times New Jersey Amateur Champion. Jack Hobens partnered Oswald Kirkby in many Pro-Am tournaments representing Englewood Country Club.
Throughout the winter months when the northern professionals moved south to Florida Jack Hoben remained in his workshop at Englewood and made golf clubs ready to sell to his members the following spring. He ordered the heads from Tom Stewart at 14 Argyle Street, St Andrews, Scotland and made the hickory shafts himself. Clubs stamped 'J.Hobens' are highly collectable. In the winter of 1916 Jack Hobens was employed in the golf department on the top floor of Wanamaker's store in New York. John D. Dunn (from North Berwick) was head of the 18 teaching staff, and the list of instructors read like a who's who of golfers from the period and the facility was the largest in the city.
Robert, William, James and Francis Hobens
Jack's brother William (b.1883) was a former golf caddie at North Berwick. In 1901 he was listed as an inmate in the East Linton Poorhouse. Willie emigrated to America in 1903 and joined Jack at Younkatah Country Club, Nutley, NJ. In 1905, Willie Hobens was appointed to the nine-hole course at Ridgeway Golf Club (Maple Avenue site), NJ. and represented the club in a professional tournament at Van Cortlandt Park in 1906. Also in the field were former North Berwick caddies George Thomson (Roseville); Ed. Fitzjohn (Schenectady); Tom Anderson ( Montclair); John Hobens (Englewood); George C Turnbull (Waterbury CT); and Jack Campbell (Mt. Airy). The winner was Alec Smith $150, with North Berwick's own George Turnbull was second $80. Willie Hobens returned to North Berwick in 1909 and took up caddie work on the West Links while residing at 44 High Street, North Berwick. Willie Hobens died in Longmore Hospital, Edinburgh on 3rd September 1910, aged 27 years. The Ridgewood Golf Club moved to the Lincoln Avenue site in 1911, and Jack Hobens and David Hunter pro at Essex County designed the new course for the re- named Ridgeway Country Club. Unfortunately they went over budget and only completed nine-holes. The course was finished by Alec Finlay in 1915.
In 1905, Jack Hobens visited his parents in North Berwick and the following March he returned to America with his younger brother Isaac Owen Hoben (b.1889) Isaac was Jack's assistant at Englewood Golf Club, New Jersey. During WW1 Isaac was employed as foreman machinist by Nicholas Power Company in New York City. Isaac and his wife Sadie resided at 154, Valley Street, Tarrytown, Westchester.
Jack's sister Annie Hobens (b.1882) was a care worker at Miss Quarrier's Home, Bridge of Weir and she joined her brother at Englewood New Jersey in 1907. In March 1911 they were joined by their younger brother Robert 'Bert' Hoben (b.1885) who was the first pro to be appointed to Shawnee Inn & Country Club, PA. Previously Bert Hoben had followed Daniel Kenny from North Berwick as greenkeeper at Stranraer Golf Club in 1907. Bert retuned to Scotland after six months at Shawnee on the Delaware, missing his new baby son and wife Mary Jarvie who remained in Beaconsfield Cottage, Kirkowens Street, Milldamhead, Dumfries. In 1916 Bert was appointed professional and greenkeeper at Broomieknowe Golf Club. He was engaged at 30 shillings a week, along with a boy trainee at 18 shillings. Hobens was also allowed to sell and repair clubs and give lessons. Following a disagreement, Hobens was given a fortnight's notice and for the remainder of his career he worked in the Dalkeith mines.
In 1923, they were joined by their 23 year old nephew Francis 'Frank' Hobens who was assistant to Jack Hobens at Huntingdon Valley C.C. Frank shared the journey to America with golfers Bruce Heatly from Dunbar and James Langlands from Gullane. Frank Hobens was appointed pro at Quetonset C.C, Westbrook, Connecticut (1925-26), then Massena C.C, New York (1927-30), before being appointed golf instructor at the New York Athletic Club. He lived with his wife Nellie Adleman from Illinois, daughter Margaret and son Thomas at 4024 Glenwood Road, Brooklyn, NY.
Jack's older brother James Hoben (1876-1941) was granted a first-class caddie license on the West Links on 13th December 1894, and he was later appointed greenkeeper at North Berwick. In 1911 James Hoben laid out a 2897 yard nine-hole course at Vaul Golf Club on the Isle of Tiree. The work was carried out under the instruction of Charles McNeil from Prestwick, whose father John McNeil owned the Colonial Iron Works in Govan. It has been suggested that Charles McNeil brought Hobben to Tiree to work on the new course. The 1911 census, taken on Sunday 2nd April, lists James Hoben as a passenger on S.S. Numidian, a Royal Mail Steamer, tied up in Princess Dock, Glasgow, ready to embark to Quebec, Canada, calling on Tiree on-route. His occupation was listed as a greenkeeper employed by the Bowling Club in North Berwick.
In 1912, James Hoben was living in Ferrygate Cottages, Dirleton, and while on Tiree he met his future wife Catherine McArthur and they were married in 1913. Hoben moved to Glasgow and was living in Sussex Street, Kinning Park when he was listed as a greenkeeper in the Pollokshields district. During WW1 he transferred to a reserved occupation as a dock labourer and his wife and two daughters were living in Main Street, Govan. Catherine died at Vaul on the Isle of Tiree in 1928, and James returned to Glasgow and was living at 37 Plantation Street, Govan.
Jack Hobens was pro at Yountakah (1900); Glen Ridge (1901); Yountakah (1902-04); Englewood Country Club (1905-22); Knickerbocker (1927-1941) all in New Jersey, and Huntingdon Valley Country Club in Pennsylvania (1923-26). He was elected a Life Member of the PGA of America and one of his clubs is on display in the PGA headquarters along with 25 others clubs from the founding fathers.
James R Thomson from North Berwick was also a member of the first PGA of America Executive Committee in 1916.
Jack suffered from a physical disability and retired at the age of 60 years. He died on 26th March 1944, at his home at 164, West Hudson Avenue, Englewood, NJ. He had five daughters and at the time of his death three sons serving in the Marine Corps in WW2. In 2005, Jack Hobens grandson Frank wrote." He was a lovely man who came from nothing and made quite a success for himself and his family. When he died, he left my grandmother several houses and a substantial stock portfolio that provided for her for some thirty years of widowhood. My Mom was the eldest of their eight children."
Thomas Hoben was the last of the family to live in North Berwick. He was also the last of the traditional licensed golf pro's on the West Links where he gave lessons. Thomas Francis Owen Hoben lived at 68, Lochbridge Road where he dead 6th July 1957.
In 2004, the PGA opened a historical center at PGA Village in Port St. Lucie, Florida where Jack Hobens was one of the original inductees into the PGA Golf Professional Hall Of Fame. His granddaughter, Barbara Hobens Feldt and her family were invited guests at the PGA's ninetieth anniversary celebrations at the Hotel Martinique, New York City in 2006.
Copyright &copy Douglas Seaton 1994 - 2021, All Rights Reserved.