NORTH BERWICK

Golf Courses

Bass Rock

Town History

Origins of Golf

19th Hole

PHOTO GALLERY

East Links

West Links

North Berwick

Gullane

Tantallon Castle

Old Photographs




Accommodation

Restaurants

Best Pubs

Skeletons at Auld Kirk

Berwick Law


FAMOUS GOLFERS

Jack Hobens

Willie Anderson

Jack White

Dorothy Campbell

Jimmy Thomson

Fred McLeod

Thomas Dunn



NORTH BERWICK
GOLFING PIONEERS
Club Makers
Golf Professionals
and Course Architect

NORTH BERWICK
LINKS IN THE 1890s
by DOROTHY CAMPBELL

NORTH BERWICK
Antique Golf Club
COLLECTION




The Watt Brothers
Golf Professionals
James, David, John, Robert and William


Archerfield Estate
&copy Digitalsport UK


18th Glen Course, North Berwick
&copy Digitalsport UK

West Links
East Course
Gullane
Muirfield
Dunbar
Musselburgh


Muirfield Clubhouse &copy Digitalsport UK

'Watt's Scareneck Spoon'
wins top prize
By Douglas Seaton
North Berwick Factfile

The Watt brothers, James, John, Robert, David and William, learned to play the game on the North Berwick links and over the course in Archerfield Estate where their father was the estate gardener and forester. It was a private course played only by Archerfield Golf Club, the tenants of the mansion house, their guests and golfers of fame and repute who were given the authority to use the links.

Names such as Robert Maxwell, Freddie Tait, Harold Hilton and Johnny Laidlay among the amateurs and Ben Sayers Sr., Jack White and Willie Park Jr. among the professionals found the course an ideal retreat from the congestion of Gullane and the West Links at North Berwick. As a special consideration the staff of Archerfield and their families were also allowed to golf on the course.

Willie Watt said there was a game the brothers often played as youngsters when they would place a bluebell match on the road and each attempted to light the match using their driver. If they swung the club too high, they missed, too low and they broke the club head.

In June 1914, the Watt Brothers entered the Scottish Professional Golf Championship played over the North Berwick Burgh course. Davie Watt carded a fine 71 in the fourth and final round to oust his brother Willie Watt from the leadership which he had held from the start, and Davie won by a couple of strokes. He was the first left-handed player to win a championship, and two years earlier Davie was runner-up to his brother Willie Watt in the same championship. In 1914 Davie qualified for the Open at Prestwick and played in all four rounds.

James A. Watt (1882-1965)

JAMES ALEXANDER WATT, born 11th January 1882, at Gateside House, Dunbar, son of James Watt, and his wife Annie Logan. At the age of ten, James moved with his parents and brothers from Beil Estate owned by the Nisbet-Hamilton's to their other property at Archerfield near Dirleton, the village where his mother was born. In 1901 the family were living in Rosemary Cottage.

Jim Watt served a five year apprenticeship as a club maker under Robert Sullivan in the workshop of William Park & Son at North Berwick. Willie Park Jnr bought the property at 15 Beach Road in 1899 which he converted into a workshop and residence. Although Park's main clubmaking business was at Newbigging in Musselburgh, he opened a retail shop at 115 Cannon Street, London where James Watt worked for a short period in 1903.

<! post.html>
In August 1902 Jim Watt came off his bike and crashed into railings on Station Hill while cycling with Willie Park Jnr.
James was a member of Bass Rock Golf Club and won their Club Scratch Medal in 1904 and 1905. Donald MacKay, a club-maker from Dornoch arrived in North Berwick in 1904 and opened a club-making business at 1 Station Hill where he was joined by Jim Watt. The property was originally owned by Andrew Aitken and rented to Edith Wallace as a confectionary shop before the Town Council bought it 1907. That year Dan MacKay's brother-in-law, Robert G. MacDonald also a club-maker arrived from Dornoch. MacDonald was granted a professional license on the West Links while MacKay remained an amateur and joined the Mackay emigrated to America in 1909 and MacDonald followed a year later, while Jim Watt continued the club-making business at 1 Station Hill until he retired in the 1960s.
In 1919, the New York Times listed Robert G. MacDonald as the fourth best tour pro in the USA. When MacKay emigrated to America in 1909 the business continued to trade under the name Donald MacKay until 1917 when Jim Watt became sole tenant. As a school boy at Archerfield, Jim Watt caddied for Willie Park Jnr. and Freddie Tait the Amateur Champion who was killed in the Boer War. Watt's hand made replica of Tait's famous putter was a popular item in the shop. Watt displayed at the 1938 Empire Exhibition in Glasgow and over the years, trained many apprentices including Alfie Marr, (Chris Marr's grandfather), Lex Hutchison, Norman Collie, Alick Watt and Jim Wynne who became a golf professional in South Africa.
James Watt specialised in making left-handed clubs and he shaped the club head using a mirror giving a right-handed reflection. He could hit a ball nearly as far with either a left or right handed club. He sold golf balls made by the North British Rubber Company in Edinburgh. They marketed two grades of ball at 2/- each, this being the top quality available. The balls branded SS (Standard Scratch) having a thin skin were made for the low handicap player, while the TT (Tough and True) with a thicker skin suited the more regular golfer.
Jim Watt taught many people to play the game including local girl Jean Donald, the first lady professional in Scotland. Norman Collie apprenticed as a clubmaker with Jim Watt before joining the professional ranks. He was appointed golf instructor at Thornton's sports emporium in Edinburgh. Norman's brother George Collie was a clubmaker with Ben Sayers Ltd. and worked his way up to be manager of Sayers shop in the High Street, North Berwick.
Watt's timber framed workshop and showroom which was demolished in the late 1960s was situated between the Gas Board Office (now Westgate Court) and the Public Conveniences. The shop had a double window at the front with the club makers workshop on the right and the showroom to the left. The timber lined ceiling and walls, bare floor boards and gas lighting gave the feeling of a lumber- jack's cabin. Most customers to the shop remember the distinctive smell of new leather and wood glue being heated on the stove.
Davie Watt was the first left-handed player to win a Championship.
In 1915 Jim was living with his wife Elizabeth and son James at 27 Balfour Street where their daughter Catherine was born. James Watt enlisted in The Royal Scots regiment at a recruitment meeting in North Berwick in November 1915. He joined the British Expeditionary Force on 18th September 1916 and was posted to France three days later. He was wounded on 31st August 1917 and spent time in hospital. His army record states 'Discharged - No longer physically fit for war service' 11th February 1919. He returned to his workshop which had been locked up for three years, dusted down the stock in the window, increased the price labels and was back in business.

Jim was a shy and quiet spoken man, who allowed his club making to do the talking. His shop was very popular with local golfers and visiting dignitaries where they could arrange a golf lesson with Wilfred Thomson or Tommy Hoben, the last of the traditional North Berwick professionals. Jim Watt was an elder in the Abbey Church, and continued to work in his shop until he retired in his seventies. Many of his clubs are now highly collectable particularly the 'Watt Scareneck Spoon' from 1904 which is valued at over $600.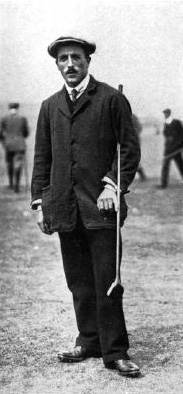 William M. Watt (1889-1954)
WILLIAM MARTIN WATT born 1889, was the youngest of the brothers and apprenticed as a clubmaker with Robert Thompson, 43 Hercus Loan, Musselburgh. Willie Watt was a member of Dirleton Castle Golf Club where he won many club competitions. One of the first professional tournaments Willie entered at the age of nineteen years was on the Burgh Course at North Berwick in July 1909. The field included five Open Champions; J.H. Taylor, Arnaud Massy, Sandy Herd, Harry Vardon, Willie Auchterlonie and two future champions in Ted Ray and George Duncan.
Willie Watt played in the Perrier Water Assistants' Tournament in October 1910 at Bushey Hall. The tournament was open to apprentices and assistants of professional golfers. The matchplay event was won by W.L.Ritchie who defeated Willie Watt in the final. Ritchie, assistant pro to James Braid won £21 and Watt received £10-10/-. Willie won the inaugural Scottish Professional Championship played at Dunbar in 1912. Also in the field were Willie Fernie, Andrew Kirkaldy, Ben Sayers, George T. Sayers, Robert Auld and Robert Thomson. Willie Watt (298) won £25 and a gold medal, his brother David Watt was runner-up (303) and £15. Robert Thomson from North Berwick finished on 307, and received £7.5/- while Ben Sayers finished 10th. Among the spectators was Frenchman Arnaud Massy. Willie was runner up in 1914 and third in 1910 and 1911. His Scottish Championship Medal and the Croydon War Charity Medal which he won in 1915 are on display in the British Golf Museum.
Willie was appointed pro at Turnhouse G.C (1909-12) and he played in the Open Championship at Royal St George in 1911 and at Muirfield in 1912. That year he scored 72 at Carnoustie in the qualifying event for the prestigious News Of The World tournament at Sunningdale where he won £10. In 1913 Willie Watt had his best finish in the News of the World Tournament at Walton Heath. He reached the semifinals and was beaten by James Braid who in turn was defeated by George Duncan in the final.That year James Law the tenant at Archerfield persuaded Willie to return and look after the course.
At the age of 23 years, Willie Watt was selected to represent Scotland in the matches against England in 1912 and 1913. He reached the semi-finals of the PGA Championship in 1912, defeating Lawrence Ayton in the third round, but was defeated by James Braid who lost to George Duncan in the final. Willie gave golf lessons at Archerfield to Herbert Asquith, (Prime Minister 1908-1916) and as a reward, Willie and his family were invited to Downing Street to have tea with the Prime Minister.
In February 1915 Willie was living at Easterbroom House, Dunbar where he enlisted to serve in the Black Watch regiment and offered himself for foreign service. According to Bernard Darwin writing in Golf Illustrated in April 1915, Willie Watt was refused permission to join the regiment on the account of a physical weakness. Later that year he was appointed the first pro at the Royal Automobile Association on their new course laid out in Woodcote Park, Epsom. Described as the first social clubhouse in the westend of London, organised on the same lines as the Athletic clubs of New York and Chicago, including a cricket ground and tennis courts. The golf course was unique being made up of three nine-hole courses which offered various 18 hole options.
To celebrate the opening a foursome match was played between Harry Vardon and James Braid against George Duncan and the new pro Willie Watt. It was reported that over a thousand spectators, including many soldiers in khaki watched the match. They enjoyed seeing Vardon and Braid playing together as they were normally on opposite sides. Their younger opponents Duncan and Watt where beaten 5 and 4, over 36 holes. In the crowd was the amateur Douglas Grant, a familiar figure around Monterey in California and a friend of George Turnbull from North Berwick while Pebble Beach was laid out in 1919.
Willie Watt was golf tutor to Herbert Asquith, (Prime Minister 1908-1916) and as a reward, Willie and his family were invited to Downing Street to have tea with the Prime Minister.
In June 1921 Willie Watt qualified for the Glasgow Hearld's 1000 Guinea Professional Golf Tournament, played at the newly opened course at Gleneagles. The field included a number of top American golfers in the country to compete in the Open at St Andrews and also to play in a match between America v. Great Britain organised by Golf Illustrated.

In the qualifying rounds for the 1000 Guinea Tournament, Willie Watt set a new course record for the Kings Course with a 70. It lasted only two days before Arnaud Massy reduced it by two strokes, with a 68. Americans Walter Hagen and Emmet French failed to survive the first day. Willie Watt was defeated in the semi-finals by Abe Mitchell who beat Joe Kirkwood, the Australian Open champion in the final. Willie entered the Open Championship in 1921, and 1922, with his best finish of eighth place at Troon in 1923. That year he finished 6th in the French Open. Willie remained at RAC Epsom until 1938. Two medals won by Willie Watt are on display in the British Golf Museum, the Scottish Professional Champion medal (1912) and the Croydon War Charity Medal (1915). Willie died in Surrey in June 1954, aged 64 years.

James H. Watt (1922-1978)

James Horsburgh Watt is not related to the Watt family listed above. James was born 27 June 1922, Saltcoats Gardens, Gullane son of Hugh Watt, market gardener and his wife Elizabeth Cram. Jimmy Watt joined the professional ranks with Willie Watt at Epsom until he was appointed professional at Stoneham Golf Club, Southampton. Jimmy was involved in a car accident and lost his right arm. He eventually left Stoneham to join Arthur Lees at Sunningdale taking over running of his shop. Fair-haired Jimmy Watt won the one-armed championship in 1949, the putting and long distance driving championship, as well as playing for Scotland in their international match.

Jimmy Watt was invited to be assistant to the former Ryder Cup player Jimmy Adams at Wentworth Golf Club. In 1950, twenty-eight year old Watt was appointed head pro at Baberton Golf Club, Juniper Green, Edinburgh. In 1951 Watt was appointed assistant to Jimmy Adams at Royal Sydney Golf Club in Australia. On 13 February 1952, Jimmy Watt sailed to Australia with his new wife Patricia Tait and the Adams family where they shared a house at Rose Bay in Sydney.

They arrived in Australia on the RMS.Mooltan and left the ship in Adelaide and made the last stage of their journey to Sydney by air. They were invited to play in the £2500 McWilliam's Wines golf tournament and the sponsor arranged the air trip to Sydney to give the British pros additional time to get used to Australian playing conditions. The McWilliam's Wines tournament was played on 27 March on the Kensington course of the Australian Golf Club and among the competitors were Dai Rees, Harry Weetman, and Max J Faulkner. Jimmy Adams and Jimmy Watt qualified for the final stages and the winner was Norman Von Nida, the Australian PGA Champion.

On Wednesday 30 July 1952 the Brisbane Telegraph reported under the headline 'Another golf pro leaves' the article continued 'Within five months of their being installed into what has always been considered the plum professional jobs in Australia, two British golfers Jimmy Watt and Jimmy Adams have preferred to pull up sticks and go back to Britain. Watt will leave in a week and Adams later in the year. Both have left the Pros shop at the Royal Sydney Club dissatisfied apparently with their lot at this posh establishment, which boasts a membership exceeding 3,000. The Australian PGA was concerned they were loosing their good pros and interest in golf was declining, stating that in Queensland the second best pro is living outside the game and teaching at weekends.

Jimmy Watt returned to England in July 1952. Adams who was originally from Troon, had accepted the professional post at Royal Mid-Surrey Club (1953-1969) and remained with Royal Sydney until the end of the year. Watt carried on as pro at Royal Mid-Surrey until Adams returned to Britain in January 1953.

Jimmy Watt was appointed professional at West Kilbride Golf Club and died in West Kilbride in 1978 aged 55 years. The James Watt Trophy is contested annually among the juniors at West Kilbride Golf Club, something the Watt family would have been proud. Jimmy Adams originally from Troon, returned to Britain following his Australian Tour and was offered the position of head professional at Royal Mid-Surrey Golf Club (1953-1969).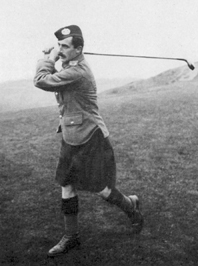 David P. Watt (1885-1917)
DAVID PATERSON WATT born 17th September 1885 in North Lodge, Biel Estate, Dunbar. His father James Watt was a groom and his wife was Annie Logan. The family moved to Dirleton and lived in the Old Toll house where his sister Mary was born in 1892. On leaving Dirleton school David was a licensed golf caddie at North Berwick. He served a five year apprenticeship as a club maker under Andrew Bisset in Hutchison's workshop beside the first tee on the West Links and later he moved to 10, Gillespie Crescent, Edinburgh.
In 1910, Davie Watt was appointed pro at Mortonhall G.C and in June 1914 he played in the Scottish Professional Championship over the North Berwick Burgh course when he carded a fine 71 in the fourth and final round to oust his brother Willie Watt from the leadership which he had held from the start, and Davie won by a couple of strokes. He was the first left-handed player to win a championship, and two years earlier Davie was runner-up to his brother Willie Watt in the same championship. The highlight in 1914 was the brilliant round of Willie Watt of 68 setting a new course record. That year Davie qualified for the Open at Prestwick and played in all four rounds.
Davie Watt married Elizabeth Horsburgh in 1913 and they resided at 23 Millar Crescent, Edinburgh. During the First World War David enlisted in the Queens Own Cameron Highlanders and was posted to France where he was wounded in the leg. He died following amputation of the limb at the Westgate-On-Sea (Voluntary Aid Detachment) Hospital in Kent on 25th April 1917. Lance Corporal David Watt's name is engraved on the War Memorial on the green opposite Dirleton Parish Kirk. Willie Watt said it was a cruel irony that Davie should be the one to make the ultimate sacrifice as he was the most talented of all the brothers. His widow resided at 31 Marchmont Crescent, Edinburgh and Davie Watt is buried in Newington Cemetery.
Robert H. Watt (1887-1929) John L. Watt (1884-1957)
Robert apprenticed as a clubmaker with Donald MacKay at 1 Station Hill, North Berwick and worked in the shop with his brother Jim until 1913. That year he was appointed the first pro at Blackmoor G.C, Hampshire (1913-14). Robert enlisted in WW1 and was badly affected by gas. Following the conflict he was appointed pro at Bishop Auckland (1918-19), then Wortley GC, Yorkshire (1919-24). Robert died aged 42 years in 1929. His brother John Logan Watt (1884-1957) apprenticed as a cabinet maker with Thomas Horsburgh and worked as a pro at Gullane and North Berwick.