Willie Anderson was an inaugural inductee into the
Scottish Sports Hall of Fame in 2002.
James F. Melville
Jim Melville from Earlsferry in Scotland was pro at Burlingame in 1897 and often visited Dave Stephenson at Presidio. They would also play Oakland where Melville was instructor. Jim Melville moved to Monterey in 1900 and was instructor at Hotel del Monte. In 1905 he was appointed to Sacramento Golf Club where he died of pneumonia in 1909 aged 47 years.
Al Espinosa commonly known as 'Peanuts' won the Del Monte Professional tournament in September 1911. The 21 year-old was employed at Del Monte as a caddie and assistant club maker to Jim Melville who trained him. Peanuts Espinosa was of Spanish and Mexican decent and was refused permission to enter the tournament the previous year.
On 18 February 1900, David Stephenson wrote an article for the San Francisco Call "I've played golf ever since I could toddle over the links. First as a caddie where I was the favourite one of the master instructor Ben Sayers who taught me to play the game scientifically. Since I arrived in California nine months ago golf is very popular with the men and ladies. You can find them almost any bright morning enjoying their favourite pastime. Out near the Presido, where the clubhouse of the San Francisco Golf Club stands, a patch of brown against the green hills and blue skies, there are always at least a baker's dozen keeping the caddies busy".
In May 1900, Stephenson laid out the course at Belmont Golf Club near Reid's School where the members had lunch and a dance in the evening. The course had stunning views of the Bay and Santa Clara County. In June 1900 David Stephenson laid out the nine-hole course for the Sausalito Golf Club on the Fort Baker reservation in California. At the opening the press described the links as one of the most sporty to be found on the Santa Catalina links. The following month Horace Rawlins and his brother Harry played an exhibition match over the new course at Sausalito with the snow capped Mt. Tamalpais in the background.
In 1901, T.W.Tetley the instructor at San Rafael Golf Club, left after three months and returned to San Francisco when Alex 'Sandy' Bell from North Berwick was appointed. He remained at the Happy Valley links during the summer and in the winter he assisted Robert 'Bob' Johnstone at the Presidio links. Sandy Bell followed Johnstone as pro at San Francisco Golf Club in 1905 before moving to Honolulu in 1909.
William J. Bradley
Dave Stephenson's assistant at Presidio was a young Californian Will J. Bradley (1880-1959) who Stephenson taught to play golf, repair clubs and greenkeeping. In June 1901, Bradley was appointed greenkeeper and instructor to Sacramento Golf Club on their nine-hole course at Oak Park. His sister Mrs Guthrie was the house keeper at San Francisco Golf Club. In 1905, Bradley was the first pro to be appointed to the reformed Presidio Golf Club and in 1910 he set a new course record 32 and 73 strokes. He laid out their new Presidio course in 1915 and remained with the club until 1925.
Stephenson became ill due to the harsh climate at Presidio and was unable to complete his contract with San Francisco Golf Club which bound him to stay until 1st September 1900. The directors described Stephenson as having given great satisfaction as a fine player, a good instructor and club maker and gave him permission to leave on 1st May 1900. The climate may have been a problem but he also missed his girl friend Agnes Mack from Gladsmuir who he married six months later. He recommended Robert Johnstone from North Berwick as his replacement and Johnstone began his duties at the San Francisco Golf Club on 20th May 1900.
Dave Stephenson was appointed pro and club maker at Dumfries and Galloway Golf Club in Scotland with a salary of 30/- per month and was allowed to charge 2/- per hour teaching. In January 1901 he lived at Essex Park Cottages, Dumfries with his new bride. That year he agreed to take on the additional duties of greenkeeper and club house manager, assisted by his wife. In April 1902 he was appointed head-pro at Huntercombe Golf Club laid out by Willie Park the previous year. His family moved to the village of Nettlebed in Oxfordshire and the following year he became a PGA member. In 1906, Stephenson was appointed professional at Princes Golf Club after being recommended for the position by Robert H. Pringle of the Borders Knitware company, who was a member of North Berwick GC and Prince's GC at Sandwich. Stephenson resided at Sunnycroft, Ash Road, Sandwich, Kent. In 1907 Henley Golf Club invited Stephenson to extend their course to eighteen holes. James Braid also prepared plans and is credited with the layout and Stephenson was paid £5 for his effort.
Stephenson played in the 1901 Open at Muirfield, and again each Open from 1903-07, his best finish was 28th at St. Andrews in 1905. His final appearance was in 1911 when the Championship was staged at the neighbouring Royal St George's Golf Club, Sandwich in Kent. This was the end of an era for the North Berwick golfers. Never again would so many men from the West Links qualify for the Open Championship. The field included, Jim Johnstone, Jimmy Souter, Robert Thomson, Andrew Grant, Philip Wynne, Patrick Wynne, Charles Gibson, and Willie Watt. North Berwick's adopted son, Frenchman Arnaud Massy came so close to winning his second Open that year but was defeated in a play-off by Harry Vardon.
Dave's brother Thomas Stephenson was also a fine golfer and was granted a professional license on the West Links in 1903. Thomas was appointed pro at Erskine Golf Club, Renfrewshire in 1907-1910. A drilled face water iron made by A.G.Spalding & Brothers at their Dysart factory in 1905 marked D. Stephenson, Prince's Golf Club sold at Sotherby's for $7,500 in 2007.
---


WILLIAM R. STUART (1878-1953) Paisley Golf Club, Scotland UK
---
William Rodger Stuart, born 31st March 1878 at 3 Maxwell Terrace, Edinburgh, son of Alexander Stuart, foreman mason and his wife Jane Gowan. His parents moved to North Berwick where his father was employed in the construction of the Dalrymple Buildings in the High Street. When the building was complete the family rented the top floor apartment at 98 High Street. The McLeod and Anderson families also resided in the same stair and two of their sons won the US Open Golf Championship.

Willie apprenticed as a clubmaker with Ben Sayers Ltd. and on completion of his five years training in 1897, Sayers offered him the position of golf professional at Merion, Philadelphia, USA. The American golf clubs would write to Ben Sayers asking him to recommend a young clubmaker who would like to be their golf pro. Willie declined the offer due to his mother's health and Robert M Thomson (below) from North Berwick was appointed to Merion in 1898.

In 1899, Willie married Jane Fraser and they lived in the Station House, Harburn, Midlothian. In 1902, Willie was appointed golf professional at Paisley Golf Club (1902-1917) on the original site laid out by Ben Sayers in 1895 at Bushes Farm and the family resided in McIntyre Place, Paisley. Following WW1 Willie moved to Ralston G.C (1920-22) and then to Elderslie G.C (1922-28).

Willie attended evening classes at Paisley Institute of Technology and trained to be a machinist with a view to make a fresh start in America. In 1921, Willie's sisters Annie Gowan Stuart and Mrs. Mary Donaldson emigrated to America and were residing at 100 E, 83rd Street, New York. Willie and his family sailed from Glasgow on the S.S. Athenia to Quebec then on to St Albans, Vermont arriving on 28th October 1928. They continued their long journey by railroad to Detroit, where Willie his wife, three girls and two boys resided at 510 Montclair Street, Detroit. Although Willie listed his occupation on the passenger list as 'Golf Professional' he had to adapt during the great depression and worked in a factory as a caretaker. The family moved to Petoskey Avenue and Willie was employed by the Wilson Machine Production Co. at 1231 Beaufait Street, Detroit. In 1935 their daughter Jean Simpson followed the family to America and Willie Stuart died August 1953 in Detroit.

Their younger brother Alexander Davidson Stuart (b.1886), was an architectural draughtsman with London Post Office before he enlisted in the Great War with the 7th Bt. Seaforth Highlanders. He was commissioned Lieutenant and mentioned in dispatches in November 1916. He was killed after successfully leading an attack on a German strong point and was awarded the Military Cross in September 1917.

The Stuart family lived at 98 High Street, North Berwick until 2000 and Willie's nephew J.B.'Ronnie' Stuart was secretary of the North Berwick East Links Golf Club for over twenty years.


ELSIE GRANT SUTTIE (1879-1954) Ladies' British Open Champion
---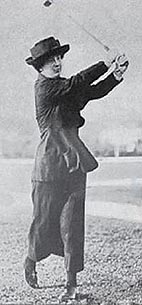 Elsie Grant Suttie born 1879 in London, daughter of Captain Francis Grant Suttie, R.N. and his wife Elizabeth MacIntryre. Her father was the second son of Sir George Grant Suttie of Balgone and Elsie lived with her parents at Hyndford House, Fidra Road, North Berwick. She was a member at North Berwick and Sunningdale and played most of her early golf in the company of men over the full course at North Berwick, and many think this is why she did so well in national competitions. Her father was captain of the New Club at North Berwick (1882-1883).

Elsie was selected to represent Scotland in the Home Internationals in 1908-10-11-14-22-23. Her cousin R. Grant Suttie was also a talented golfer and represented Scotland in 1914. Grant-Suttie won the Lord Shand scratch medal at Biarritz in 1910 and that year she won the British Ladies Amateur Championship at Westward Ho! after defeating eighteen year old Lily Moore from Olton Golf Club in the West Midlands 6 & 4 in the final. Lily Moore defeated Miss Neill-Fraser from North Berwick in the semi-final.

The following year Elsie was beaten by Dorothy Campbell in the final of the British Ladies at Portrush. In 1911 she won the Scottish Ladies Amateur Championship defeating Ida Kyle from St Andrews by one hole over her own course. It was a splendidly contested match. Eight of the nine holes going out were halved and Miss Grant Suttie turned 1 up. Miss Kyle took the lead at the fourteenth but lost the fifteenth, and Miss Grant Suttie secured the championship by winning the home hole in four. Last year Miss Grant Suttie entered from Sunningdale and won the British Ladies championship. During this period Robert Maxwell, John E. Laidlay, and Leslie Balfour Melville acted as referees and officials for the Ladies Championships.

Elsie's sister Edith Grant was a keen cyclist and a founder member of the St Baldred's Lady's Cycle Club in February 1905. There are no records surviving from that period only the year the club disbanded in April 1912 when their funds were donated to the Bowling Club Bazaar. The Bass Rock Cycle Co. at 8 High Street, North Berwick offered Cycles for Hire and teaching was a speciality.

Miss Grant-Suttie was also a member of the Ladies Parliamentary Golf Association playing at Highgate and in 1922 she won the scratch prize. In 1924, Elsie was still competing at the highest level with a handicap of plus one. In July 1925, she won the Scottish Ladies Amateur Championship after defeating Miss C. P. R. Montgomery in the final at Gullane. In the 1950s Elsie moved to the Garage House at Marly Knowe in Windygates Road where she was found dead on 4th January 1954 aged 74 years.


THOMAS TAYLOR East London Golf Club, South Africa
---
Thomas Taylor, born 23rd October 1893 in Edinburgh, son of James Wilson Taylor, coach wheel maker and his wife Helen Horsburgh. In 1896, his parents moved to North Berwick and the family lived in Seaside Cottage (where 13, Melbourne Place now stands). The names of the Taylor brothers, Tom and John are included in the 1913 Caddies Provident Fund. This lists the contributions made towards a fund for the welfare of their fellow caddies on the West Links. Tom served a five year apprenticeship as a club-maker with Ben Sayers & Son and then as a journeyman he worked with James Watt, Ball and Club-maker at Station Hill, North Berwick.

Tom was appointed private golf professional to Marconi, the inventor of the radio, and then to a similar position with the Marshall Field family, owners of the first chain of department stores in the USA. In 1914 Tom sailed from America to South Africa and was appointed the first instructor at East London Golf Club and in 1919 he moved to Mowbray Golf Club, Cape Town. In 1921, Tommy returned to East London and opened the Taylor Sports shop in Oxford Street.

Tommy assisted George Peck, the pro at Orange Grove (Johannesburg) Golf Club (1922-24) to lay out the new course at East London Golf Club when the members moved to a different location in 1923. Tommy is also credited with selecting the names for the holes, and he donated a trophy to the Border Golf Union which is still contested today.

H. G. Peck was followed as pro at Orange Grove by Willie 'Mozart' Nicol, a clubmaker from North Berwick. Nicol sailed from Southampton to Durban (Port Natal) in 1921. Tommy Taylor had the honour of playing golf with the Prince of Wales, later Edward VIII, during his visit to South Africa in 1925.

In 1921, Tommy was joined by his younger brother Archie Taylor (b. 1903, North Berwick) who assisted in organising the Taylor Sports shop. During WW2, Archie joined the South African Armed Forces, and served in East and North Africa and Italy, attaining the rank of Company Sergeant Major. When Tommy died in Durban, Archie took over the business which then passed to his son Peter Taylor.

Tom's younger brother John 'Jock' Taylor (b.1909, 25 Melbourne Place, North Berwick) was also a pro in the USA and emigrated to South Africa prior to WW2. There is no more information on Jock Taylor's career but it is believed he died in Cape Town.

Their youngest brother George Taylor fought in both World Wars and was the most decorated war vetran in North Berwick. He returned to Scotland in the 1950s and was presented with his medals at a special ceremony in the Playhouse cinema. He worked for a short period as club master in the North Berwick Golf Club. Relatives of the Taylor family continue to reside in North Berwick.


FRANCES TEACHER Scottish Ladies Champion
---
Frances Sahara Teacher born 12th December 1886 in Meadow Place, Edinburgh, daughter of Charles C. Teacher M.B.C.M, (Bachelor of Medicine and Master of Surgery) and his wife Frances S. Wilson. In 1899 Frances lived with her parents and sisters Helen and Muriel at 8 Nile Grove, Morningside, Edinburgh. Frances attended St Andrews School for Girls at Bishop Hall, St Andrews and in 1906 the family moved to Craigend, 2, Cromwell Road, North Berwick, built in 1900 by Alex M. Ross a outstandng amateur golfer and owner of several properties in Edinburgh. In 1904 Frances was runner-up in the Ladies Open and Muriel a semi-finals and in the Scottish Ladies in 1907, Frances won the title and Helen was a semi-finalist.
Frances Teacher was a member of North Berwick and Gullane Ladies Golf Clubs and in 1907 she won the Scottish Ladies Close Amateur Championship at Troon, defeating Dorothy Campbell in the final at the 21st hole. Frances lost in the final of the Scottish Ladies Championship in 1908 by knocking her opponent's ball into the hole when trying to hole a stymie on the twentieth green. Frances was selected to play for Scotland in the Home Internationals in 1908-09-11-12-13.
Frances was described in the publication 'The American Golfer' as hard, solemn, implacable, determined and her swing as a full, free and orthodox. In 1909 Frances was invited by the American Woman's Golf Association to play in the Women's Amateur Championship at Merion Cricket Club, Philadelphia.
She was joined by Stella Temple (Westward Ho!), Joyce Spurling (Barnehurst), Mrs C.T.Gray (Barnehurst), and Dorothy Campbell (North Berwick), the winner of the British Women's Amateur Championship. The young ladies where chaperoned by Mr. and Mrs. C.T. Gray, Barnehurst Golf Club who was President of Kent Golf Union. The party sailed from Liverpool on the Emperess of Ireland and arrived in Montreal, Quebec on 16th September 1909.
Left to Right: Silvia Temple, Dorothy Campbell, Frances Teacher - 1909
The highlight of the trip was playing in the USGA Women's Amateur Championship at Merion in Philadelphia. Frances and Dorothy Campbell representing North Berwick, and Stella Temple all qualified for the match-play section. Frances reached the semi-final while Campbell defeated Mrs. R. Barlow 3&2 in the final, to become the first women to win both the British and American national championships in the same year. The Merion professional was James R. Thomson from North Berwick whose loyalties would have been stretched as he coached the local player Mrs.Nonna Barlow but also knew the young Miss Campbell while growing up in North Berwick.
Following the championship at Merion, the ladies were invited to play at Englewood Golf Club, and then a one-day tournament over the Salisbury links at Garden City. They also played at Baltusrol Golf Club, Oakley Country Club, The Country Club of Boston, Myopia Hunt Country Club, Apawamis Golf Club at Rye. The party also had time to visit the Niagara Falls on the Canadian border. They returned from New York on the Lusitania and arrived in Liverpool on 23rd November 1909. Stella Temple died on active service in the First World War.
Frances Teacher was defeated by Miss Eva Anderson at the 20th hole in the final of the Scottish Ladies Amateur Championship at Muirfield 1914. A silver quaich presented to Frances Teacher as runner-up was on display in the local museum in 2016. In the Ladies Championship in 1916 Miss Cecil Leitch lost four of the first five holes in her match against the hard, solemn, implacable, determined Frances Teacher in the first round of the championship at St Annes-on-Sea. At the 18th Miss Leitch went for the half, missed and laid herself the hopeless stymie.


GEORGE THOMSON (1881-1976) Mount Vernon Country Club, New York, USA
---
George Thomson born 4th June 1881 at 81 Westgate, North Berwick, son of William Thomson, fisherman and his wife Isabella Thorburn. The family moved to 42 Victoria Road while George and his brothers attended the North Berwick Public School. George apprenticed as a clubmaker with Ben Sayers before he emigrated to the USA in June 1900. At the age of 19 years Thomson joined Jack Hobens at Yountakah Country Club, nine miles from New York. When Hobens moved on the following year to the neighbouring Glen Ridge G.C, Thomson was appointed pro at Yountakah. In 1902 George Thomson was golf instructor at Huntingdon Valley G.C. (PA). and then to Lenox G.C in (MA), 1902-04. Within months of his arrival at Lenox, George Thomson hosted an Open competition which included all the leading professionals. Willie Anderson travelled the thirty miles from Pittsfield to support his old school friend and lifted the winning prize of $100. Thomson returned to Scotland in 1902 and sailed back to the USA the following year with James Hutchison, William Hobens and Fred McLeod who was arriving in America for the first time. In March 1904 Thomson moved to the Pine Forest Country Club of Lakewood (NJ) and finished in 15th place in the US Open.

In 1905, George was pro at Waterbury Golf Association in Connecticut and in November he attended a meeting in Astor House, New York for the purpose of forming the Eastern Professional Golfers Association. In 1905, Thomson wintered in Florida and came third in the West Coast of Florida Open Championship. In March 1906 he moved to Roseville Golf Club, (NJ) and played in the 1906 Metropolitan Open at Hollywood G.C. Later that year he came third in the first championship of the Eastern PGA played at Forrest Hill Field Club, (NJ).

In May 1906 Thomson attended a meeting of the Eastern PGA in New York for the purpose of selecting eleven amateurs to form an advisory board. In 1907, he was pro at Wee Burn C.C, Noroton, Connecticut where he met his wife Teresa Henry. In 1916 he was appointed links superintendent and instructor at Mount Vernon Country Club. He remained there for eight years and in April 1924 he was engaged as head professional at Scarsdale Golf Club in the Hartsdale district of New York.

George played in the Metropolitan Professional Golfers Association tournament on several occasions. In 1925 (Grassy Sprain) and 1928 (Quaker Ridge Country Club). His highest finish was seventh in 1927 (Salisbury Country Club on Long Island) won that year by Gene Sarazen.

In 1918, he moved south during the winter months and was pro at Bellaire in Florida and played in the West Coast Open. In 1920 he qualified for the PGA championship at Flossmoor in Chicago and reached the last sixteen. He also played in exhibition matches to raise money for the United War Work Fund in 1918 and played in an open tournament at Pinehurst in 1923. He became an American citizen in November 1919 and the following year he took his wife Teresa to meet his family in North Berwick for the first time. In March 1921 he was joined in America by his sister Christina and brother Archie Thomson, a golf club-maker with Ben Sayers & Son. George resided at 137 S, 4th Ave, Mt.Vernon, New York. In March 1928 Thomson played in the La Force open championship at Miami Florida and returned to Scarsdale for the start of the season in April. In 1930, George spent the winter in Scotland and returned to America the following year. In 1942 he resided at 9 Charlotte Street, White Plains, Westchester County, NY and was listed as unemployed. George moved to Sheffield, Berkshire, Massachusetts where he died March 1976 aged 94 years.

Archibald and Christina Thomson

George's younger brother Archibald Thorburn Thomson was born 4 July 1902, Heriot Place, North Berwick. He apprenticed as a golf clubmaker with Ben Sayers & Son. Archie and his sister Christina (1898-1990) emigrated to America in 1921. Sailing from Liverpool on S.S.Cedric they arrived in New York on 5th March and joined George at 137 South Fourth Avenue, Mount Vernon, New Jersey. Archie was assistant professional and clubmaker to George at Mount Vernon Country Club. His Canadian wife Isabel from St John's Newfoundland and their daughter Anne and two boys Archibald and William resided at 246 Amherst Street, East Orange, Essex County where Archie worked as the school janitor. Their sixty-four year old mother Isabella Thomson travelled to America in 1923 leaving her daughter Janet Gillies at 4 Market Place, North Berwick. Archie died on 14th December 1963 and is buried in Rosedale Cemetery, Essex County, NJ.

William Thomson

George's brother William Thomson (b,1892) was a clubmaker with James Watt, 1 Station Hill, North Berwick, and was also a fine golfer wining the Farquharson Scratch Medal in 1908 over the Burgh Golf Course. Thomson was appointed clubmaker and professional to the Sherlock & Slough Golf Club before enlisting in the 2nd Bn. Royal Scots in September 1914. Willie was killed on Monday 4th June 1917 at Pas de Calais, France aged 24 years and was buried in Arras Cemetery. A year later George's father died and on Monday 2nd September 1918 his younger brother James was also killed in action near Calais. He served with the rank of Corporal in the 12th Bt Tank Corps and was buried in Mory Abbey Military Cemetery. The Thomson brothers have their names engraved on the War Memorial in East Road. In 1942 the family raised a decorative headstone over their mothers grave in North Berwick Cemetery.

Henry and Alexander Thomson

Alexander Thomson was a railway clerk residing at 42 Victoria Road, North Berwick and was also a licensed caddie on the West Links. He emigrated to America in 1907 and joined his brother Henry. Alex moved to Ohio and in 1922, Parker Beach the owner of the Medina resort, Chippewa Lake, Ohio, persuaded Alex to join the staff. The park's famous visitors included Thomas Edison, Harvey Firestone and Henry Ford. They danced in the Starlight Ballroom to famous bands such as Glenn Miller, Lawrence Welk, Benny Goodman and Tommy Dorsey. The Medina resort started with a boardwalk, a small hotel, restaurant and dance hall owned by the Beach family. In 1942 Alex was described as a Club House Worker residing at 75th Street, Cleveland, Ohio, where Alex died on 3rd June 1945. Alex's brother Henry Thomson born 3rd July1881, at 3 Harbour Terrace, North Berwick arrived in New York on 14th November 1904. He married Teresa Henry and moved to Cleveland in 1925 and was employed by Astrup Awning Co. as foreman in the shipping department. Later he moved to Sarasota, Florida where he died in August 1978.


GEORGE THOMSON (1881-1947) Peterhead Golf Club, Scotland UK
---
George Thomson, born 3rd July 1881 at 7 Market Place, North Berwick, son of George Thomson, fisherman and his wife Helen Conolly. George Thomson was a licensed professional on the West Links and played in the professional tournament to celibrate the opening of the Burgh golf course in 1909. George Thomson was golf professional at Peterhead Golf Club (1916-1921) and resided at 24 Jamaica Street. He married Jessie McMaster and their son Archie Thomson was greenkeeper on the West Links. George Thomson and his family resided at 21 Melbourne Place and was a freelance golf professional on the West Links, North Berwick until his death in 1947 aged 65 years.


GEORGE THOMSON (1870-1947) Murrayfield Golf Club, Scotland UK
---
George Thomson, born 9th July 1870, at Graham's Close, North Berwick, illegitimate son of Emily Thomson who later married James White. George's step-brother Jack White won the Open Championship in 1904.

George was raised by the Thomson family, a golfing dynasty. Catherine Thomson married Ben Sayers Snr. Isabella married Davie Grant. George's step brothers William Thomson (Huntingdon Valley Country Club) and Wilfred Thomson (Virginia Country Club) emigrated as golf pro's to America. George's nephew the big hitting Jimmy Thomson was runner up in the US Open and PGA Championship in the 1930s.

George Thomson regularly attended the Hope Institute in North Berwick and was a member of the local Angus Golf Club. In the semi-final of the club matchplay competition in 1909 James Souter defeated James Ferguson and in the final George Thomson defeated James Souter. Thomson won the first prize of a set of clubs from Ben Sayers and other prizes were offered from Edward Blyth and Lucy Hope.

For many years the community spirited Miss Lucy Hope provided the Hope Rooms where the caddies could meet during the winter months. Lucy Hope was the daughter of George E. Hope, Luffness, and she resided in Angus House, 16, West Bay Road. The Caddie Institute had a billiard table, card games, daily newspapers, a cup of tea for one penny, and a roaring fire in the winter. The Institute closed in June and re-opened in October. Lucy Hope organised a golf club called Angus Golf Club and they were permitted to play their competitions on the West Links. Lucy Hope's golf team played a annual match against Tantallon Golf Club and her team was led by Ben Sayers. Many of the team members joined the professional ranks in America and Europe. Davie Grant (Biarritz GC) James Souter (Tuxedo GC) James Ferguson (Spring Lake GC) George Sayers (Merion GC) George Livingstone (Belle Meade CC), and George Thomson (The Starter).

George Thomson was golf professional at Leven Golfing Society (1895-98) before being appointed greenkeeper at Archerfield (1899-1904). George married Margaret Lyall Robertson in 1895 and they lived with their daughters Mary and Margaret and sons James and John in Ivy Bank, Dirleton. They moved to Edinburgh where George was golf professional at Murrayfield Golf Club (1904-1924). His wife Margaret was the Clubmistress assisted by their daughter Mary until 1940 and the family resided in North Lodge, Belmont, Corstorphine. George was appointed the first professional at Longniddry (1924-1930) before handing that position over to his step-brother Jack White the former Open Champion. Hanging on the wall above the bar in the lounge is a club made by George Thomson which was presented to the club by a retiring captain of Longniddry. In 1931 George returned to Murrayfield Golf Club where his wife Margaret died in 1940. Seven years later George followed her to the grave on 23rd January 1947 aged 76 years.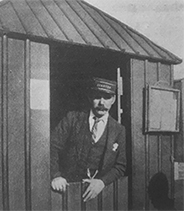 GEORGE THOMSON (1861-1911) Starter, North Berwick Links.
---
George 'Geordie' Thomson (left) born 12th September 1861 at 26 Victoria Road, North Berwick, son of George Thomson, fisherman and his wife Marion Gibson. In 1895, Thomson was paid 5/- a day and worked from 8am to 8pm with one hour for lunch. Geordie Thomson died 13th January 1911 aged 49 years at Balderstone House, 44 Forth Street, North Berwick. His only son George Robert Thomson was born two days later.

While carrying out his duties as Starter, George was often gifted a sovereign or two for looking after the gentlemen golfers with prime tee-off times. When Thomson purchased a three storey house at 44 Forth Street for £620 nobody was surprised. At the time the house was sold and renovated in 1953 the new owners could not find any trace of Thomson's hidden pot of sovereigns, despite local rumors.


JAMES K. THOMSON (1894-1980) Mohawk Golf Club, New York, USA
---
James Kelly Thomson, born 21st March 1894 at 2 Russell Square (now Creel Court), son of David Thomson, a fisherman and his wife Janet Kelly. James served an apprenticeship as a club maker with Ben Sayers Ltd and was described as 6 feet tall with brown hair, brown eyes and a dark complexion. At the age of 19 years, Jimmy sailed from Liverpool to New York on S.S. Carmania arriving on 25th May 1913. He travelled to Pennsylvania where he took up the position of assistant pro to George Sayers at Merion Golf Club, Haverford. Thomson moved to Little Falls, Herkimer NY (1915-18) where he was golf instructor and greenkeeper. Thomson moved to Mohawk Golf Club, Schenectady NY (1918-68) where he laid out the West Course in 1924.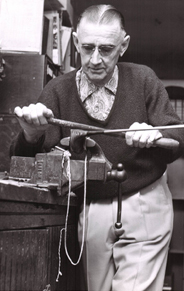 At Merion they offered sets of hickory shafted clubs with Jas. K Thomson stamped on them, manufactured by A. G. Spalding & Bros. at their Dysart works in Fife, Scotland. Spalding also forged clubs stamped with George Sayers, Merion Golf Club, Haverford, PA. Both are now popular items for collectors particularly the splice neck spoon.
Due to the uncertainty and hardship of WW1 most families in Scotland were struggling to make ends meet and in January 1915 Jimmy's mother Janet Thomson wrote to the North Berwick Town Council to appeal against her Assessment (tax) on the grounds of poverty. It was reduced to £1-7-1d and with Jimmy Thomson now in employment in America he was able to send money home to his family. In 1917, Thomson took a winter position at Tampa Auto and Golf Club in Florida and two years later at Rocky Point G.C, in Tampa, before returning to New York State for the summer season. Tampa Port was busy with steam ships bound for the West Indies and Central America. The long wharf's reached a mile out in the bay where the ships tied up, but the most unusual sight was the Tampa pelicans.
Jimmy Thomson designed the Schenectady Municipal Golf Course in 1935, a joint venture between the city of Schenectady and the Federal Government. At the opening of the course in July, Thomson had the privilege of being first off the tee playing with W.W. Paton, E.W. Allen a local philanthropist and club member Bill Knight who invented the well known Schenectady putter. In September 1948 the Mohawk Golf Club produced a special scorecard showing a picture of Jimmy Thomson and a view of the clubhouse.
(Left) Jim Thomson Copyright &copy Mohawk Golf Club
Again in the winter of 1925/26 he travelled to Florida, this time with Fred McLeod. They joined Jim Barnes at Temple Terrace Country Club in Tampa FL. This complex included a casino and night club where Al Jolson was a regular performer. In the winter of 1930 Thomson was pro and manager at Ormond Beach Golf Club owned by the Florida East Coast Rail Company. Ormond was described as a delightful place with the most beautiful beach in Florida. Thomson continued to improve the Mohawk Country Club course and in 1935 he was assisted by golf course architect A.W.Tillinghast to alter the 8th hole and create new bunkers on the 17th hole. In 1954 Thomson was elected vice-president of the Central New York PGA.
On 12th October 1968 the Mohawk Country Club laid on a dinner to celebrated Thomson's golden anniversary with the club. The Schenectady Gazette reported that the Northeastern New York Golfers Association were unanimous in rating Thomson as one of the 'greatest' both in his proficiency as an immaculate golf course superintendent and as a instructor he did much to raise the playing standards of golf in the area. The membership planted 150 new trees in recognition of Thomson's devoted service to the club and named the first hole after him as an everlasting tribute.
Jimmy's mother Janet Thomson lived at 22 Victoria Road, North Berwick. James 'Kelly' Thomson adopted his middle name from his mother's maiden name to distinguish himself from the numerous other Thomson's in North Berwick. Jimmy lived with his wife Florence in Niskayuna Township, Schenectady, NY. At Palm Beach the driver of the motor-mower looked like Ned Kelly, wearing an iron head cage for protection from flying balls.
At the age of 82 years Jimmy enjoyed a weekly round of golf at Mohwak, laid out an nine-hole course at McGregor Links, Saratoga Springs NY and continued to winter at Pompano Beach Golf Club, Florida where he gave lessons. James Kelly Thomson died March 1980 in Schenectady County, New York.


ALEXANDER THOMSON (1873-1927) Personal Golf Instructor to Lord Northcliffe
---
Alexander 'Sandy' Thomson was the elder brother of James and Robert Thomson listed below. He was a licensed professional on the West Links, North Berwick during the 1890s. In 1901 Sandy was appointed professional at North Surrey Golf Club in Norbury, before moving to Hampstead Heath Golf Club. Alex played in the 1904, 1905 and 1906 Open Championships and taught golf to Alfred Harmsworth,later Lord Northcliffe, a newspaper baron who owned the London Times and Daily Mail. Sandy was introduced to Lord Northcliffe at North Berwick and in 1910 he was appointed personal professional to Northcliffe and travelled with him for the next twelve years.

Lord Northcliffe sponsored the golf tour of Harry Vardon and Ted Ray to America in 1913. Following the death of Northcliffe in 1922, Sandy was appointed pro at Brent Valley Golf Club at Hanwell in Ealing. At this time Sandy was living in Wembley with his third wife Lizzie Logan from North Berwick and in 1925 they moved to North Foreland Golf Club, Broadstairs which was laid out on Lord Northcliffe's estate. Sandy died in 1927 and is buried at St.Peter's Church in Broadstairs, Kent. His grandchildren, the Adams family remain in North Berwick.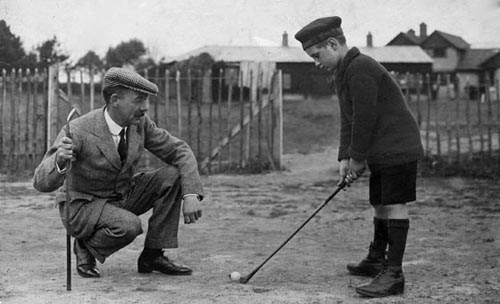 Sandy Thomson teaching the son of Lord Northcliffe, Copyright &copy Adams Family


JAMES R. THOMSON (1881-1963) Apawamis Country Club, New York, USA
---
James Ramage Thomson, was the younger brother of Alex and Robert Thomson (listed below). James was born 24th May 1881 in North Berwick, son of Alexander Thomson a fisherman, and his wife Elizabeth Marr. James was a plasterer by trade and his two older brothers Alexander (b.1873) and Robert (b.1878) were golf professionals. They were all born at 18 Westgate opposite the Abbey Church. The house was demolished in 1899 to make way for the present building at 97, High Street. Willie Anderson, the US Open Champion was also born in this block of apartments in 1879.

Jim Thomson emigrated to the USA on 9th April 1905 and followed his brother Robert M. Thomson as golf instructor at Merion Cricket Club, (PA) 1905-1909. Jim moved to Philadelphia Country Club (1910-1920), then to Overbrook Golf Club (PA) in 1921 and later that year to the Apawamis Country Club (NY) where he remained for 25 years. Among the caddies at Apawamis were Gene Sarazen (Eugene Saraceni) and his friend Ed Sullivan. At the Metropolitan Golf Association Championship in 1910, Jim Thomson and Fred McLeod shared sixth place and received $25 each. This was the last tournament Willie Anderson entered before his death on 25th October 1910.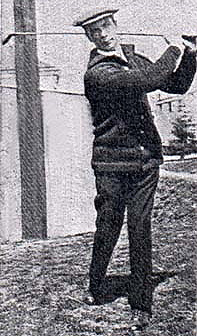 Jim's assistant professional at Philadelphia Country Club was Alexander Dawson Douglas born May 1888 at 20, India Street, Montrose. Scotland. In 1890 he resided with his parents at 11, High Street, Edzell, Angus County where he learned the art of clubmaking. Alex sailed to America on the SS. Columbia and arrived in New York on 20th March 1911. He was professional at Rock Manor Golf Club at Concord Pike, Wilmington and then Haddon Country Club (1918) NJ before accepting a position with the Municipal Golf and Tennis Association in Delaware.
In September 1911, James Thomson finished third in the Eastern Professional Golfers' Association championship, played over thirty-six holes medal play on the Rumson Country Club (NJ) course. The winner was Alex Smith who received $125 while Thomson and Gilbert Nicholls divided second and third moneys, getting $72 each. Also in the field where former North Berwick caddies Jack Hobens of Englewood in fifth place receiving $40 and Tom Anderson Jnr just outside the prizes. His father Tom Anderson Snr. shared first and second moneys' with George Strath in the senior tournament. In August the professionals travelled north to Long Island for the Inwood Open Championship at Far Rockaway when Tom Anderson Jnr. set a new course record 68. Tom Anderson Jnr. born at 11 Abbey Road, North Berwick was killed in an automobile accent in New Jersey in 1915.
Jim Thomson's best finish in the Metropolitan was fourth equal in 1912, played at Apawamis Country Club, NY. He tied the first day with Tom MacNamara at 149, his third round was 75 and his fourth round was 74 making a total of 298. On consulting the score-board however, Thomson discovered that his last round had been posted as 73 and that a 4 which he had made on a certain hole had been recorded by his marker as a 3. Although the fault was clearly the marker's yet the Committee had no alternative but to disqualify Thomson. Under Rule 5 of Special Rules for Stroke Competitions. The Committee, however decided to make good the prize money as he actually tied with Herbert Strong for third and fourth places. Thomson received $62,50 which would have been his share. This money was given entirely outside the regular list. The winner was Tom MacNamara (Boston) $150 and the gold medal, Gilbert Nicholls (Wilmington) $100 Fred McLeod (St Louis) was fifth.
In 1913, Thomson won the Pennsylvania Open ($113.55), and Fred McLeod finished two strokes behind in second place. George Sayers also played in that event for the first time. Jim Thomson finished second once and third twice in the Pennsylvania Open. He finished second in the Philadelphia Open in 1909 and three other times he was in the top four. In 1909 Thomson set a new course record 69 at Merion and in 1911 he finished third in the Metropolitan Open and second in the Eastern PGA championship. Thomson was the leading qualifier at the 1915 US Open at Baltisrol and while he was in Philadelphia he set two course records, a 67 at the Philadelphia Country Club and 65 at the Overbrook Golf Club. In 1914, James and Robert qualified for the US Open Championship, played that year at Midlothian Country Club near Chicago.
In January 1916 seventy-five golf professionals and leading amateurs met in New York at Wanamaker's Department Store to discuss forming a national organization of golf professionals. On April 10, 1916 the pros met again at the Hotel Martinique in New York and founded the Professional Golfers Association of America. There were 78 members spread out across the United States. The Philadelphia region was in one of the seven PGA Sections, which was called the Southeastern Section. An executive committee was formed with representatives from each PGA Section. This was based on the number of PGA members in each section. Jim Thomson was elected a member of the first PGA of America Executive Committee and was selected as one of the national vice presidents of the PGA. Philadelphia's Rodman Wanamaker offered to put up the prize money for a championship. At the first PGA National Championship section qualifying at Wilmington Country Club Jim Thomson qualified for the final spot after a play-off. The final was played in October at Siwanoy Country Club, Long Island NY, when Thomson lost in the first round.
In December of 1921 he attended the founding meeting of the Philadelphia Section PGA and was a member of the organising committee. James R. Thomson became an American Citizen on 11th January 1924. He visited Scotland in 1931 accompanied by his wife Helen Cunningham and five year old daughter Helen.
He continued to play in exhibitions, and at the age of 75 was working as a golf instructor at Whiteface Inn, Lake Placid, (NY). Jim and his wife Helen Cunningham from Bonnyrigg and their daughter Helen resided at 20 Elmwood Avenue, Rye. Thomson was hired and spent the remaining 25 years of his head professional career at Apawamis. James R Thomson died on 18th April 1963 aged 81 years. James and his brother Robert's obituary was carried in the New York Times. A remarkable career from such humble beginings.


LENA M. THOMSON (1889-) Wimbledon Ladies Golf Club
---
Lena Mary Thomson born 1889, 91 Lancaster Road, Finsbury Park, Islington, London, daughter of John Gillespie Thomson, wholesale meat salesman and his wife Jessie. Lena's father was born at 19 Rae Street, Dumfries, Scotland and Lena spent most of her life in the London area. Her family spent the summer season in North Berwick where she was given golf lessons by Ben Sayers. In 1896 Lena joined Wimbledon Ladies Golf Club and that year she was defeated in the final of the Ladies Amateur Championship at Royal Liverpool. In 1898 she won the Amateur Championship after defeating Miss Elinor Neville 4&3 in the final at Great Yarmouth. Her name is engraved on the Ladies Amateur Championship Challenge Cup along with the other North Berwick ladies, Edith Orr, Elsie Grant-Suttie and Dorothy Campbell. The trophy is on display at the British Golf Museum. In 1914 Lena married Edward Towne who also played golf and they resided at 216, Wightman Road, Islington. The Prince Ladies Golf Club presented the bride with a silver vase in the form of a swan.


ROBERT M.THOMSON (1878-1947) Greenwich Country Club, Connecticut USA.
---
Robert Marr Thomson was born 5th July 1878 in Westgate, North Berwick son of Alexander Thomson a fisherman, and his wife Elizabeth Marr. Robert's brother James (b.1873) was a plasterer to trade and Alexander (b.1881) was a golf professional. They were all born at 18 Westgate opposite the Abbey Church. The house was demolished in 1899 to make way for the present building at 97, High Street. Willie Anderson, the US Open Champion was also born in this block of apartments in 1879. As the fishing declined their father Alexander was employed as a coalman and the family moved to the Horse Crook on Tantallon Road adjacent to the present Tesco supermarket.

Bob Thomson was eighteen years old when he emigrated to the USA in 1897 and was appointed pro at the nine hole course at Merion Cricket Club in the town of Haverford, Pennsylvania (1897-1905). In an article in The Milwaukee Journal on 27 March 1897, Greens Committee's everywhere were being encouraged to engage young professionals from Scotland. The article continued 'Robert Thomson is a most promising young man and can play as well as make clubs, he and Ben Sayers having before he left defeated Davie Grant and George Douglas in a foursome'. Thomson was engaged by the year at a salary of £6 per month and was also to assist in taking care of the course and keeping it in order whenever the Greens keeping wants him. In addition to this he is allowed to devote the most of his time to playing and coaching the fee for which is 2/- per hour. This the committee values at from £2 to £4 per week.

Ocean County Hunt and Country Club, Lakewood organised an open tournament which attracted seventeen professionals. They included North Berwick professionals, Willie Anderson, the Lakewood professional, Willie Collins, John and Val Fitzjohn, Harry Gullane, Harry J. Reddie, Robert Thomson, Tom Harley and James Litster New York Times December 31st 1897. The greens were a little rough due to a lack of rolling, but there was no snow or ice on the course.

In 1900 Robert was a boarder at 26, Montgomery Avenue, Lower Merion and he assisted with the extension of the course to eighteen holes. In 1903 Bob Thomson was joined by John 'Jack' Millar, as clubmaker to the Merion Cricket Club. Millar was born in the Drumbrae district of Musselburgh in 1863 and emigrated to America in 1903. Jack Millar was a joiner to trade working in Edinburgh for one of the twenty-six clubmakers in the capital including William Park & Son - Frederick Street, R. Anderson - Princes Street and A.G. Spalding & Bros, Charlotte Street. Jack Millar resided at 114 Conway Avenue, Narberth, Philadelphia and specialized in making the latest wooden cleek or baffy which came into vogue at this time, displacing the mid-iron. Unfortunately no examples of his work has survived. Millar returned permanently to Scotland in 1911.

Bob was followed at Merion by his brother James R. Thomson (above) 1905-1909. In 1910 Tom Bonnar from Musselburgh was appointed professional. During this period Rodman Griscom, captain of Merion and his sister visited North Berwick and were tutored by Ben Sayers throughout the summer of 1902. They visited North Berwick again in 1906 and 1911 when Rodman Griscom invited George Sayers to take up the position of head pro and club maker at Merion Cricket Club. The connection with North Berwick had now lasted over a decade. George Sayers arrived in 1913 and was followed by a long line of club makers sent out from Ben Sayers & Son in North Berwick who passed through Merion on their way to fill positions at other clubs.

With the introduction of the Haskell ball the course became too short for the modern equipment and in 1910 the club moved to new ground two miles southwest in the district of Ardmore. James R. Thomson assisted in laying out the new eighteen hole East Course before he was appointed to the neighbouring Philadelphia Country Club in 1910. The East Course was so popular a second course was laid out a year later under the supervision of club member Hugh Wilson and his committee. In 1913 George Sayers was appointed head pro when Merion became the first club in America to have thirty-six holes.

Robert played in the first professional golf tournament in the Philadelphia area at the Huntingdon Valley Country Club in 1898, won by Harry Gullane from North Berwick. In 1903 Robert set a new professional course record at Merion with a score of 78. Robert moved to Camden C.C, Philadelphia PA (1905-08); Knollwood Country Club, White Plains NY (1909-11) Montclair CC (1911-1913), and from 1905 he wintered in Florida.

In August 1900 Bob Thomson travelled north to Oconomowoc Golf Club in Illinous to support Willie Anderson, the local professional who was hosting a 36-hole tournament. Willie Auchterlonie of Glen View Golf Club won first prize, Willie Anderson and Alex Smith tied for second place and divided second and third money. Also in the field was Robert Bolton (Rockford) from North Berwick who Bob Thomson had not seen for four years.

James and Robert returned to Scotland together in 1911 to attend their father's funeral. He was buried beside their mother Elizabeth Marr in the Churchyard in Kirk Ports where a headstone lists their names. In 1913, Robert Thomson was appointed the first pro at the new 18 hole layout at Glen Ridge Country Club (NJ). Bob Thomson's wife Ottilie was a German immigrant and in 1915 they lived at 20 Oxford Street, Montclair, NJ where their son James Thomson was born. Bob remained at Glen Ridge for 15 years before moving to Greenwich Country Club (1928-1947) in Conneticut, where he lived with his family at 30 Perryridge Road, Greenwich. Bob Thomson died in the United Hospital, Port Chester, (NY) on 6th January 1947 and his obituary was carried in the New York Times - a long way from the Horse Crook of his childhood. His wife Ottilie died three months earlier and their son James R. Thomson continued to reside in Rye (NY). The Thomson brothers were part of a remarkable golfing family from North Berwick.


ROBERT THOMSON (1875-1954) North Berwick East Links, UK
---
Robert Thomson, born 16th December 1875 in North Berwick son of William Thomson fisherman and his wife Margaret Lawrie. His father died young and he lived with his mother and elder brothers James and William L Thomson (below) at 2, Russell Square (13 Forth Street). In November 1894 James Thomson took a temporary position as professional at Grantham Golf Club before returning to the West Links. In 1894, Robert 'Bob' Thomson was a registered caddie and was appointed the first professional at County Sligo Golf Club which was mainly a teaching position on their new course at Rosses Point. Two years later he was granted a professional license on the West Links, North Berwick.

Bob had an outstanding golfing career and represented Scotland in the Home Internationals from 1903-1912, (except 1908 which was not played due to the weather conditions.) In the International foursome matches his regular partner was Jack White from Sunningdale. In the Open Championship Thomson finished in the top six in 1903 (Prestwick) and 1905 (St Andrews) and was Scottish Professional Champion in 1909 after defeating Willie Watt from Dirleton in the final. He replaced James Braid at Romford Golf Club in 1904 and three years later returned to North Berwick.

Following the 1904 Open Championship, Thomson took part in a professional meeting at Walton Heath and qualified for the match play competition when he beat Harry Vardon by one hole but was defeated by J. H. Taylor in the semi-finals. Taylor in turn lost the final to Rowland Jones. Thomson regularly played in the prestigious News Of The World tournament at Sunningdale and was among the prize winners in 1912. Robert Thomson won the Dunlop Cup a Scottish Professional competition in 1911 and 1912.

During the First World War Robert Thomson enlisted in the Royal Army Service Corps. He was posted to France and was discharged due to a disability on 29th January 1919. Bob took over Alex Marshall's club repair workshop on the East Links at North Berwick in 1920 and three years later he was employed by the Town Council as golf professional on the East Links golf course (1923-1938). In October 1902 Bob Thomson defeated J. Forrester (Earlsferry) in a professional match at Elie. In a contest over the Braid Hills in July 1906 Thomson tied for the best round (68) with James Braid and finished second with J.H.Taylor third. Robert Thomson was one of the finest golfers North Berwick produced. He resided at 11 Forth Street and remained single until his death in 1954 aged 78 years.

JAMES and WILLIAM THOMSON

Robert's younger brother James Thomson born 26th September 1870, resided with his mother at 17 Forth Street, North Berwick. He was a licensed golf professional on the West Links, North Berwick for most of his career. William Thomson born 16th November 1868 was also a freelance professional on the West Links, North Berwick. During the First World War he enlisted in the 2nd.Bn Royal Scots and was posted to France in 1914.


WILLIAM THOMSON (1892-1917) North Berwick East Links, UK
---
William Thomson Jnr. was born 3rd August 1892 at 8, Heriot Place, (Lower Quay), North Berwick, son of William Thomson, fisherman and his wife Isabella Thorburn. Willie was educated at North Berwick Public School before training as a golf club maker with James Watt, 1 Station Hill, North Berwick. It was traditional for Willie to assist his father at the fishing and then carry golf clubs on the West Links during the summer season.

In 1901 Willie lived with his parents, three brothers and four sisters at 42 Victoria Road. He was appointed golf club maker and professional to Sherlock & Slough Golf Club, London. Willie Thomson enlisted in the First World War and joined the Lewis Gunn 2nd Royal Scots and was posted to France where he was killed-in-action on 4th June 1917, aged 25 years.


WILLIAM L. THOMSON (1869-) Riverton Country Club, Burlington, New Jersey. USA
---
William Logan Thomson, born 1869 Leith, son of George Thomson and his wife Catherine Dickson. Willie was a member of the famous Thomson golfing dynasty, his sister Catherine married Ben Sayers, Isabella married Davie Grant, the youngest sister Emily married James White and their son Jack White won the Open Championship in 1904. Willie's nephew the big hitting Jimmy Thomson was runner up in the US Open and PGA Championship in the 1935.

Willie Thomson was a golf ball maker and lived with his brother-in-law Davie Grant at 11 Forth Street. It was a common sight to see a row of his golf balls spread out on the window ledges hardening in the sunlight. Willie was granted a license as a professional at North Berwick in May 1891 and he married local girl Catherine Logan in 1895.

In November 1886, Ben Sayers and 16 year old Willie Thomson arrived in Musselburgh late for the Open Championship and had to tee-off last. Willie Thomson was unable to complete his round due to darkness and was disqualified. At the Open Championship in 1889, again at Musselburgh Thomson finished tenth.

Thomson emigrated to America in 1899 and was appointed head pro at Huntingdon Valley Country Club. He lived with his family in Abington Township in Montgomery County, Pennsylvania. Among the staff at Huntingdon were John J. Gettings, and Thomas Kelly described in the census as a 'Golf Gardener.' (green-keeper).

In 1899, Thomson entered the US Open championship at Baltimore, when the field also included North Berwick men, Jimmy Litster, Val and Ed Fitzjohn, Robert M Thomson, Jimmy Campbell, Willie Anderson (fifth) and Harry Gullane (eighth). The following year Willie Thomson travelled north to Illinois with Jim Hutchison and Harry Gullane to play in the US Open championship at Chicago Golf Club. By then he was using his wife's maiden name 'Logan' as his middle initial and entering the tournaments as William L. Thomson.

In 1899 Huntingdon Valley Country Club hosted a 36-hole professional tournament which Thomson won. Harry Gullane (St Davids G.C) finished one shot behind on 160 to take second place while Robert M Thomson (Merion) was next on 164. Willie Thomson regularly caddied for Mrs Caleb F. Fox of Elkins Park when she played in the Women's National.

In 1900, Harry Vardon visited America for the first time and played in a number of exhibition matches sponsored by Spalding Sporting Goods. At each venue Vardon took on two of the better local players competing against their better-ball score for 36 holes. The match in Philadelphia was arranged for 21st April when Vardon's opponents were two North Berwick lads, Harry Gullane, the pro at the Philadelphia County Club and William L. Thomson, the pro at the Huntingdon Valley Country Club, played on the links of the Philadelphia County Club at Bala. According to the report in the New York Times Harry Gullane out drove Vardon most of the time and the local professionals were 3 up after the morning round. They remained two up with four to play in the afternoon but Vardon played excellent golf and won by 156 strokes to his opponent' 160. Willie Thomson was the professional caddie for Mrs. Caleb F. Fox of Philadelphia.

He moved to Riverton Country Club, Burlington, New Jersey and was the first professional at their new nine-hole course opened in June 1900. He remained at Riverton until WW1. In 1925 he was offered the job as head professional at Congress Lake Golf Club, Hartsville, Ohio. His brother George Thomson (b.1870) was the first professional to be appointed to Longniddry Golf Club, East Lothian, Scotland in 1923-1930.


WILLIAM L THOMSON (1868-1941) West Drayton. Middlesex UK
---
William Lawrie Thomson, born 1868 in North Berwick, son of William Thomson, fisherman and his wife Margaret Lawrie. Willie was a postman and lived at 2, Russell Square (Creel Court) with his mother and brothers James and Robert. Willie was granted a professional license on the West Links in May 1894 and played in the Open Championship at Muirfield in 1896. He also played several matches over the West Links against Freddie Tait the Amateur Champion. Willie's brother James was registered as a pro on the West Links in 1893 and that year he was appointed greenkeeper and professional at Glamorganshire Golf Club (1893-1895). James moved to West Drayton Golf Club in 1895 and Willie followed him there in 1901-1910. On 9th September Willie attended a meeting to form the London and Counties Golf Professionals' Association which was changed at the first AGM on 2nd December 1901 to the Professional Golfers' Association - the world's first ever golf association.

The course at West Drayton was considerably altered in 1905 under the supervision of J. H. Taylor who won the pro tournament at the opening of the new course with a 75. The other scores were Harry Vardon (76), James Braid (77) and Willie Thomson (78). Willie's younger brother Robert Thomson (above) held the course record 66 for many years. The course at West Drayton went out of existence at the start of WW2.

Willie then moved to Ireland and was pro at Dun Laoghaire (Kingstown), Dublin (1910-1912). He returned to North Berwick in 1913 and was a golf instructor on the West Links until he retired in 1933. Willie remained single and died in 1941 at 11 Forth Street, North Berwick aged 72 years.


WILLIAM R. THOMSON (1868- West Hove Golf Club, East Sussex UK
---
William Thomson born 14th December 1868, at Graham's Close. Westgate, son of George Thomson, mason's labourer and his wife Catherine Marr. Willie's sister Isabella married Davie Grant, a licensed golf professional on the West Links. Thomson was a golf ball maker and resided with the Grant family at 11 Forth Street, North Berwick.

William was part of the Thomson golfing dynasty, her sister Isabella married Davie Grant and their brother was Wilfred Thomson. The eldest sister Emily Thomson married James White and their son Jack White won the 1904 Open Championship. The Thomson girls refused to leave North Berwick and they all remained at home.

Willie married Catherine Logan and they lived in the Harbour Terrace where he continued to make golf balls. Thomson was appointed professional at Beckenham Golf Club, Woodside, Croydon (1897-1906). The course was laid out by Tom Dunn in 1892 on the old Croydon race course. At the opening Jack White from North Berwick played an exhibition match with J.H. Taylor which White won 2 & 1. Willie Thomson held the course record 72 for several years.

In 1901 he attended a meeting to form the London and Counties Golf Professionals' Association. At the first AGM, on 2nd December 1901, the name was changed to 'The Professional Golfers' Association'. Thomson moved to Huntercombe Golf Club (1907-1916) and lived with his wife Annie Sutton and two children at 'The Nest' Henley-On-Thames, Oxfordshire. In 1916 he moved to West Hove Golf Club, Brighton East Sussex where he remained for over twenty-two years. The original course was situated between Hove and Portslade.


WILLIAM THOMSON Sidcup Golf Club, Kent, UK
---
William Thomson, born 1874 in the village of Dirleton near North Berwick, son of John Thomson, a general labourer and his wife Mary Smith. At the age of 16, William Thomson was granted a professional license on the West Links at North Berwick. He was living with his parents, two sisters and a brother in the Red House next to Dirleton Castle Hotel where his father was the gardener. In 1893 Thomson was appointed instructor at the nine-hole course at Sidcup Golf Club (Manor Farm Meadows) in Kent. In 1903 he moved to Baberton Golf Club in Edinburgh where he was joined by Andrew Galloway from Musselburgh as his assistant. Thomson remained at Baberton until 1927 when Galloway was appointed head professional.


WILFRED and JAMES THOMSON Factfile
---


JOHN, JAMES, ARCHIBALD, ANDREW THORBURN Kilmacolm Golf Club, Scotland, UK
---
John Thorburn born 19th December 1875, Forth Street Lane, son of Archibald Thorburn, fisherman and his wife Mary Ann Hepburn. John Thorburn apprenticed as a clubmaker with Ben Sayers and was promoted to First-Class caddie on the West Links, North Berwick on 17th September 1895. He was appointed assistant to Tom Fernie at Cambuslang Golf Club (1905-07). John was appointed head pro at Kilmacolm Golf Club (1907-1917) where he was joined by his sister Isabella as club manageress. In 1929 John Thorburn was appointed pro at Peebles Golf Club when it was reported that over fifty applications were received for the position. During Thorburn's tenure he assisted Harry Colt to revamp the course in 1934 and coached club member Alex Kyle, three times Walker Cup player and winner of the Amateur Championship in 1939.

In 1939, John Thorburn left Peebles to join his son Archie Thorburn the professional at Peterborough Milton Golf Club. During WW2 Archie enlisted in the Royal Air Force Volunteer Reserve and was killed in action in April 1942, four months after his father John Thorburn died at Longthorpe, Peterborough while working as his stand-in-pro. The sixth hole at Peterborough still bears the name 'Thorburn' in their memory. Archie was buried in Marham Cemetery, Norfolk.

John's brother James Thorburn (b.1879) was appointed professional at Lenzie Golf Club (1905-1911), Branstone Golf Club, Burton-on-Trent, Staffs (1911-1914), and then Sutton Coldfield Golf Club (1919-1925). Their younger brother Archibald Thorburn (b.1890) was a licensed caddie on the West Links, North Berwick before being appointed head pro at Baberton Golf Club, Edinburgh when he assisted James Braid to reconstruct the course during the 1920s.

Andrew Thorburn

Their cousin Andrew Thorburn (b.27th June 1873) was also a fine golfer. He was the son of John Thorburn, fisherman and his wife Agnes formally Livingston m/s Gullane and lived in the Harbour Terrace before moving to 15 Forth Street, North Berwick. Andrew was a member of Bass Rock Golf Club, winning the Club Medal in 1894 and 1895, and a member of the winning Wemyss Country Cup team in 1895. That year he set a new course record for the Bass Rock Golf Club over the extended West Links. Andrew Thorburn was a stonemason to trade and lived in Dunbar for several years before he moved to Dirleton in 1904. The family resided in the Red House where Andrew died on 24th September 1934.


JAMES TINLIN Mount Lawley Golf Club, Perth, AUS.
---
James Elliot Tinlin born 22 January 1886 in Sprouston Village, Kelso, Roxbroughshire, son of Robert Tinlin, a shepherd and agricultural labourer and his wife Elizabeth Alcorn. In 1891 the family resided in the Old Toll House and in 1901, 15 year old James Elliot Tinlin was employed as the Hall Boy in Sprouston House. He moved to North Berwick in 1910 and was employed as butler to John P. Jopp in Gordonbank House, 16, Fidra Road, North Berwick. John P. Jopp was captain of Tantallon Golf Club in 1923. Jim Tinlin married Margaret Ogilvy Brown on 12 November 1910 and resided at No.1 Melbourne Road, North Berwick where their family were born.

James worked as assistant greenkeeper on the West Links, North Berwick under the legendary head greenkeeper Alex Gow before moving to Muirfield links. In 1914 James Tinlin started a stationers business and purchased property at Nos. 34, 36, 38,44 and 46 Quality Street, North Berwick. During WW2 James enlisted in the 1/7th Battalion Black Watch while Margaret organised the stationary business until 1925.

James emigrated to Australia on 17th October 1925, sailing on the S.S.Ormonde from London to Freemantle, Western Australia. His address was 36 Quality Street, North Berwick. Margaret and their children Robert, James and Margaret followed and they arrived 7th February 1928. Their father's original plan was to become a farmer in Western Australia's Great Southern area. He took up land near Lake Grace but due to the back breaking work to clear the bush he ran out of money and moved to Perth to seek employment.

In February 1928 Jim was appointed foreman during the construction of the Lake Karrinyup Country Club situated 8 miles north west of Perth. He assisted architect Alex Russell (partner of Alister Mackenzie) to build the course, working in very hot conditions on new frontier bush, among dense forests invaded with flies and a resident kangaroo population. In December 1928, Jim Tinlin was appointed head greenkeeper at the Mount Lawley Golf Club, situated in the Perth suburb of Inglewood, where he supervised the growing of the 10-hole course laid out by David Anderson. In 1932, the club decided to extend the course to 18-holes and Tinlin collaborated with member Carl Klem on a new layout, including alterations to several existing holes. Klem had surveyed the layout before being called away to Sydney in 1934. Tinlin continued the work without interference from the members and the new holes were completed by 1935. This included the first recorded Redan hole in Australia, complete with railway sleepers, inspired by Tinlin's home course at North Berwick. He also used familiar names for the holes, Bunker Hill (6th) and Redan (15th). Mount Lawley laid out by Tinlin, Klem and David Anderson the Royal Perth professional, is listed among the top-50 courses in Australia.

Jim Tinlin and his wife Margaret lived at 'Tantallon', 17 Robinson Street, Inglewood, Perth. Their house was named after Tantallon Castle in his hometown North Berwick. In 1934, Tinlin was asked to design a course for the newly formed Dunreath Golf Club. During WW2 the course was requisitioned by the military and the land is now occupied by Perth International Airport. His advice was in much demand by the new courses being established in the suburbs of Perth. A contemporary newspaper article stated that 'Few in this State have his authoritative knowledge of course lore.' In 1947, Tinlin carried out the first trials using weed-killer sprayed on the fairways and greens at Mount Lawley. The trials were in association with the Assistant Government Botanist, Head Gardeners, Western Australia Cricket Association and machinery manufacturers. The trials carried out by Tinlin proved to be so successful the procedure was copied by many horticulturalists in Australia. In 1959, Jim Tinlin retired after 30 years as Mount Lawley's Head Greenkeeper. He passed away at Inglewood in 1965, at the age of 79.


GEORGE TURNBULL (1879-1924) Midlothian Country Club, Chicago, USA
---
George Cairns Turnbull, brother of Tom Turnbull (below), was born 23rd January 1879 at 32 High Street, North Berwick. George attended the Public School and up to the age of thirteen he was a soprano in the St Baldred's Church choir. George was a scratch medallist of Bass Rock Golf Club wining the Club Medal in 1899, and on leaving school he was a licensed professional on the West Links (No.144), North Berwick.

George Turnbull and many of the other licensed pro's at North Berwick entered the Musselburgh Open an independent tournament played seven times between 1895 and 1906. This allowed the young North Berwick men to test their skills against a wider field which gave them confidence to take on the established pro's. The Musselburgh Tournament was not a set fixture but organised when the Open was in Scotland. It was not played in 1905 when the Open was held at St Andrews, and the prize money fluctuated between £41 and £100.

In 1902 Turnbull was appointed to Malone Golf Club situated on the outskirts of Belfast. The following year he was the first professional to be appointed to the nine-hole course at Bangor Golf Club, Co. Down, Northern Ireland. In May 1904, Turnbull emigrated to America and was signed up as golf instructor at Sadaquada G C, Utica, New York State. He entered the 1905 US Open at Myopia Hunt Club, Massachusetts, when his former school mate at North Berwick Willie Anderson won the title.

In July 1905 George played in a professional tournament on the public links at Van Cortlandt Park, in the Bronx District of New York City. Also in the field were North Berwick boys Jack Hobens, Willie Anderson, Jimmy Campbell, and Tom Anderson Jnr. The event was won by Isaac Mackie one stroke ahead of Anderson. The following year Turnbull was runner-up in a professional tournament at Van Cortlandt Park which offered a purse of $150. Alex Smith, the former US Open Champion won the 72 hole event and Turnbull finished second with a prize of $80. Forty-four players finished the tournament, the largest number of professional golfers ever to complete a two-day event outside the national championship. The organising committee gave the contestants which included Tom Anderson Jnr, Ed Fitzjohn and Jack Hobens, dinner at the Van Cortlandt Park Hotel.

In 1906 Turnbull went to Waterbury Golf Club, Connecticut, where he remained for two seasons before taking up a position at Columbia Country Club in Washington DC. and then to Waverley Golf Club in Portland, Oregon. In 1911, he laid out their new 18 hole course according to a sketch made by Turnbull. He held the Waverley course record 67 and also held the record for the Greathart course. In 1914, George laid out the first 18-hole course for the Gearhart Golf Club, the oldest public course in Oregon.
John H. Junor born at Wester Rora near the village of Longside, Peterhead, Aberdeenshire emigrated to Oregon with his parents in 1905. His father worked the Richard E. Wright farm at Portland. John was a caddie at Waverley Golf Club under the supervision of George Turnbull. He became Turnbull's assistant and then the Club's professional in 1921.
In 1911 he won the first Potlach Open at Seattle Golf Club where his school friend from North Berwick, Bob Johnstone was the pro. Turnbull was also runner-up the following year. In 1914, Turnbull accepted a winter position with the Coronado Country Club of California which was one of the most famous winter resorts in the country. He left for San Francisco in November and stopped over for one day to play a four-ball match with Jack Neville and Harry Davis former champion of Oregon and John Black from Claremont.
In September 1915 the Pacific News Service reported that George Turnbull played a 36-hole match on the Coronado links with former President William H. Taft. It was at Coronado he met E. H. Bankard of the Baltimore and Ohio Railroad who persuaded Turnbull to transfer to Midlothian Country Club in Chicago. George and his wife Etta resided at 155, Prairie Avenue, Blue Island, Chicago.
Pebble Beach Golf Links, Monterey
In March 1918, Turnbull returned to California as golf instructor at the Del Monte No.1 course in Monterey where he resided at 1211 8th South Street Monterey. He joined Harry Sampson, America's first born-and-bred golf professional. Sam Morse manager of the Pacific Improvement Company who owned the property decided to add a second course at Del Monte and invited suggestions for the design from the local golfers and resident pros Turnbull and Sampson. Morse renamed the course Pebble Beach Golf Links and at the official opening on 22 February 1919, the ceremony began with the ceremonial planting of a cherry tree in honour of George Washington's Birthday. The group gathered around so that Russell R. Flint, a trustee from Sacramento could administer the 'Golfers Oath' We pledge ourselves by our faith in the cherry tree to turn in honest scorecards. The San Francisco Examiner carried a photograph of the group planting the cherry tree which included James W. Byrne, George Turnbull, Harry Sampson, Douglas Grant and Russell R. Flint.
Turnbull played in the first official California Open Championship in 1919.
The design of Pebble Beach was based on a unique figure of eight laid out among the upper pine trees with eight holes hugging the rugged coastline. Although not a links course, it was the first American resort course to offer an impression of playing on a Scottish layout. At the time it was more acceptable to have the design credited to two talented amateurs Douglas Grant and Jack Neville rather than the pros Sampson and Turnbull, who have been airbrushed out of history. During a pervious visit to California in 1915, George Turnbull partnered Jack Neville in the Panama-Pacific tournament when Turnbull won the longest driving competition. In 1920, Turnbull returned to Midlothian Country Club, 18 miles southwest of Chicago where he remained for three years.
One of his pupils at Del Monte was Richard Walton Tully author of 'Bird of Paradise'. Turnbull moved to West Height Manor, Kansas City (1923-24) and during the winter was instructor at the Chicago Athletic Association for two years. In 1923 he was at the Boston Store before being appointed the first pro at Fircrest Tacoma, WA (1924).
He played in the 1916 US Open in Minnesota and finished ahead of James Ferguson and Fred McLeod. 1918 Turnbull won the Pacific Northwest Golf Association Championship when his opponent Robert Johnstone quit on account of a sprained wrist. Played at Portland the proceeds went to the war relief fund which netted thousands of dollars. Turnbull had a marvelous singing voice and was often invited to sing a selection of Scottish songs after a dinner party or on special occasions.
Turnbull played in the first official California Open Championship in September 1919 at Del Monte Golf Course when he finished in fourth place. The winner was John Black the former Troon caddie. George married Ruth 'Etta' Luther from Longmont, Colorado and returned with her to Scotland in 1920 to visit his parents Robert and Euphemia Turnbull at 4, Lorne Square, North Berwick. The 'Big Scotsman' as the golf magazines described him became a US citizen on April 7th 1919 at San Francisco Northern Court. In the winter of 1921 Turnbull was on the staff at the Chicago Athletic Club indoor school before returning to his position at Midlothian in April. In June 1924 Turnbull returned to his favourite area in Washington State and was appointed the first pro at the nine-hole Fircrest Golf Club. He began work to extend the course to eighteen holes when he suffered a severe heart attack and died at his home in Regents Park, Pierce, Washington State on 24th October 1924 aged 45 years.
His wife Etta had a parallel career in nursing, and wherever George was based she would work in the local hospital. She was President of the Oregon State Nurses Association before returning to Greeley in Colorado after George died in 1924. The New York Times described George Turnbull as the 'nationally known professional golfer' which reflected his standing in his adopted country. By all accounts Turnbull enjoyed every minute of his brief twenty years in America, moving to ten different golf clubs, never staying more than two seasons, and able to pick and choose his next destination.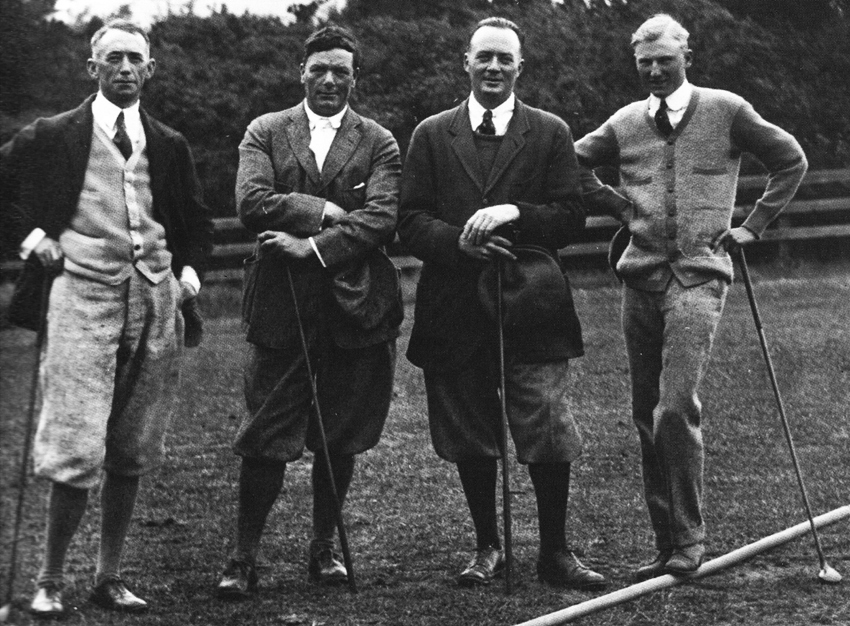 (Left to Right) Robert Cash , George Turnbull, Douglas, Grant, and Harold Sampson played a match over the Del Monte No.1 course on 23 April 1919. Robert Cash the well known Los Angeles amateur partnered George Turnbull while Sampson partnered the amateur Douglas Grant. The two profesionals had scores of 75 each, Grant holed out in 77 and Cash completed the round in 84, his first try-out of the course. later to be named Pebble Beach Links.

The course at Portland Golf Club designed by George Turnbull in 1914 has hosted the PGA Championship in 1946 and the Ryder Cup in 1947. The super-fast and demanding greens were ideal to test the short game skills of the Ryder Cup teams. Robert Hudson, a wealthy businessman from Portland sponsored the British Ryder Cup Team's trip to America in 1947, the only stipulation was the match had to be played at Portland Golf Club. Hudson booked them on the liner Queen Mary, laid on a lavish dinner for Henry Cotton and his team when they arrived in New York and entertained them on the three-and-a-half day rail trip to Oregon. Turnbull would have been delighted that the legends of golf have all played his course including Bobby Jones, Jack Nicklaus, Greg Norman, Arnold Palmer, and Byron Nelson. Although the course has since been tweaked for the modern game, the layout remains a testament to Turnbull's short career.


TOM TURNBULL (1875-1952) Helensburgh Golf Club, Scotland, UK
---
Ebenezer Thomas Turnbull born 19th October 1875 in Garvald, son of Robert Turnbull, a stone mason and his wife Euphemia Guy. Tom Turnbull moved with his parents, two brothers, and two sisters to 4, Lorne Square, North Berwick in 1878. He served an apprenticeship as a clubmaker with Ben Sayers and in 1898 he was appointed golf professional at the nine-hole course at Helensburgh Golf Club. In 1905 he extended the course to 18 holes which included the spectacular 9th, a 126 yard par-3 with stunning views over Loch Lomond and the River Clyde. The parkland course today is listed among the Top 100 golf courses in the world. Tom married Agnes Peacock, a local girl and they lived in the Golf House in Helensburgh. A two iron made by Turnbull in 1928 was sold at auction for £135. Tom retired after 50 years service with the Club and returned to North Berwick where he died in 1952. His brother George Turnbull (above) was also a golf pro and emigrated to America.


HENRY S. TURPIE (1874-1946) Audubon Golf Club, Louisiana USA
---
Henry Spence Turpie, born 9th September 1874 at 26 Abbey Street, St Andrews, son of Henry Turpie, a Book Canvasser and his wife Margaret Allan. The family moved to Brown's Buildings, Musselburgh in 1879 before returning to St Andrews ten years later. Harry Turpie served an apprenticeship as a club-maker with Robert Forgan and in 1895 he moved to North Berwick and was granted a license as a golf pro on the West Links. The following year he entered the Open Championship list at Muirfield from the town.

Harry emigrated to America in 1896 and was appointed to Washington Park Golf Club, Illinois while living at 79, S. Sangamon Street, Chicago. He was pro at a number of clubs in the Midwest including Edgewater and Glen View and wintered at Audubon Golf Club in New Orleans. Harry won his first professional tournament at Oconomowoc Country Club in 1899 and his highest finish in the US Open was eighth in 1900 (Wheaton IL) and 1902 (Garden City NY). He broke the course record at Skokie Country Club in 1909 during the first round of the Western Open Championship. Harry Turpie died in 1946.

His younger brothers John (club maker) and George (green keeper) followed him to America sailing from Glasgow on the S.S.Oceanic they arrived in New York on 24 February 1904 and joined Harry at Edgewater Country Club, Chicago. It was at Edgewater that George Turpie gave Chick Evans his start as a caddie. Evans won the US Open and US Amateur in 1916. In the winter of 1901-02 George took a teaching job in Pasadena, California where he taught John D Rockefeller to play golf.

George entered the US Open in 1900 and 1904 but failed to get into the money. In 1904 he was the first professional to be appointed to the nine-hole course at Quincy Country Club, IL. In 1912, he was the first pro to be engaged at White Bear Golf Club in Minnesota. Three years later George moved to Louisiana where he laid out the 18 hole course at New Orleans Country Club. His daughter Marion Lake (m/s Turpie) won the Women's Southern Golf Association title three times and was inducted into the Louisiana Hall of Fame in 1971. In 1925 George was pro at City Park in New Orleans, a municipal course he laid out in 1916. Turpie moved to Audubon Golf Club in 1927 and at the age of 61 years he was assistant pro at St John Golf Club in the City Park. George Turpie died in New Orleans in 1968.


TOM WARRENDER Knollwood Country Club, New York, USA
---
Thomas Warrender, born 14th November 1873 in North Berwick, son of Thomas Warrender, school janitor and lamplighter and his wife Christian Bonthron. The family lived at 15 Forth Street known as the 'Gun Boat' and Thomas Warrender Snr. was a member of the lifeboat crew on the Fergus Ferguson (1887-1902). Tom Warrender Jnr. was a caddie on the West Links and was granted his professional license on 27th September 1895. To assist with the family income during the winter months Tom worked as a waiter in the Scottish Conservative Club at 112, Princess Street, Edinburgh.

Willie Park Jnr visited America for the first time in 1895 and it is thought that following a visit to Knollwood Country Club in New York he may have recommended Tom Warrender from North Berwick as professional and greenkeeper to look after their new 18 hole course. Warrender arrived on the S.S. Pomeranian on 23rd March 1896 with sixteen year old Willie Anderson who was appointed to Misquamicut on Rhode Island where Willie Park laid out the first nine holes the previous year.

In June 1896 The New York Times reported on a match played at Knollwood Country Club between Thomas Warrender the greenskeeper and Willie Dunn the Ardsley Casino professional. Dunn conceded the odds of a stroke a hole and although playing some greens in his best championship form, the handicap proved too much for him. Warrender wining by six up and four to play.The match was for a purse made up among the members of the two nearby country clubs and there was also substantial bets on the result. The onlookers representing about equally the Knollwood Country Club. Ardsley and the Country Club of Westchester about 200 men and women walking over the course after the players. Alexander Morton of the Racquet and Tennis Club served as caddie and adviser for Warrender. Dunn's clubs were borne by one of the regular caddies. The match was followed by among others Cyrus Field Judson (Atlantic Cable Co.) and New York Banker, George H. Mairs (State Senator 1898) and George H. Mairs.

From the first tee the drives were about the same, Dunn having the best lie. Dunn used a cleek and next a lofting iron and landed on the green in three. Warrender both drove and played his approaches with a short-faced brassey, a style he adopted throughout. Warrender was down in five to Dunn's four.

By the 154-yard tenth hole Warrender was four-up. At the next Dunn hooked his drive playing the Green House hole and the ball was lost in the gulch. To equalise this bit of ill luck Dunn won the next hole by default. Warrender's tee shot sending the ball into a hazard in an unplayable position and after two niblick strikes as a forlorn hope he gave up. The next two holes were made in even strokes, which left Warrender six-up and a victor.

Throughout the second round Dunn's drives approaches and putts were executed in his usual brilliant style, although he had luck on several lies, Warrender was steady and under Mr Morton coaching made few mistakes. The final scores were Warrender 60 strokes, Dunn 67 strokes. On 18th July Warrender played in the US Open at Shinnecock Hills on Long Island.

Tom Warrender (16) and Willie Anderson's (1) entry in the passenger manifest of the S.S.Pomeranian in 1896 &copy Ellis Island History Center

In 1900 Warrender was described as a Baroom Labouer lodging in North Hempstead, Nassau, New York. In 1911 he was employed as a general servant in a private house. In 1913 Tom Warrender was appointed greenkeeper at the Great Neck Golf Club situated 20 miles from New York city on the site of the Vanderbilts private golf course.

Tom Warrender married Mary E. Hults and they resided at 382 Fresh Meadow Road, Flushing, Queens, New York. Tom Warrender is listed among the first forty golf professionals in the United States prior to 1898 and is recognised today as a true pioneer, and one of the earliest names of golf and club making in America.

Tom Warrender had a relative in North Berwick with the same name. He was a greenkeeper at Muirfield and Luffness before being appointed head greenkeeper at Harburn Golf Club, West Calder on 24th April 1932.
---
---


RICHARD H. WHITECROSS (1883-1918) Bridge Of Allan Golf Club, Scotland UK
---
Richard Henry Whitecross born 7th May 1883 at Saltcoats Farm, Gullane, son of John W. Whitecross, agrucultural labourer and his wife Marion Stewart Crooks. Richard was a bricklayer by trade and lived with his parents in Sunnyside Cottage, Gullane.

He was a member of Dirleton Castle Golf Club and won the Wotherspoon Medal in 1902. The following year he entered the Amateur Championship at Muirfield and played in the 1906 Open Championship and finished 15th equal. Richard won the prestigious Hope Challenge Medal at Kilspindie in 1908, and entered the Amateur Championship at Muirfield in 1909 won by Robert Maxwell from North Berwick. Whitecross joined the professional ranks in 1911 and was appointed pro at Bridge Of Allan Golf Club.

He emigrated to Australia in 1912 and played in the Australian Open Championship at Royal Melbourne Golf Club. The tournament was to be played in Sydney but an outbreak of small-pox rendered that impossible. Richard also played in a professional tournament at Fisherman's Bend, and Elsterwick G C in Melbourne when he finished 6th and received a guinea prize money. He was not attached to a golf club but entered the tournaments from Dirleton Castle Golf Club. Unfortunatly his dream of becoming a club professional never materialised and by 1914 he was living in Dimboola , north-west of Melbourne where he worked as a bricklayer.

In 1915, Whitecross enlisted in the Australian Infantry and was attached to 22nd Brigade. The Australian troops sailed to England and joined the British Expeditionary Force on Perham Downs, near Andover before being posted to France. His colourful military record of drunkenness and being absent without leave (AWL) in London and Edinburgh, led to him being court-martialed. In October 1917 he was discharged from active service due to ill-health and returned to Australia. He was sent to No.11 Australian General Hospital at Caulfield in the suburbs of Melbourne where the medical staff assisted in the rehabilitation of disabled soldiers.

On 1st January 1918 Richard Whitecross committed suicide by cutting his throat with a razor blade while a patient in the military hospital. He was accorded a military funeral and buried in Brighton General Cemetery, Melbourne aged 35 years. The Coroners Report stated there was some evidence of mental health. A cable from his regiment was sent to his father at Sunnyside Cottage, Gullane where his name was later inscribed to the family headstone in Gullane Auld Kirk graveyard.


ALEXANDER WILSON Lucerne Golf Club, Switzerland.
---
Alexander Harkness Wilson, born 20th October 1908 at 1 Ethel Cottage, Viewforth, Forth Street, North Berwick, son of William Wilson, a foreman joiner and his wife Jane Harkness. Legend has it that Alex's father made coffin's in the front room at 6 Viewforth to augment his wages. Alex served an apprenticeship as a club-maker with Ben Sayers Ltd and in 1928 he was living with his parents at 5 Melbourne Place. That year Alex was appointed assistant pro to Maynard Goldsmith (listed above) at Lucerne Golf Club, Switzerland. In 1929 Alex won the Swiss Open Championship played over the Dietschiberg links at Lucene Golf Club. His score for the first round was a record for the course and the final scores were the best ever recorded in the championship. The trophy engraved with his name is now called the European Masters.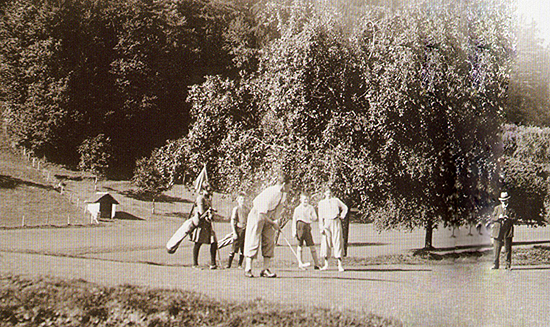 1929, Swiss Open in Luzern. Der Sieger Alex Wilson aufdem 18. Green
(Alex Wilson putting on the last green to win the Swiss Open Championship on 6th September 1929.)
Alex moved to Le Touquest Golf Club situated between Calais and Boulogne where he frequently played with the Prince of Wales who was a member and keen golfer. In 1930, Alex was appointed assistant pro at Lord Derby's private course at Cannes Country Club in the French Riviera.
His four brothers and two sisters, John (b.1901), Peter (b.1904), Jane (b.1905), Elizabeth (b.1906), William (b.1907), George (b.1909), emigrated to Sydney and in 1932 Alex accompanied his parents to join them in Australia. They resided at 8 Jessie Street, Westmead, Parramatta, New South Wales. At the age of 38 years he was appointed the first professional at the Ryde-Parramatta Golf Club, twenty miles drive from Sydney.
The original Parramatta Golf Club played on a nine-hole course in Parramatta Park before it amalgamated with Ryde Golf Club in 1935. Alex became a member of the PGA New South Wales Section in 1933. During this period many pros in Australia where unemployed and the PGA membership dwindled. Professionals normally played off scratch, but in Australia as they played most of their games against amateurs, the professionals were given a playing handicap by the NSW Golf Association. In 1939, Alex Wilson played off a handicap of minus-four. In July 1950 he played in the Narrandera Golf Club tournament which was won by Eric Cremin with a young Kel Nagel fourth, and Alex finished fifth.
In January 1953, 16 year old Paul King was appointed assistant pro to Alex Wilson and in 1959 he was followed by William Dunk. Alex Wilson trained his young apprentices in all aspects of the game and Bill Dunk went on to win the Australian PGA five times, represented Australia in three World Cups, won the Open Championship of Malaysia and New Zealand and numerous tournaments in Japan. Alex remained at Ryde-Parramatta for 38 years and regularly coached the Club Team on a Sunday morning before he retired to the Gold Coast in Southern Queensland.


HENRY WILSON North Berwick Links, Scotland UK.
---
Henry Wilson born 16th April 1853 at 317 Canongate, Edinburgh., son of Robert Wilson a tailor employing 3 men and his wife Elizabeth Pearson. His monther died in 1859 and he moved with his father to live with his aunties at 9 Durie Street, Leven, Fife. Henry served an apprenticeship as a club-maker with John Patrick and Son at 3 Branch Street and played his golf on Leven Links. In 1879 he entered the Open at St Andrews as an amateur. In 1883, he moved to North Berwick and was working as a club maker from his house at 6, Shore Street (Victoria Road). In 1884 he entered the Open Championship at Prestwick and travelled with the other North Berwick professionals, Tom Dunn, Ben Sayers, Willie Dunn and Davie Grant.

During the 1880s there was a down turn in the popularity of golf and in 1886 Henry Wilson applied for the position of Compulsary Officer (Whiper Inner) at North Berwick School which offered a salary of £24 per annum. His application was unsuccessful and he continued club making. In the 1891 census he was living at 173 Morningside Road, and remained single.


DANIEL F. WILSON (1895-1974) and RONALD M. WILSON (1901-1981)
---
Daniel Ferguson Wilson born 14th May 1895 at 2, Silver Street, Dunbar, son of William J. Wilson, Police Sergeant and his wife Mary Ferguson. They resided in the Police Sergeant's house in Silver Street next to the Burgh Prison and his father came from Ardgay Ross-shire and spoke Gaelic. In 1901 he was manager of the Temperance Hotel, 95 High Street, Dunbar. In 1907 the family moved to North Berwick when his father became proprietor of the Commercial Hotel (County Hotel) 15-17, High Street.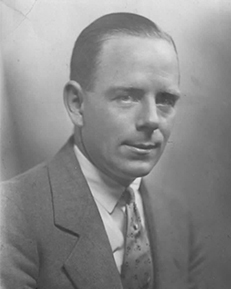 Danny Wilson, 5' 5" tall, was a butcher to trade and resided with his parents in Albert Villa, 12, Clifford Road, North Berwick. During the First World War he enlisted in the Lothian & Borders Horse, then 9th Battalion Royal Scots (Dandy Ninth-Kiltie Regiment) British Army in November 1914 and was described as a runner and cook. In November 1916 he sailed from Folkstone to Boulogne and from there proceeded to Etaples. He served in France for the remainder of the war and was demobilised at Hamilton, Scotland on 12th April 1919.
Danny emigrated to America, sailing from Southampton on RMS Aquitania he arrived in New York 23rd February 1921. When he first arrived in the United States he was a conductor/driver on the trolley cars in New York. He then travelled to Copley in Akron, Ohio where he was appointed assistant pro to John Ridley at Rosemount Country Club. Ridley arrived in 1914 from Prestwick in Scotland, and was pro at Springfield, Illinois before being appointed greenkeeper and professional at Rosemount where Wilson joined him in 1921. During the winter months they moved to Florida and were engaged as golf instructors at Ocklawaha Hotel in Eustis, where they laid out a nine-hole course for the Eustis Lake County Country Club (now defunct). In 1927 Danny returned to Scotland to visit his family and sailed back to America from Southampton on RMS Berengaria, arriving in Copley, Ohio on 14th December.
Allen P. Beach and his family wintered in Eustis, Florida where they met Danny Wilson and persuaded him to travel north to Vermont and lay out a course on his West Ferrisburgh farm, six miles from Vergennes. During the first few months Danny slept in a hay-loft on the farm while he assisted Beach to clear the crops and layout a nine-hole golf course at the new Basin Harbor Resort.
Beach introduced Wilson to the members at Burlington Country Club in Vermont where he was appointed head-pro in 1928 to 1939. Danny married Ada Maclean from Boston and they lived at 59 Buell Street, Burlington where their two sons were born. During the winter he worked at the Pearl Street Bowling Alley in Burlington. In 1940 Danny was the pro at the St. Albans Country Club before returning in 1941 to be the pro at the Basin Harbor Club. He was manager of the Burlington Bowling Arena from 1938 to 1973. In 1942 he registered with the US Military in World War 2. Dan was a member of the First Methodist Church, Burlington Lodge 100, F &AM Temple Chapter 75, OES the Scottish Rite, Mt. Sinai Temple 3 and the Green Mountain Shrine Club. Danny Wilson died April 1974 in Chittenden Township, Burlington, Vermont aged 78 years. His funeral took place in Corbin and Palmer Funeral Chapel followed by a Masonic service at the funeral home.
RONALD M. WILSON
Ronald Maidment Wilson born 8th August 1901 apprenticed as an electrician before emigrating to America. He sailed from Glasgow on the RMS Cameronia and arrived in New York on 5th April 1927. In the ship's manifest he listed Frank Hoben as his contact in America. Hoben was originally from North Berwick and emigrated to America in 1923. He resided at 278 McDonough Street, Brooklyn and was golf professional at Massena Golf and Country Club, New York.
Ronnie Wilson was a Supervisor with a Pharmaceutical Company in Elkhart, Indiana. He married Emag Shreiner and they resided at 814 Cassopolis Street, Elkhart. In 1940 he was appointed golf professional at Christiana Creek Country Club, Indiana and joined a Christian community in Elkhart. He died on 17th November 1981, aged 80 years, while resident in Greencroft retirement centre and was buried in Rice Cemetery. His family remained at 2, West Boulevard, Elkhart.


JAMES C. WILSON Kent Country Club, Michigan, USA
---
James Clark Wilson born 26th June 1880 at 38 High Street, North Berwick, son of Thomas Wilson, a Tailor and Clothier and his wife Jane Clark. James had four sisters and four older brothers and he trained as a draper in the family business at 38, High Street. Jimmy Wilson was a member of Bass Rock Golf Club winning the club aggregate medal in 1908. He was granted his professional ticket on the West Links in April 1895 and played in the Open Championship at Muirfield in 1901.

Wilson emigrated to the USA aged 28 years, sailing from Glasgow on the S.S Caledonia, he arrived in New York in February 1909. His contact lived at 9 Hudsonville Avenue, Newton Station, Boston, where Jim resided until he was appointed pro at Whitman in Boston and then at Waumbek Golf Club, located in the small town of Jefferson, in northern New Hampshire. A very picturesque area but Jim took time to acclimatize and was ill for much of his first summer. In the winter of 1909 he moved to Winchester Country Club, MA and assisted in extending that course to eighteen holes.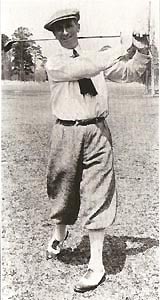 He returned to Waumbek C.C in the spring where he hosted the 1910 White Mountain Amateur Championship. In 1911, he moved to Maplewood Country Club, Maplewood, New Hampshire, and in 1913, he entered the North and South Championship at Pinehurst from the Buffalo Club of New York.
In March 1914 Wilson moved to Kent Country Club, Michigan (1914-21) where he lived at 1711 Plainfield, Grand Rapids. He arrived in time to host the prestigious Western Golf Association Amateur championship won that year by Charles Evans Jnr. During the winter months in Grand Rapids the Furniture City Golf League leased part of the Cadillac Building and installed Jimmy Wilson as pro. In 1916 he wintered at Pinehurst, N.C; and in 1918 he was based at Bellair, Florida where he entered the West Coast Open. In 1920 he was at El Paso, TX and in 1922 at Tucson AZ.
The sports writer for the Chicago Tribune, wrote that when Jim Wilson was the pro at Kent Country Club of Grand Rapids he invariably wore a stand up collar while playing. At one of the tournaments Nipper Campbell, the wee Scotsman noted for his wit, told Jim he looked like a 'ostler' (A man employed to look after the horses of people staying at an inn) and from that time on Jim reverted to turn down collars. Wilson often contributed to the sports pages of the Chicago Tribune and had a regular radio programme on W.G.N. Chicago.
Left: Copyright &copy Ravisloe Country Club
In spring 1922, Wilson moved to Ravisloe C.C, Homewood IL (1922-32) and wintered at Great Southern, Gulfport, MS. In 1922, he entered the Professional Golfers Association Championship at Westmoreland C.C., Wilmette, (IL) where he finished in 9th place.
In 1923 Wilson was hired by the Berry family to lay out an 18 hole course in Wisconsin Dells, part of the resort development at Cold Water Canyon Motel. The Berry's Dell Golf Course which Wilson designed is still popular today. In 1930 he wintered at the Edgewater Hotel in Biloxi, Mississippi before moving to Park Ridge (Illinois) C.C (1934-43). He was appointed pro at Olympia Fields C.C. (Chicago) in 1932 and was there a couple of years. Jim Wilson was elected President of the Illinois Professional Golfers Association for five years and in 1934, he returned to Biloxi, Mississippi, where he remained.
In June 1940 Jim Wilson and Bob MacDonald (above) held a reunion match at Park Ridge Golf Club to celebrated 30 years since both left North Berwick for America. Wilson was a schoolmate of Wilfred Thomson father of Long Driving Jimmy Thomson (above), when they were growing up in North Berwick. Wilson often contributed to the sports pages of the Chicago Tribune and had a regular radio programme on W.G.N. Chicago. In 1942 his wife was elected Vice President of the Auxiliary Illinois PGA.
In the 1940s he was appointed all year round pro at Great Southern Golf Club in Gulfport, Mississippi and lived with his wife Martell, daughter Jean and son James in a cottage provided by the club opposite the pro's shop. Jim retired in 1951 and during one of his regular visits to the club he passed away while sitting on a bench in the pro's shop. He died in 1951 and is buried in Grand Rapids, Michigan.
JOHN C. WILSON
Jimmy Wilson's brother John Clark Wilson also joined the ranks of the golf professional in Great Britain. John was born 4th October 1870, Rankin Street. Carluke, Lanarkshire, and his father was foreman in the Carluke Linen & Woollen Drapers factory. John moved with his parents to North Berwick in 1880 where his father opened a tailor and clothier shop at 38 High Street. John apprenticed as a draper with his father and was a member of the Haddingtonshire Rifle Volunteers before joining the regular army with the Seaforth Highlanders (1887-95). He was stationed in Dublin before sailing for India in October 1890.
In May 1895 John C. Wilson returned to North Berwick and was listed as a licensed golf professional on the West Links. There were ten licensed professionals, six were engaged in giving lessons while the remainder were available to play with the members and their guests. John's first position as greenkeeper and professional was at Barton-On-Sea Golf Club (1900-1903). He then moved to a similar position at Bush Hill Park Golf Club in London (1903-06). John was the first professional to be appointed to the newly opened course at Market Drayton Golf Club (1906-09) in Shropshire.


TOM WILSON Littlehill Golf Club, Scotland UK
---
Thomas Wilson, born 19th October 1890 at The Wynd, Aberlady, son of George Wilson, roadman and his wife Mary Anne Bird. Tom Wilson was appointed golf professional at Kirkintilloch Golf Club (1921-24), then Bishopbriggs Golf Club (1924-25), before settling at the Glasgow municipal nine hole course at Littlehill where his wife looked after the catering duties in the tearoom. Tom played in the Open Championship at Lytham St Anne's in 1926 and at St Andrews in 1927. He represented Scotland in the Home International matches against Ireland in 1932, 33, 34 and Scotland v. England in 1933-34. Tom remained at Littlehill Golf Club until he retired in 1955.


JAMES WYNN Egyptian Open Champion - 1934, 1936, 1937, and 1945
---
James Wynn, born 29th March 1909, 7 Lorne Lane, North Berwick, son of Thomas Wynn, stonemason, and his wife Mary Farrell. James served a five year apprenticeship as a club-maker with James Watt at 1, Station Hill. He then joined Maynard Goldsmith in Switzerland, before following James H Kerr (listed above), another of James Watt's apprentices, as pro at the famous Gezira Sporting Club in Cairo. This was a popular club for the British garrison and Royal Air Force stationed in Egypt.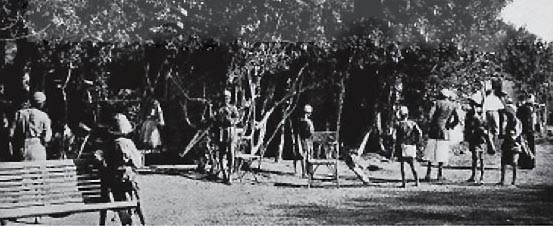 Gezira Sporting Club, Cairo, Egypt - 1926.
James Wynn won the Egyptian Open Championship in 1934, 1936, and 1937 after a 36 hole play-off when he set a new course record 67 at Gezira. He played in the Open Championship at Carnoustie in 1937 while visiting Scotland. Wynn remained in Egypt during WW2 and won the Egyptian Open for the fourth time in 1945 before moving to Heilopollis Sporting Club located seven miles north of the city. Jimmy was a great friend of Dai Rees who was stationed in Cairo during WW2. Wynn moved to Cape Town before being appointed pro at Alexander Country Club, East London, South Africa where he remained until the 1960s. Jimmy was often heard to say "It's a bugger of a world we live in; but it's the buggers that live therein!". His cousin Sonny Burke from North Berwick was a golf pro in Corsica.


PHILIP WYNNE Tooting Bec Golf Club
---
Philip Wynne born 1873, Co.Leitrim, Ireland and his brother Patrick born 1877, Drum, Roscommon, Ireland. The family moved to East Lothian and worked the land at Sheriffhall, three miles south of North Berwick where their father Peter Wynne was a ploughman.

Philip was granted his professional ticket on the West Links (No.150) in 1893 and was an original member of the PGA. He was appointed clubmaker and professional at several clubs including, Bently Green in Essex (1893-1894); Todmorden (1894-97); Princes, Mitcham (1897-1902); Tooting Bec (1902-1906); North Surrey, Norbury (1906-1909); Addington Court (1909-1913); Chipstead (1913-1914); West Essex (1914-1921); South Beds (1921-22); Southerndown (1922-23); Chingford Corporation (1923-1938). Philip finished 10th equal with James Braid in the 1898 Open at Prestwick and he won professional tournaments at Crawley 1901, Troon 1904, Midlands Open 1907, and runner-up in the Essex Open in 1920, 1923 and 1925. In the 1901 census Philip described himself as a'Golf Exhibition Professional' boarding at 11 Tramway Terrace, Croydon, Surrey.

The driving cleeks he produced had the name Philip Wynne/Tooting on the shaft indicating that he bought the head from Tom Carruthers at 41 Leven Street, Edinburgh and Wynne fitted the shaft and grip himself. He was also suppiled with heads from Tom Stewart, cleek maker in St Andrews. Philip's son P.P.Wynne Jnr. was also a golf professional and he won the Hertfordshire PGA Championship in 1936.

Philip's brother Patrick Wynne was also a talented golfer and he was granted his professional license on the West Links (No.148), North Berwick in 1894. A highlight for the 17 year old was playing two rounds with Old Tom Morris in the professional tournament to mark the opening of Luffness New Golf Club. He also played in a four-ball match with Amateur Champion Freddie Tait over the West Links in 1899. Their cousin Peter Wynne was appointed pro at South Shields Golf Club (1907-1909). Patrick followed him at South Shields (1909-1919) and then moved to Tynemouth Golf Club (1919-1933). Philip and Patrick were reunited in 1911 at Royal St George's Sandwich when they played in the Open Championship, but unfortunately they both failed to qualify for the final two rounds.


HUGH YOUNG (1882-1981) Pontefract and District Golf Club
---
Hugh Morton Young born 5th September 1882 at Little Wamphray Cottages, son of James Young, forester at Leuchie, and his wife Helen Morton. At the age of twelve Hughie was listed as a caddie on the West Links before serving a five-year apprenceship as a clubmaker. In 1899 he moved with his parents, a brother and sister to 95 High Street, North Berwick. Hughie Young was a member of Bass Rock Golf Club wining the Summer Scratch medal in 1900 after a play-off with Fred McLeod. In February 1908, Hughie Young was appointed professional and greenkeeper at Pontefract and District Golf Club, West Yorkshire. In 1912 he took on the additional duties as Caterer and two years later the role of Caddie Master. Hughie Young remained with the club until he retired in 1947. He died at Worthing, West Sussex in March 1979 aged 96 years. Clubs marked 'Hugh Young Pontefract' with a hickory shaft occasionally appear at auction. Hugh's father was custodian at Tantallon Castle for many years.


NEIL YOUNG (1894-1966) Manoir Richelieu Golf Club, Quebec City.
---
Neil Young, born 29th May 1894, at Kingston Farm Cottages, in the Parish of Dirleton, two miles south of North Berwick, son of George Young, Farm Grieve and his wife Mary Ronaldson. He moved with his parents to North Berwick Mains Farm and was enrolled in the public school on 5 June 1900 with his brother John and sister Annie. In 1922 his parents resided in Vale Lodge Forth Street, then in 1925 to 4 Lorne Square. Neil Young was 5' 8" tall with dark brown hair and on leaving North Berwick Public School he was employed as a 'bottler' in McIntyre's Lemonade Works in Forth Street Lane. At the age of sixteen he worked as a greenkeeper on the West Links under the supervision of legendary head greenkeeper Alex Gow.

Neil Young was a talented golfer and following WW1 he was granted a licensed as a golf professional on the West Links, North Berwick. In 1921 Ben Sayers Jnr. recommended him for the position of assistant to George Sayers at Merion Golf Club in Philadelphia.

Neil sailed from Liverpool to America on the White Star Line, SS Celtic, and arrived in New York on 28th February 1922. Young was among a number of Sayers clubmakers from North Berwick who were employed at Merion while they searched for a permanent position in the USA.

In 1924, Young was appointed head pro at Zanesville Country Club, Ohio. Three years later he moved to Manoir Richelieu Golf Club at Murray Bay, two hours drive north of Quebec City. The Manoir Richelieu holiday resort over-looking the St Lawrence River was owned and operated by Canada Steamships Ltd. 9 Victoria Square, Montreal who employed Neil Young to teach and play golf with the guests. US President William H. Taft spent his summers at the Manoir Richelieu Hotel which was rebuilt after fire destroyed the property in 1928.

Neil was related to Denis Flynn and his family in North Berwick and his nephew Ronnie Young was adopted by the Elliot family at 3, Victoria Road. According to the passenger lists, Young returned to North Berwick on several occasions to visit his family. In 1925 his parents lived at 4 Lorne Square and by 1928 they were listed as residing at Tighnabruaich, 11 Law Road where his mother died in 1932. In 1942 Neil and his wife Barbra were living at 209 West, 66 Street, New York City. Neil Young died April 1966 in New York City, aged 71 years.


THOMAS WALKER North Berwick
---
Thomas Walker was one of the earliest club makers in the town. He was born 23rd March 1828 in North Berwick son of John Walker, joiner and his wife Margaret Burns. Tom Walker was also a joiner and lived with his parents in Begbie Court (behind Market Place). Tom turned his hand to clubmaking and his nickname was 'Old Bark' because he left a bit of bark in each clubhead that he made.

John D. Rockefeller poses with Scottish pro Jimmy R.Thomson in 1921.
Photo/Courtesy of the Rockefeller Archive Centre

From Left to Right Joyce Spurling (Barnehurst), Mrs C. H. Gray (Barnehurst), Dorothy Campbell of North Berwick, (behind)Francis Teacher (North Berwick) and Stella Temple (Westward Ho!). Photographed together before competing in the USGA Women's Championship played at Merion PA in October 1909.
| | | |
| --- | --- | --- |
| White Star Line Office. Liverpool | Statue at White Star Line, Queenstown, Ireland | Passenger terminus at Queenstown Pierhead |


S.S.CEDRIC and S.S.COLUMBIA White Star Line and Anchor Line - Liverpool to New York
---
The majority of emigrants from North Berwick sailed to America with the White Star Line from Liverpool and Glasgow. They passed through the archway pictured left and entered Albion House, 30 James Street, Liverpool at the start of their long journey to the new world. Passengers also embarked at Queenstown in Ireland, later named Cove, east of Cork City.

Most travelled 'steerage class' with a prepaid ticket costing six guineas (one way) with a deposit of two guineas to secure a berth. This included the use of bedding, utensils, and a rail ticket to their final destination. In 1903, the steamships took 6 days 22 hours to complete the journey from Liverpool to New York.

Steerage was a mix of second and third class facilities, there were no individual cabins, the men slept in one section, ladies in another and married couples in their own area. Many would use their folded overcoat as a pillow, and sleep with their clothes and boots on in bunks laid out in rows. Often sleeping on deck was more comfortable. Steerage had their own dining room, smoking room and deck space and did not mix with the other class of passengers. Breakfast 9 am; Dinner 1 pm: Supper 6 pm. The local ticket agent was J. P. Oliver, 16 Thistle Street, Edinburgh

The steamships had their own medical doctor onboard and each passenger was examined before leaving Liverpool and declared fit to travel. On arrival at Ellis Island a more rigorous medical examination was carried out and each passenger had to prove they had fifty dollars in their pocket before their papers were stamped and allowed to enter the country.

When the immigrants landed they were met by an army of seemingly well meaning people who offered to help them find lodgings, work and food. In reality they were out to steal what little money the immigrants had. In 1902 the White Star Line was bought by banker J.P.Morgan and the following year the business was sold to Cunard. When the great cruise liners were eventually broken up they were scraped by Thomas Ward & Son Shipbreaking Yard at Inverkeithing on the Firth of Forth, the largest scrap-yard in Britain.
If you can add to the details above or have information on other North Berwick golfers
please let me know.seaton@northberwick.org.uk
Copyright &copy Douglas C. Seaton, 1994 - 2020, All Rights Reserved