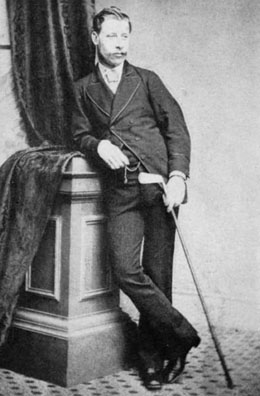 The first measure of course difficulty was par. The word par is derived from stocks; i.e., "a stock may be above or below its normal, or par figure." In 1870 golf writer A.H. Doleman asked Davie Strath and Jamie Anderson what score would be required to win the Championship Belt on the12-hole course at Prestwick. Their response was that perfect play should produce a score of 49. Mr. Doleman called this par for Prestwick and when Young Tom Morris scored two strokes over par for three rounds (36 holes) to win the Open Championship, the term stuck.

When Davie and Agnes arrived in North Berwick they stayed with Tom Hope and his sister Alice who had a Bookseller and Stationary business at 32 High Street (now 40-42 High Street). They lived above the shop where the Strath children were born. Tom Hope was a keen golfer and founder member of the Bass Rock Golf Club playing over the West Links at North Berwick. Tom won the club Summer Scratch Medal in 1877. Strath partnered Tom in several money matches and in July 1876 they defeated Mungo Park and John Campbell in an evening match over two rounds of the West Links followed by a large gallery of spectators.

Davie Strath and his wife Ann (Agnes) secured a bond of £450 from the Standard Property Investment Co. Ltd. and were able to purchase Point Garry Cottage, (now Tantallon Clubhouse) in May 1877 from David J. Brown, a Baker and Confectioner with shops at 44 Leven Street and 161 High Street, Edinburgh.

In May 1876, Agnes Strath instructed Robert Lyle solicitor in North Berwick to draw up her Will which was witnessed by Hugh Gilles MacBain, Physician and Surgeon, High Street, North Berwick and Tom and Alice Hope, 32 High Street.

Davie Strath suffered from consumption and facing another Scottish winter was advised to travel to Australia where the climate would alleviate an illness which also claimed the life of his brother Andrew. On 14th October 1878 Strath sailed from Liverpool with a first class ticket on the S. S. Eurynome, the fastest vessel of the time. During the 84-day voyage he contracted acute bronchial laryngitis and arrived in Melbourne in a poor state of health. He died 20 days later on 28th January 1879 aged 29 years.

Strath died in a house on Royal Terrace in the Carlton district of Melbourne, but due to a clerical error his death was recorded as 'David Struth' and his remains buried in an unmarked grave in the Presbyterian section of the Melbourne General Cemetery. It was not until 2005 that two golf historians discovered the truth and were able to erect a headstone over his grave.

Among the debtors listed in Davie and Agnes Strath's estate were Peter Brodie Snr. Sir Alexander Kinloch (Gilmerton) Sir David Baird (Newbyth) George Strath (professional golfer Glasgow), H. Hope (Luffness) B. Hall Blyth (Edinburgh), Rev. J. Kerr (Dirleton), Sir Robert Hay (Hayston) W. Laidlay (Seacliff), James Beveridge (Clubmaker North Berwick), Sir Hugh Hume Campbell (Marchmont, Duns).

The Will was later amended by Donald Jackson apprentice to Robert Lyle with instructions that on the death of Agnes Ronald or Strath her children should be looked after by her Aunt Christina Lee, 25 Constitution Street, Dundee. This was witnessed by Rev William Calvert, minister of the United Presbyterian Church, North Berwick. The Will was registered at Haddington Sheriff Court, 11th February 1880.

Davie's wife Ann (Agnes) and their two children Ronald (2 years) and Daisy (1 year) remained in North Berwick. Ann died a year later on 8 January 1880 and the official cause of her death was peritonitis but more probably she died of a broken heart, aged 36 years. Her orphaned children were taken to Dundee and made a Ward of Court by Christina Lee (m/s Robertson). Christina's husband William Lee was a Ship's Master and their son John F. Lee was a partner in Lee, Croll & Co. Engineers and Ironfounders, employing forty men in the Ward Foundry, Dundee. In May 1880 the Trustee's of Agnes Strath's estate sold Point Garry Cottage to Archibald Smith, a Coal Merchant in Lothian Road, Edinburgh. Point Garry Cottage, was converted into a clubhouse for Tantallon Golf Club in 1896.

Following the death of Ann Strath, Tom Hope emigrated to Australia and settled in Mackay district north of Brisbane, Queensland. Tom and his brother Henry were Marine Engineers and their sister Alice Hope continued the newsagent's business at 32 High Street, North Berwick (now No.44) until 1888. Alice suffered ill-health and was persuaded to travel to Australia by Capt. J. H .C. Adrain who worked on overseas ships with her brothers. Alice resided in Mackay with Tom until his death in 1911. Henry was engineer manager of the Lansdowne Race course and resided in McAlister Street. Alice died in January 1935 aged ninety years. The newsagent's business in North Berwick was taken over by Margaret Brownlee in 1888 and her son Leslie Brownlee joined the ranks of the golf professionals in America.

Davie's elder brother William was a gardener to trade and in 1864 he finished sixth in the Open Championship at Prestwick. The following year, when his older brother Andrew Strath won the championship, William finished eighth. Andrew was a clubmaker with James Wilson and caddied for the gentlemen golfers at St Andrews. He followed Old Tom Morris and Charlie Hunter as head greenkeeper at Prestwick and was runner-up in the Open in 1864. Andrew put such a tremendous amount of cut on his ball that it ran backwards rather than forwards. From 1860 until 1868 Andrew was the only professional to have his name included among the winners during a period dominated by Park and the Morrises. Andrew died in 1868 aged 33 years.

12th Green, West Links, North Berwick &copy Sir Harry Lauder Collection

Davie's other brother's John and George Strath apprenticed as plumbers before George was appointed golf pro at Troon (1881-87). He moved to Southport Old Links (1888-92), then Stinchcombe (1893-94) and North Manchester (1894-95). His best finish in the Open Championship was 14th at Prestwick in 1878. George emigrated to America and in January 1896 he was appointed pro at Dyker Meadow G.C. That year he finished 22nd in the US Open at Shinnecock Hills. George moved to Wee Burn C.C in 1900, then to Oakland G.C (Queens, New York), before being appointed instructor at the Crescent Athletic Club, Brooklyn, New York. George played in many exhibition matches with Tom Anderson the former head greenkeeper at North Berwick, and pro at Montclair G.C. New York. George followed Jack Hobens as President of the Eastern Professional Golfers Association in 1915. George Strath died February 1919 aged 76 years.

In 1901 a number of golf related items were displayed at the Glasgow International Exhibition, including the Championship Belt and putters used by Tommy Morris, his father, Davie Strath and Allan Robertson. The Strath brothers will always be associated with the formidable bunker guarding the right-side of the 11th green at St Andrews which bares their name and Point Garry Cottage (now Tantallon Clubhouse) in North Berwick where Davie Strath and his family lived.

West Burn Lane, St Andrews where the Strath family lived in 1837.&copy Digitalsport UK

Copyright &copy Douglas C. Seaton 2019, All Rights Reserved.