John Duncan Dunn son of Tom Dunn club maker on the West Links, North Berwick attended school at the same time as the other pioneers and became the best known golf expert in America. John D. Dunn resided with his parents at 60 Forth Street, North Berwick. Dunn travelled to Southern California in February 1900 as the agent for the Bridgeport Gun Implement Company with a view to increase their business.

The Bridgeport Gun Implement company headquaters was in New York where Dunn supervised the design and manufacture of golf clubs. He returned to California in 1918 and was instructor at the Los Angeles County Club where he was joined by his sister Isabella (Mrs Gourlay Dunn-Webb) one of the first women golf professionals in America. John D. Dunn laid out numerous golf courses, wrote articles for the golf magazines, played in exhibition matches and gave instruction. His influence on golf in Southern California is very much underrated.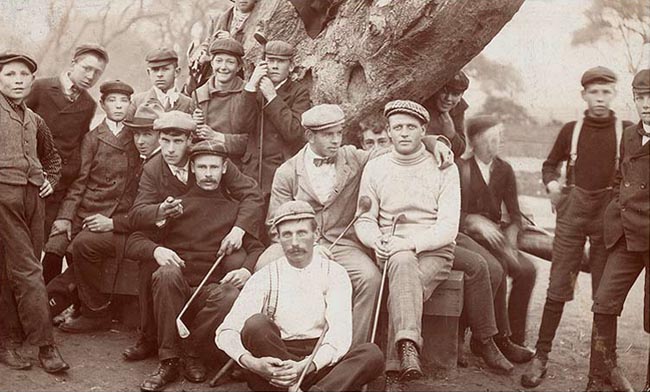 Horace Rawlins sits in front of Willie Anderson, who has his arm round Alex Smith
&copy Ralph W. Miller Golf Library
In November 1899, Willie Anderson from North Berwick and Horace Rawlins from Isle of Wight travelled west to California for the winter and played in exhibition matches and taught the game to enthusiasts. They were hired as instructors at Oakland Golf Club, which became Claremont Country Club in 1903, and in January they entered the Professional Open Tournament at Adams Point which was won by Horace Rawlins. The following month they entered the Southern California Open at Coronado Golf Club, San Diego which 21-year-old Willie Anderson won by one stroke from Alex Smith, despite Anderson being unfamiliar with the 'skin' greens of oilsand.
In 1900, Santa Fe Railway Company in conjunction with the Southern Pacific Company brought Willie Smith and David Bell to California to play a series of exhibition matches. Willie Smith emigrated to America in 1898 and was recommended by James Beveridge the former club-maker and keeper of the green at North Berwick for the position of instructor at Shinnecock Hills on Long Island. Willie Smith was born at 23 Springhill, Dundee son of John Smith a mason's labourer and his wife Joann. His parents moved to Barry Road, Carnousie where Macdonald Smith was born. Their elder brother Alex Smith was the first of the family to emigrate to America and was followed by his younger brother James Smith who was pro at Diablo Country Club in California. Willie Smith left school at 14 years to work as a golf caddie and he joined the artisan Caledonia Golf Club playing over the Buddon Links, Carnoustie. At the age of 18 years Smith was appointed pro at Cork Golf Club, Ireland and in 1895 he moved to England for three years.
Davie Bell was born in Carnoustie and his parents resided in Kinloch Street close to Willie Smith's family. On leaving school Davie apprenticed as a clerk and was a talented golfer winning several prizes in local tournaments. He emigrated to America in 1899 and joined Willie Smith at Midlothian Country Club, Illinois. In January 1901 they travelled by train to Southern California to play in exhibition matches. The Los Angeles Herald reported that in addition to their excellent abilities as golfers, they were genial, gentlemanly fellows, modest and unassuming. The following winter Davie Bell returned to Southern California as instructor at Santa Catalina Island Golf Club playing on the links at Avalon. At the start of the summer season he was appointed the first pro at New Orleans City Park.
John Duncan Dunn reported on the Coronado championship for the Los Angeles Herald, on 11th February 1900.
"One of the most successful golf tournaments ever witnessed in California was held on the Coronado golf links. The six professionals who entered were Horace Rawlins and Willie Anderson instructors at Oakland, Alex Smith (Hotel de Coronado). David Stephenson (San Francisco), T.W Tefley (San Rafael) and Jim Melville (Del Monte). The winner was Willie Anderson 95 and 85, 180, Alex Smith 90 and 91, 181. Such scores indicate wonderfully fine golf for the kind of courses you get in the south. I presume that eventually they will grow Bermuda grass in the southern golf courses similar to the ones in Florida. Cocoanut mat tees would also be great improvement."
"Anderson's long driving was one of the features of the day. Once he drove clear past the ninth hole 250 yards from the tee and over 200 yards of carry. Two of his other drives to this hole were hole high. Rawlins made a phenomenal approach shot from the beach up over a 30-foot cliff on to the green. On coming to the last green Alex Smith was told he had two more shots to tie with Willie Anderson. His tee shot landed in a bunker and he took his mashie and laid his approach almost dead amid great applause from the gallery. His approach unfortunately rimmed the cup. The players were unanimous in their praise of the orderly gallery. The professionals travel to Los Angeles tomorrow for an exhibition match at the country club."
The golfing pioneers brought with them many Scottish traditions including the task given to the Professional to organise the members handicaps and administer the golf rules. The Professional's duty also included being in attendance on Competition Day to usher the members off the first tee while he unofficially offered cheap remolded golf balls from a brown sack. Another tradition taken from the old Scottish links was to play the course in reverse, which they did on several occasions at Presidio.
In March 1902, Bob Johnstone attended a meeting in the Grand Hotel organised by the San Francisco Golf Club for those interested in laying out a public golf links in the Golden Gate Park. Johnstone was asked to prepare a plan showing the position of each of the nine holes between the Prayer Book Cross and the new Buffalo Paddock.
For more information on the early North Berwick golfers in California access David Stephenson - Robert Johnstone - Alex Bell