Bernard Sayers Jnr.
Professional Golfer
Born: 1884, North Berwick
Died: March 1961, North Berwick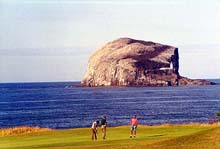 12th Glen Course, North Berwick
&copy Digitalsport UK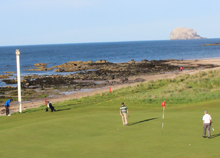 14th West Links, North Berwick
&copy Digitalsport UK

North Berwick Amateur Golfers
John E Laidlay
Dorothy Campbell
Robert Maxwell

124 years of Ben Sayers Ltd.
By Douglas Seaton
North Berwick Factfile
Bernard Sayers Jnr. was born 13th September 1884, at 41 Westgate North Berwick, son of Ben Sayers Snr. golf ball maker and his wife Catherine Thomson. Ben Sayers Jnr and his younger brother George Sayers followed their father as golf professionals. At the age of 19 years Young Ben was appointed to Berlin Golf Club as professional and club maker for eight months. The following season he was pro at Copenhagen and then Biarritz, Cannes, and Switzerland.
Walter J Travis the US and British Amateur Champion invited Ben to take up the position of professional at Garden City Golf Club in New York, but Sayers declined. He accepted a position at Ranfurly Golf Club (1905), he then moved to Cuckfield Golf Club (1906-07) a new course near Haywards Heath, before returning to North Berwick.
Young Ben was selected to play in the International matches between Scotland and England in 1906-07-09. In 1908 he was appointed pro at Royal Wimbledon and by the age of 24 years he employed six club makers including James 'Percy' Pearson from North Berwick. Percy Pearson gave up club making and returned to fishing at North Berwick. During WW2 the light on the Bass Rock was extinguished and Percy was often instructed by the Ministry to make for the Bass and switch on the light to allow a convoy of Royal Navy Destroyers save passage to Rosyth.
In 1909 Ben married Elizabeth Vass the only daughter of Alexander Vass of the Ship Inn, North Berwick. Ben's brother George Sayers lived at 10 Quality Street, North Berwick and in 1913 he was appointed professional at Merion Cricket Club in Philadelphia. When George emigrated Young Ben returned to North Berwick and joined his father in the club making business and gave lessons at the Glen Golf Club. He was an astute businessman as well as a great player and expanded the business internationally.
Ben continually experimented with new materials and club designs. He is best known for developing the first 'oversized' driver known as the 'Dreadnought' which had an extra large rounded head, deep face which was slightly convex, and a whippy shaft longer than standard. Robert Maxwell the amateur champion was given one of the first drivers which he used to great effect winning his second championship in 1909. By then everybody wanted a 'Dreadnought' and production through 1910 could not keep up with demand.
The clubmakers workshop was situated in a timber building on the wall of Inchgarry house adjacent to the 18th tee on the West Links, North Berwick (1894-1918). In 1913 Sayers moved to a larger premises at 21 Station Hill (1913-1917) from where they exported golf clubs around the world. Including Mr. G.W. Bavery, The Country Club, Johannesburg, South Africa; John Wanamaker Philadelphia, Penn, USA; Mantus & Co. Calcutta; Nippon Race Club, Yokohama, Japan; Cliff Castle & Co. 1122, S. Hope St. Los Angeles USA; K.Temple, Kuala Lumpur.