Leslie Balfour-Melville
Amateur Golf Champion
Born: 1854, Edinburgh
Died: 16th July 1937, North Berwick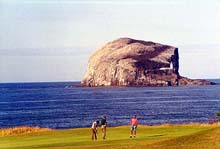 12th Glen Course, North Berwick
&copy Digitalsport UK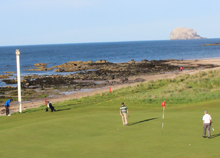 14th West Links, North Berwick
&copy Digitalsport UK

North Berwick Amateur Golfers
John E Laidlay
Dorothy Campbell
Robert Maxwell

'Scotland's Best All Round Athlete'
By Douglas Seaton
North Berwick Factfile
Leslie Balfour-Melville, born 9th March 1854, Bonnington Brae House, Edinburgh, son of James Balfour, Writer to the Signet, and his wife Elizabeth Maitland. Leslie was educated at Edinburgh Academy and Edinburgh University where he studied Law. In 1894 he joined his father and brother in the law firm his grandfather established named Balfour & Scott, 19 Charlotte Square, Edinburgh. Leslie's father was chairman of the Northern Investment Company of New Zealand with its headquarters in Edinburgh. In 1893 the family changed its name to Balfour-Melville when his father succeeded to the estate of Mount Melville near St Andrews in Fife.
In 1871 Leslie Balfour-Melville was 16-years-old when he won a competition for young gentlemen that Old Tom Morris organised at St Andrews. Balfour-Melville was described as the best all round athlete that Scotland has produced. He was a fine sprinter in his boyhood and played for Scotland in an International Rugby match while still a schoolboy. He was a skater, curler, long jumper and Scottish Billiard champion. In 1879 he won the Scottish Lawn Tennis Championship and was for innumerable years the best batsman in Scotland representing his country almost continuously from 1870 till 1910. The highlight of his sporting career was on 29th July 1882, as captain, opening batsman and wicket-keeper, he led Scotland to victory over Australia at cricket.
In 1874 Leslie Balfour-Melville won his first St. Andrews medal- it was the second prize at the Royal & Ancient Golf Club Autumn Meeting. The following year Leslie won the Royal Medal of the Club which he successfully defended in 1876 and won again in 1877. In 1876 the winner was also presented with an additional silver medal by His Royal Highness Prince Leopold to commemorate his year as captain of the Royal & Ancient Golf Club. He won the Amateur Championship in 1895 at St Andrews beating John Ball at the nineteenth hole. In the play-off, both played short of the Swilcan burn in two. Balfour Melville pitched safely over but Ball pitched the ball almost straight up into the air and it landed in the burn. Amazingly in Balfour Melville's two previous rounds against Willie Greig and Lawrence Auchterlonie both matches went to the nineteenth hole and twice his opponents found the Swilcan Burn. The same year his older brother Robert A.A. Balfour-Melville won the Australian Amateur Championship.
It took Ball twelve years to make up for his mistake, but he won the championship at St. Andrews in 1907. It was a coincidence that Balfour Melville was captain of the Royal and Ancient Club that year and presented John Ball with the Cup and Gold Medal.
Balfour Melville joined the Honorable Company Of Edinburgh Golfers in 1881 and won over Musselburgh three first medals in spring and tied for a fourth; won the winter medal three times, and also carried off twice in succession a silver medal given as second prize in 1887. At St Andrews he was five times winner in the autumn, four times second medalist and five times winner of the Bombay medal and in 1890 he won the Silver Cross at the spring meeting.