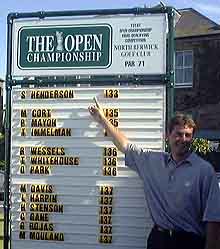 SAM TORRANCE has only missed two Opens in his professional career and after failing to gain one of the qualifying spots at the Scottish Open, had time on his hands so he turned up at Royal Musselburgh just a few miles from Muirfield, to support his son Daniel in the R&A Junior Open. His 13 year-old son was playing in the invitational section of the tournament which also included Stefan Langer the 14 year-old son of Bernhard, and Angel and Frederico Cabrera, son's of Argentinean Angel.

The main event was won by 16-year-old Cian McNamara from Limerick and the runner-up was 16-year-old Da-Sol Chung from Korea who also won the Young Lady Golfer Trophy. Other names for the future were Denmark's Peter Meldgaard, American Paula Creamer, and 15-year-old South African Tanica Van As.

Tiger's Credentials.
AT MUIRFIELD on Monday morning prior to the championship an over enthusiastic security guard refused the assistant head greenkeeper access to the course. Around 6.30am, Tiger Woods was also turned away, this time by a female security guard for not having the correct pass. He said she was just doing her job, and I did not have the proper credentials. Asked if he introduced himself he said "No I didn't say I was Tiger Woods, I just said I won this tournament two years ago and I guess she believed me. Two years is a long time in golf maybe people forget."